WEC – Le Mans Hour 6: Lopez Leads for Toyota as Rain Returns
The #7 Toyota GR010 HYBRID leads at quarter distance after brief shower causes several accidents at start of the sixth hour.  Kamui Kobayashi drives majority of the third to sixth hours before handing over to Jose-Maria Lopez, who maintains healthy lead over sister Toyota driven by Brendan Hartley.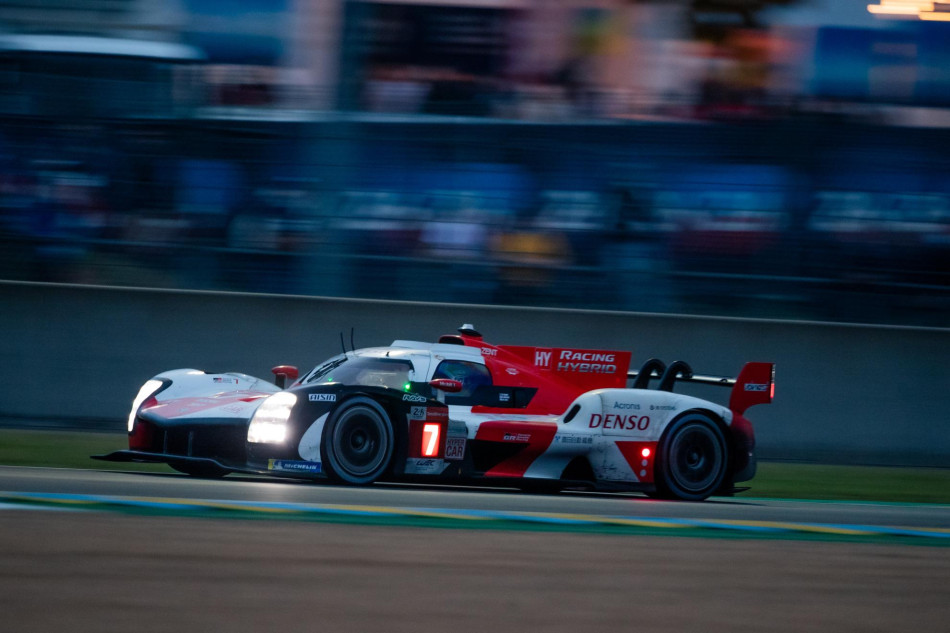 Ferrari maintains 1-2 in LMGTE Pro with the #51 488 of Come Ledogar leading the #52 Ferrari of Sam Bird, but all change in LMP2 as #41 Team WRT car takes lead after multiple incidents occur as rain arrives. 
The #33 TF Sport Aston Martin to the fore in LMGTE Am category after the #98 Aston Martin Racing Vantage crashes heavily at start of fourth hour. 
Hypercar  
The #7 Toyota Gazoo Racing Hypercar holds 70-second advantage overall and in Hypercar category after six hours racing at Le Mans  
Brendon Hartley in #.8 Toyota closes gap to #7 car to 9-seconds in fifth hour 
But Jose-Maria Lopez, who takes over from Kobayashi extends lead as Toyota splits cars tyre strategy with #7 on slicks and #8 on inters in changeable conditions 
Andre Negrao takes over from Lapierre and drives solid triple stint to keep #36 Alpine A480 in third but after Mathieu Vaxiviere gets aboard Les Bleues drops to a lap down on Toyota pair in sixth hour 
Glickenhaus Racing fourth and fifth as #708 car driven by Franck Mailleux and Pipo Derani take stints at wheel to lead sister car 
Romain Dumas and Ryan Briscoe complete miles in #709 Glickenhaus 007LMH as they place fifth 

LMGTE Pro  
Ferrari battle thrills crowds in second and third hours as Daniel Serra in #52 AF Corse Ferrari and Alessandro PierGuidi in N#51 488 GTE Evo swap places three times on same lap intense battle for lead 
Serra pulls out advantage to enjoy small gap but safety car in fourth hour diminishes advantage 
But #51 pulls gap before second safety car after Serra's teammate Sam Bird in #52 car is contacted by #71 Inception Ferrari driven by Brendon Iribe 
Come Ledogar takes over and extends lead for #51 as racing resumes after safety car period 
#92 Porsche recovers from first hour incidents and runs third at six-hour mark with Michael Christensen and Neel Jani completing stints 
Corvette Racing with Jordan Taylor driving in #63 car takes over at front at start of fifth hour as they capitalise on pitting under slow zone close to pit entrance 
But car drops to fourth after scheduled pit stops with Nicky Catsburg getting first race laps

LMP2  
Disaster strikes for #38 JOTA car as Anthony Davidson spins in gravel just after pit exit and loses full lap and falls to 19th in class at the end of the third hour 
#26 G-Drive Racing Aurus of Nyck de Vris, Franco Colapinto and Roman Rusinov takes over in lead with Colapinto holding off Job van Uitert initially 
But #28 JOTA car driven by Tom Blomqvist, after being started by Sean Gelael, picks up lead in fifth hour 
They though suffer two penalties that drop it back down the order, the first for pit entry violation and second for safety car infraction. 
#23 United Autosports USA car of Alex Lynn, Paul di Resta and Wayne Boyd briefly lead between pit stops in fifth hour 
But sixth hour brings high drama as several incidents occur as rain shower arrives 
Frits van Eerd spins Racing Team Nederland car into gravel handing Pro-Am lead to #70 Realteam car driven by Norman Nato 
United Autosports USA then suffer damage to two of its three cars as Manuel Maldonado in #32 car loses control under braking for Dunlop chicane and spears in to di Resta's #23 car 
Di Resta re-joins after repairs but drops down to 12th in class 
Shortly after Franco Colopinto collides with Sophia Floersch in Richard Mille car on approach to Porsche Curves. 
Knock-on incident claims Richard Mille car after it is struck by #74 Racing Team India Eurasia car driven by Tom Cloet 
Debris triggers second Safety Car of the race but after six hours Julien Canal in Panis Racing car leads from #22 United Autosports car with Fabio Scherer in cockpit 
Panis Racing take over lead but pit just before six-hour mark handing lead to Louis Deletraz in #41 Team WRT entry 
#22 United Autosports maintains second from #31 Team WRT car in third
 

LMGTE Am  
#33 TF Sport Aston Martin leads LMGTE Am class as Felipe Fraga and then Dylan Pereira takes stints at wheel after Ben Keating completed opening stints 
#98 Aston Martin entry driven by Marco Gomes was running second when he crashed heavily at Indianapolis 
Brazilian treated by medical team at the scene but reported to have escaped injury 
#47 Cetilar Racing Ferrari 488 GTE Evo runs second for a period as Giorgio Sernagiotto takes over from Antonio Fuoco in car they both share with Roberto Lacorte. 
Car loses time at pit stop though as it has to make repairs to mirror but chose to replace entire door 
But in fifth and sixth hours the #33 TF Sport still leads from #83 AF Corse which is driven by Alessio Rovera 
#57 Kessel Racing Ferrari places third with Mikkel Jensen taking over at the wheel