This page contains archived information and may not display perfectly
WEC – Le Mans Hour 12: Toyota 1-2 as Alpine Fights Back to Third; Ferrari 1-2 in LMGTE
The #7 Toyota GR010 Hybrid pushes to the front as the halfway mark arrives in the 89th running of the 24 Hours of Le Mans. But pressure is still being applied by sister #8 car which is running 33 seconds behind.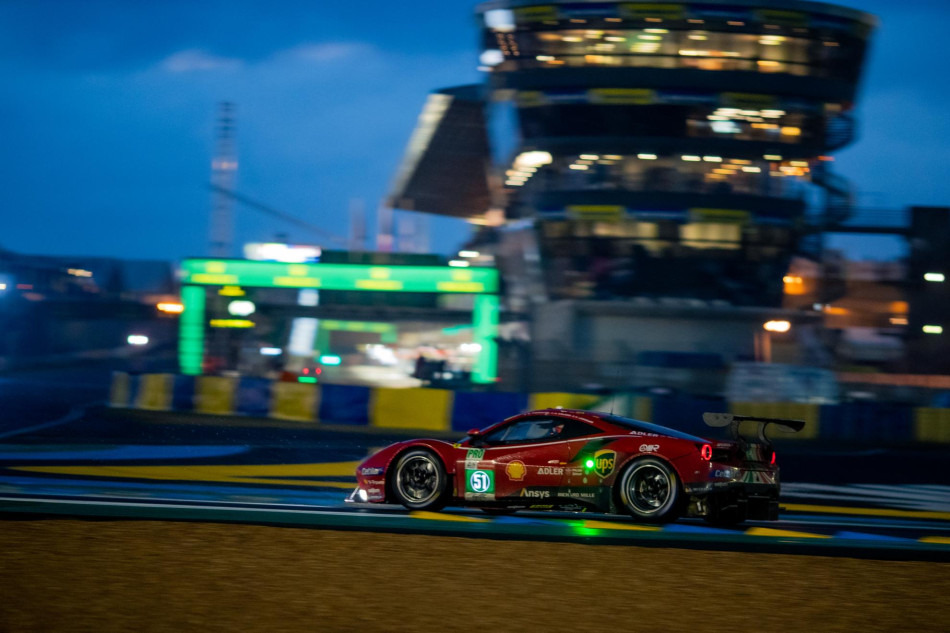 More safety car, full course yellow and slow zone periods punctuate the six-to-twelve-hour period of racing ensuring array of strategies play out. 
The #51 AF Corse Ferrari leads LMGTE Pro, while Team WRT take control of LMP2 in tight intra-team battle as they run 1-2. 
The #83 AF Corse Ferrari leads in LMGTE Am holding off the recovering #33 TF Sport Aston Martin. 
Hypercar  
Toyota Gazoo Racing Hypercar in control of race at halfway point as #7 and #8 take turns in leading race after multiple slow zone, full course yellow and safety car incidents  
#7 Toyota GR010 Hybrid with Mike Conway driving pulls out a 45-second gap after capitalising on a slow zone in ninth hour. 
Kamui Kobayashi takes over from Conway as halfway point approaches 
But Kazuki Nakajima and then Sebastien Buemi reduce gap to just 26-seconds after 12 hours. Brendon Hartley takes over cockpit just before 4am 
Kiwi has three lap buffer over third placed Alpine ELF Matmut entry 
Matthieu Vaxiviere had earlier spun into gravel at first Mulsanne Chicane in eighth hour and Alpine fell behind #708 Glickenhaus in to fourth in Hypercar 
Nicolas Lapierre caught Olivier Pla and two engaged in entertaining battle which was resolved when Lapierre made a move stick at second chicane after wheel-to-wheel fight 
Glickenhaus Racing continue to enjoy strong run on Le Mans debut as #708 and #709 run fourth and fifth in Hypercar class after clean runs in first half of race
 

LMGTE Pro
Intra-manufacturer battle in LMGTE Pro hots up as Ferrari and Corvette take turns in lead while Porsche threatens to fight back after difficult start. 
#63 Corvette driven by Jordan Taylor spends time in lead of class after taking advantage of some slow zone fortune for pit stops in off-strategy race so far 
AF Corse Ferraris still running close together as #51 heads #52 car  
Alessandro PierGuidi takes Taylor for the lead on track at 2.30am and slowly pulls a gap to the Corvette which is one off-set strategy 
Nicky Catsburg applies pressure to Sam Bird in #52 Ferrari in tight battle for second place in class 
Kevin Estre completes rapid double stint in #92 Porsche 911 RSR-19 after they are forced to adapt strategy by bringing in Neel Jani in early 
Estre fights through to third but drops position after handing over to Michael Christensen in 10th hour and runs fourth but slow zone woes compromises progress 
#91 Porsche driven by Richard Leitz at halfway mark places in fifth position ahead of the WeatherTech 911 RSR-19 shared by Earl Bamber, Laurens Vanthoor and Cooper McNeil 
But McNeil crashes heavily at final corner after 10hrs 30mins and car suffers significant right-hand side damage and car is pushed back into its box 


LMP2  
Team WRT takes control of LMP2 as they run 1-2, initially with #41 car out front 
But sister #31 car takes the lead in eighth hour as Ferdinand Habsburg makes move 
Robin Frijns extends lead with the gap over the #41 car stretched to 41-seconds after 12 hours of racing before Charles Milesi takes over for his second stint at the wheel 
But Yifei Ye starts to reduce the gap to #31 Team WRT car just before the halfway stage, setting fastest lap of the class as he does so as advantage is reduced to just 5.6 seconds. 
Panis Racing and #22 United Autosports cars battling for third place throughout early hours of the morning  
At 12 hours the United Autosports car driven by Fabio Scherrer holds advantage over James Allen piloted Panis entry 
#28 JOTA entry places fifth ahead of Inter Europol Competition in sixth as pair joust just 12-seconds apart with Tom Blomqvist and Renger van der Zande battling for position 
#25 G-Drive Racing car crashes out of race as Rui Andrade impacts barriers under braking for Dunlop Chicane just before the ninth hour arrives 
Dragonspeed leads the Pro/Am stakes as Henrik Hedman completes solid stints and capitalises on off track issues for #70 Realteam and #29 Racing Team Nederland entries 
Felipe Nasr stars in early hours of morning as he sets succession of fastest lap in Risi Competizione Oreca-Gibson which is placed 10th in class after earlier rear-wing issues
 

LMGTE Am  
Close battle rage throughout the LMGTE Am category as #83 AF Corse leads from #33 TF Sport Aston Martin 
The TF Aston survives a double puncture which causes small impact with first Mulsanne chicane tyre-wall at end of seventh hour 
Dylan Pereira, Ben Keating and Felipe Fraga fight back to briefly lead before Nicklas Nielsen in #83 opens small gap at the front to head TF Sport 
#80 Iron Lynx Ferrari 488 GTE Evo battles for lead as Callum IIIot stars on his Le Mans debut  
Matteo Cressoni places car third as halfway mark arrives holding off fourth placed #54 AF Corse Ferrari of Francesco Castellacci 
But Cressoni speeds under slow zone conditions and has to serve a 10-secs penalty at scheduled stop, yet still holds on to third 
Cetilar Racing Ferrari 488 GTE Evo forced to retire as Roberto Lacorte crashes car at Tertre Rouge while running fourth 
#57 Kessel Racing Ferrari ran third but retired after Mikkel Jensen stopped on track with terminal technical issue