This page contains archived information and may not display perfectly
WEC - Interview with FIA Race Director Eduardo Freitas
The FIA World Endurance Championship is run by a dedicated team of officials and one of the key people at each event is the FIA Race Director.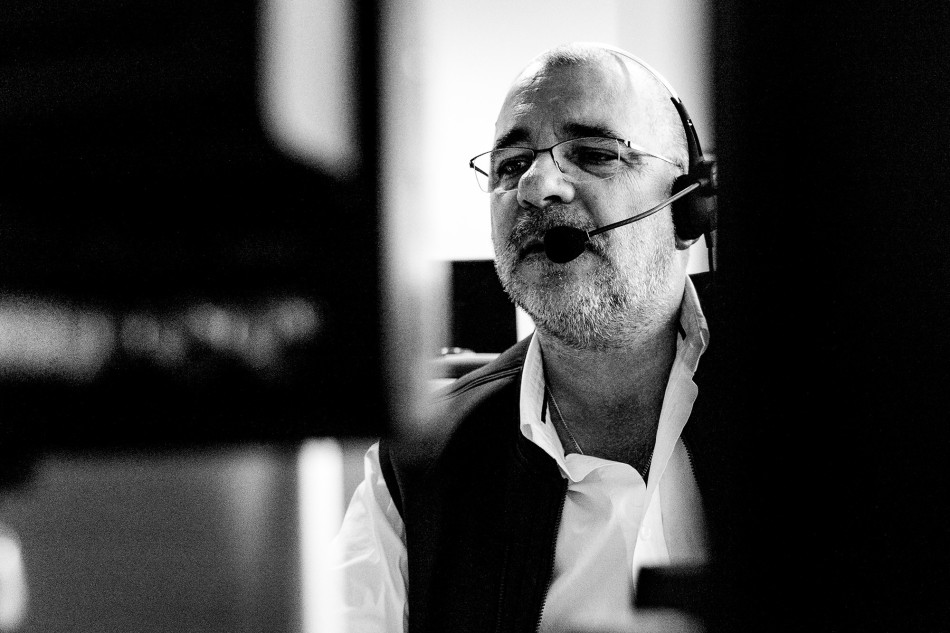 Portugal's Eduardo Freitas has been the Race Director for the FIA WEC since the first race in March 2012.  He has built a strong relationship with the various parts of the organisation and describes himself as the conductor of the orchestra.
We caught up with Eduardo Freitas in Shanghai to ask him about his role in running each of the nine races that make up a season in the FIA World Endurance Championship.
Briefly describe the role of the Race Director?
"The Race Director is like a Maestro who comes in.  We have the hall and we have the band and I have to understand how the band plays so when it comes to show time it is perfectly tuned up with the music that we want.  In this case we are talking about track marshals, recovery, medical, drivers, teams. There is a big set up, a big number of people who are involved in the event who I manage on the days of Free Practice and Qualifying so that I can understand their way of working, their way of operating. So when it comes to Race Day everything is to the standard we want so the show can go on and be done properly."
How did you start in motorport?
"My start in motorsport was funny, let's put it like that.  I used to have fun repairing two stroke engines on small motorcycles and from that a friend of mine asked me to do the same on a two stroke karting engine, this was 1977. Then in 1979 I went to the world karting championship event in Estoril to buy a chassis from Martin Hines at Zip Kart, who was a fantastic karting driver, and I saw the race weekend from the grandstand.  I decided that this wasn't exactly how I wanted to see racing, the mechanic part was no longer giving me the adrenalin that I needed, so on the Monday after the world championship, which was the 24 September 1979, I started as a trainee dismantling the kart track at Estoril.
"Then it went along from track marshal to chief post marshal, chief zone marshal all the way up.  I helped in scrutineering, I did quite a few different things and then the opportunity to become a race director popped up in a karting race and that is where it started.
"And then in 2002, I was already Clerk of the Course in Estoril, the opportunity came to do the FIA GT Championship.  This was a surprise phone call in February.  Jurgen Barth called me to see if I was available to see if I could do the season for a package that was for FIA GT and ETCC.  I thought maybe the train doesn't stop here again so why not grab it.  So I grabbed it in 2002 for one year and, well, I am still here.  It went from FIA GT and ETCC, which in 2005 became WTCC.  I did it until 2009, which was 110 races, which was good fun. 
"In 2010 the FIA decided I should be moved on to the FIA GT1 World Championship which lasted two years and then in 2011 I was invited to come and do the FIA World Endurance Championship, where I am currently.  And since I am doing Endurance here I am also Race Director for the European Le Mans Series and Asian Le Mans Series.  So I am having my share of fun doing Endurance Racing."
How is your race control team made up?  How many permanent members of the team are there and how many officials come from the local ASN for one race?
"It depends from circuit to circuit.  Some circuits I have more people who are local and some where I have less people who are local.  The numbers can vary from ten to twenty.  With the permanent staff who are with me, I have Lisa (Crampton) who is my right arm, she does the telemetry analysis of all the incidents, racing lines, acceleration, brakes and all of that.  She is important in helping me understand accidents.
"Beside Lisa I have Cristiano (Macedo) who takes care of one thing which has become common nowadays which is track limits.  He has software and a set of cameras dedicated to track limits where we analyse track limits, how it was done, whether there was an improvement made or not.  And if he sees there is a case he then sends it to me to be analysed.  Beside Cristiano I have Yannick Dalmas, who is the driver advisor for the Stewards and for myself.  I use his opinion a lot as I was never a race driver myself and he can give me very valuable input on how a driver will react or how a driver sees a situation; I call him The Conscience.  He also has access to the same videos as I do and each time I ask for a replay from TV he also sees it so he can help me understand and evaluate better.
"Beside him I have Rick who is the man that manages the software which does the race analysis.  It is quite a complicated system, which is constantly being developed so we need someone here to manage the race to race upgrades. We also have a weather forecaster which allows me to decide in a more solid way like we did in Le Mans if we should stop before a storm comes in because he can see it, he has his own radar set around the circuits to help me understand how the weather is going to behave and how can I anticipate in order to ensure the security of the drivers.
"Last, but not least, in Race Control we have the FIA Medical Delegate.  He checks everything on the medical side so I don't have to do this myself.  He will check the number of nurses, ambulances, doctors and all of the things that are mandatory for a championship at this level and he's the one who gives me the OK, or not, to go ahead with the session or with the race.  He also takes care of ensuring the procedures on the sporting medical side are the same worldwide.
"After that I have one 'victim' in the OB van, which is the TV production bus, his name is Fred and I am always annoying him asking for videos of replays, onboards, this and that.  I ask him to find me an accident that happened 20 minutes ago for example.  He does a great job, he is a very useful tool and now that we have been working together for two years he understands what I want and sometimes gives me the videos before I ask for them.  It is good to have a video when you are reporting to the Stewards.  Solid video evidence makes their life much, much easier.
"We have a permanent safety car driver, who is somebody who helps me in situations such as rain.  He also gives me very good analysis how the track, how the grip is, how the cars will behave.  We do ask the cars themselves via the teams, how the drivers feel the track.  Whether there is too much spray, which was an issue in Le Mans this year.  He gives me that type of information, which is very important.
"I have Timing, which I am directly connected with.  They solve a lot of problems for me, overtaking under yellows, this and that.  Sometimes it is an area that is not covered by a camera so I look at the timing data in order to understand if it really happened.  And then in the pitlane I have a huge group of scrutineers who are surveying the sporting discipline in the pitlane and at the same time if I have a car which shows a mechanical problem immediately I will get one of them to tell me their opinion if it is a danger or not to other competitors."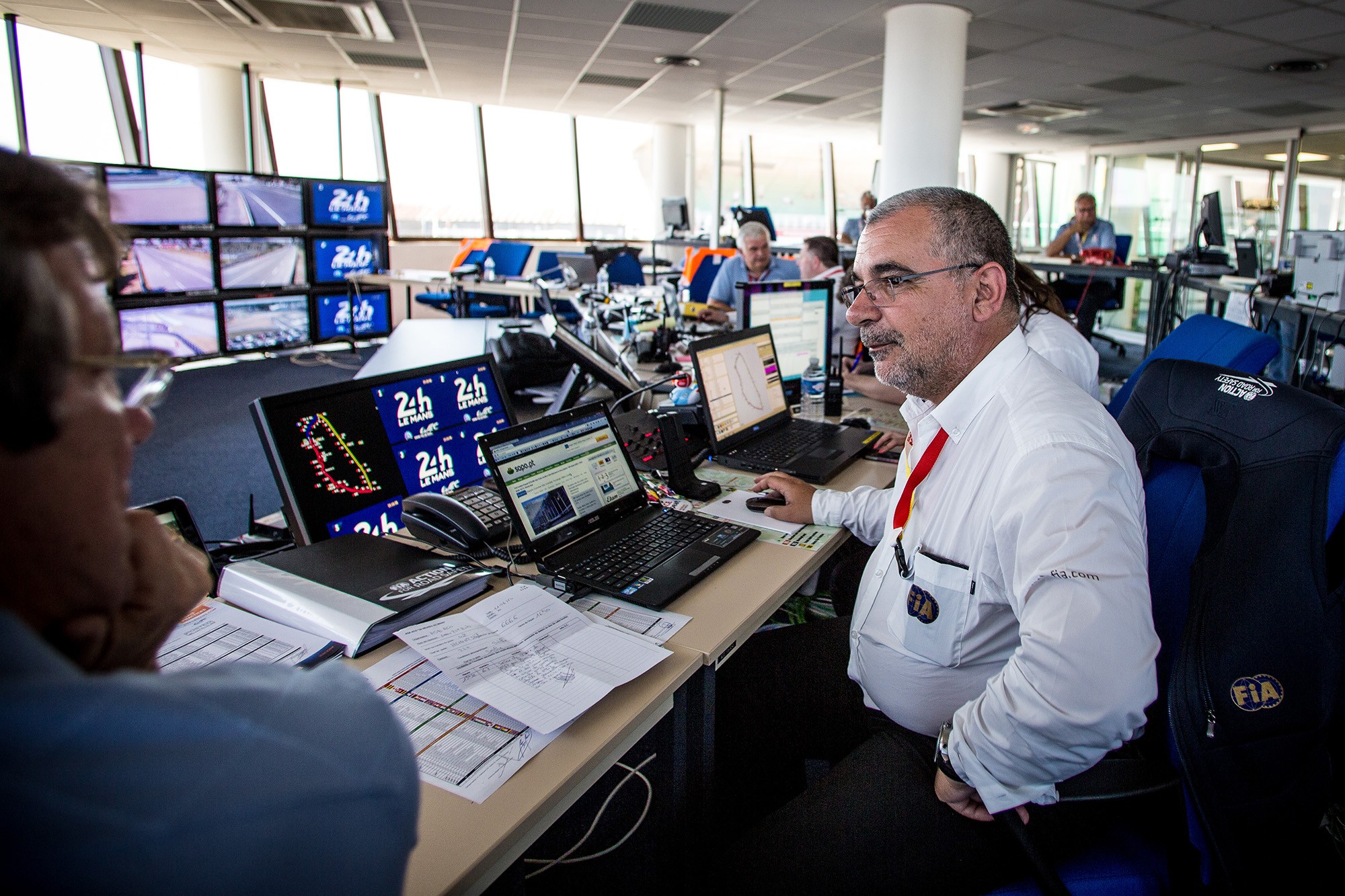 Describe a typical race weekend for you as the Race Director.
"A typical race day doesn't exist because each day in the weekend has several things to do. On arrival the first priority is to see the track, to see if anything needs to be repaired.  Sometimes the people from the circuit, by the fact they use it on a daily basis, they don't see the wear.  So the first objective is to go out on track, check the kerbs, check that everything is OK.  Once that stage is done things start moving on.  You go through the notes from the previous year, you start building your briefing notes based on what happened in previous years and previous races to anticipate as much as possible the problems that you can have.
"Then you come to the first time that you go on track, which is normally on a Friday.  On Friday morning we do an inspection with all of the marshals around the track so we can make sure that everything is in place. During the first session we start understanding how quick, how swift are the means we have to work with are, how far will the marshals exposes themselves to danger or not.  Then you start to understand how you are going to behave during the race.  You and the drivers do the same. 
"We also do a Safety Car exercise where we understand how our permanent driver adapts himself to the track.  We also understand the performance of the Medical Car driver and other support vehicles that we use, so that I can be sure that when I deploy them if I need to during the race what I should take care of.  For example the Medical Car follows the pack on the first racing lap, does the driver have speed, are the lines good, do we need to improve on the driving on the medical side?  I use Yannick to this also, he analyses the behaviour of the Medical Car driver and it is not rare that we invite the driver to do a few laps with Yannick in order to tune up the approach and the braking areas. 
"This is all done on the Free Practice day so we can understand how the whole machine works.
"After this comes the day of the race.  Sunday morning also starts with a track inspection.  From then we move onto a briefing with a small number of drivers who will take the start of the race to tell them exactly what we want during the formation laps.  We have four championships out there, with four different levels of performance, so we want the grid to look good but also be safe at the same time.
"Then we go for the race and there everyone crosses their fingers so we have the least intervention as possible.  A good race for me is a day I don't need to do anything at all during the race."
When a penalty is applied during the race describe the procedure from the incident to when a Stewards Decision is given.  What role, if any, do you have in the type of penalty that is given?
"Normally a situation is detected on track or reported by another official and I get a report.  I gather all the data which I can attach to that report and I judge if there is an incident or not.  If there is an incident I send it to the Stewards.  The Stewards are like a panel of judges who will then decide if I am right and it is an incident and if that incident entails a penalty or not. 
"In certain situations the Race Director can immediately decide the type of penalty that can be applied.  The FIA procedure has it that the Stewards decide what penalty the Race Director can apply to the driver or to the team.  I am often invited to give my opinion on what penalty should be applied but it is always filtered by the Stewards and it is their decision what penalty will be applied."
When there is an incident on track, what do you look at when making the choice between a Full Course Yellow, a Safety Car and a Red Flag.
"As opposed to the penalty situation where I send information to the Stewards who will judge what happens, on safety concerns it all depends on me.  There is no time to lose and we must make sure that all parties involved are absolutely safe.  The decision depends a lot on what I saw during the preparations for the race.  It depends on how swift the marshals are, how much will they volunteer to deal with situations with a simple coverage of waved yellows or do I need to go deeper into a Full Course Yellow or a Safety Car or even a Red Flag. 
"It is not mathematical, you cannot make a table where with this you do that.  It depends a lot on how the weekend was and how the preparation of the event was done in the practice sessions and even on the support races.  I see a lot of the support races to see how the recovery works, especially if I don't have a recovery in one of my sessions.  I see how swift they are and I can base my decisions whether to use a Full Course Yellow, a Safety Car or even a Red Flag."
What is the part of your job at a WEC event that you enjoy the most?
"It's being there.  This is a family, the WEC is a big family, including teams, the organisation, it is a family world.  I spend a lot of days of the year with them.  It is a team in the pure sense of team.  It is not just a group of people who work together, it is a group of people who trust each other and work together.  It is a very close group, we take our meals together so we can socialise together.  In the end there is a human relationship beside the professional one.
"One favourite moment of the event is when the chequered flag is shown and everything is OK, no big accidents and everyone goes home safely, that's a good day for me that everything ended well.  We can all go home with a smile on our face.  Will everyone be happy? No!  Because there will always be one winner but that is part of the game, that's how it works."