WEC - Hyperpole Concluded - Grid for 88th 24 Hours of Le Mans Now Set
The first ever Hyperpole session has been used to decide the formation of the grid for tomorrow's start of the 2020 24 Hours of Le Mans, Round 7 of the 2019/20 FIA World Endurance Championship.  Toyota, Porsche, United Autosports and Luzich Racing all celebrate claiming the top spot in each of the four classes and an extra world championship point.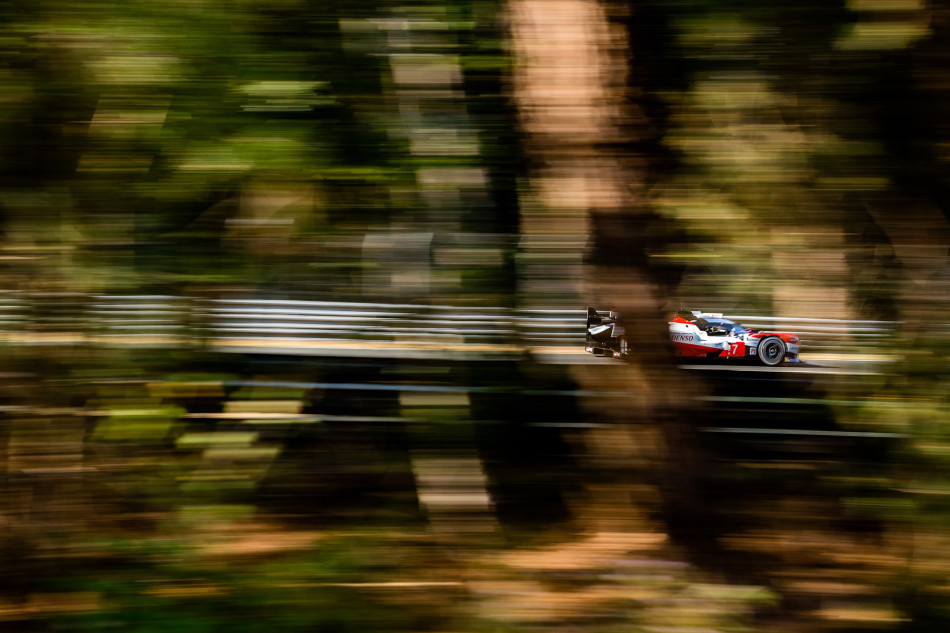 Kamui Kobayashi claimed the overall pole for Toyota, the Japanese driver setting a 3m15.267 lap time at the mid point of the 30-minute session.  Gustavo Menezes in the no1 Rebellion Racing R13 kept pace and posted a 3m15.822, just 0.555s behind the pole sitter to start on the front row of the grid.  Row 2 will be headed by the no8 Toyota with Kazuki Nakajima posting a 3m16.949, 1.7 seconds ahead of the no3 Rebellion Racing R13 of Louis Deletraz, with the no4 Bykolles Racing Team finishing 5th.
The no91 Porsche 911 RSR-19 of Gianmaria Bruni set the pole with a time of 3m50.874, with the no51 AF Corse Ferrari of James Calado making his bid for pole with five minutes left on the clock.  His 3m51.115 lap was just two tenths shy of pole.  The no95 Aston Martin Racing Vantage of Marco Sorensen made it three manufacturers in the top three, the Dane's best lap of 3m51.241 just 0.367s behind the pole sitting Porsche at the end of Hyperpole.
Championship leaders United Autosports will start from the front row of the LMP2 grid with Paul Di Resta finishing the session with a 3m24.528, just ahead of the no26 G-Drive Racing Aurus of Jean Eric Vergne.  The no29 Racing Team Nederland Oreca finished third with a last-minute challenge after an early spin at the Porsche Curves for Nyck de Vries. The Dutch driver recovered the car to the pits and rejoined the session to finish on a 3m25.062.
The LMGTE Am pole went to reigning ELMS Champions Luzich Racing with Come Ledogar taking the top spot in the no61 Ferrari with a 3m51.266, just 0.056s ahead of the no77 Dempsey-Proton Racing Porsche of Matt Campbell, the top WEC competitor in the class.  The no56 Team Project 1 Porsche was third fastest with Matteo Cairoli's best of 3m51.647, less than four tenths behind the pole sitter.
All eyes are now on the 88th 24 Hours of Le Mans, which is due to get underway at 14h30 tomorrow afternoon.  The race is preceded by a short warm up session tomorrow morning.
Kamui Kobayashi – no7 Toyota Gazoo Racing Toyota TS050 Hybrid - LMP1
"To be honest I am a little bit disappointed because on my second attempt it looked like I could've broken my (lap) record.  The car seems to be very good, we are more confident with the traffic situation and we are focusing on the performance of the car.  Unfortunately, I had the lap deleted, which is a shame but that is how it is.  The team did a great job and I was pretty confident with the car.  This hyperpole is a great opportunity as a driver to drive at the 24 Hours of Le Mans without traffic and that's a fantastic feeling for me."
Gianmaria Bruni – no91 Porsche GT Team Porsche 911 RSR-19 - LMGTE Pro
"The session was actually very nice because it is the first time driving on this fantastic circuit with not so many cars.  I could concentrate on the performance of the car and doing a nice lap.  It was all question marks as we came here with a new car, we've changed so much in the last 24 hours on the car and it's been very up and down in terms of the set up.  We've going in the right direction now. It was a hard job for the mechanics and all of the Porsche team back in Weissach;  it's really been a team effort."
Paul Di Resta – no22 United Autosports Oreca 07-Gibson - LMP2
"It has been a very good year so far.  It's the first time we've come to this track with the Oreca chassis which was the biggest thing we had to get our heads around with this shortened race programme.  We knew if we put everything together, we understood we could reach the pole position.  To get the job done, to get into the top six and to eventually some clear laps in Hyperpole with two sets of tyres.  It is quite an incredible track, one of the best tracks in the world that I have driven.  There are 22 cars on the LMP2 grid, with a lot of good drivers, so tomorrow is a long day ahead of us."