WEC: Ferrari wins action-packed centenary Le Mans
Ferrari has ended a 58-year-long wait for the 24 Hours of Le Mans victory on the centenary of the French endurance classic. The #51 499P of Antonio Giovinazzi, James Calado and Alessandro Pier Guidi came out on top in an action-packed edition of the race that was round four of this year's FIA World Endurance Championship season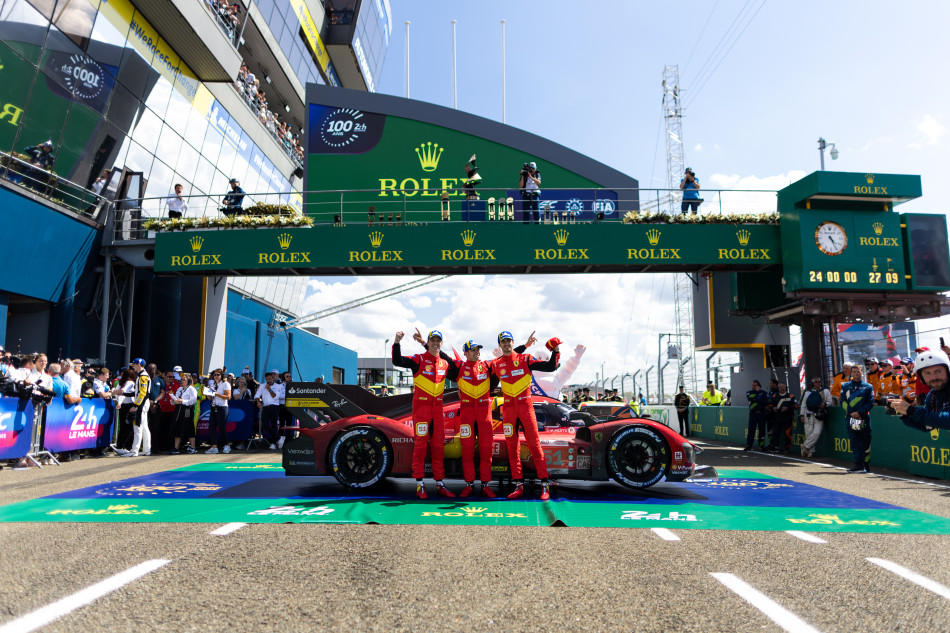 Ferrari secured its 10th overall Le Mans victory upon its first appearance in top class since 1973 and first win since 1965.
In the closing stages, the race was on between the chasing #8 Toyota Gazoo GR010 Hybrid driven by Ryo Hirakawa and Giovinazzi who was in the lead. Hirakawa, however, buried his chances following a spin under braking for the Arnage Corner. Both front and rear ends were damaged resulting in an unscheduled pit stop for new bodywork sections and the Japanese driver re-joined just under a lap down on the leading 499P.
Pier Guidi, who took over the #51 car from Giovinazzi, was able to race to the chequered flag with a winning margin of 1m27.056s. That came despite a heart-stopping moment at the final pit stop when the car initially refused to start.
Calado and Pier Guidi added the overall Le Mans win to their 2019 and 2021 LMGTE Pro victories, while Giovinazzi becomes the first driver since Fernando Alonso in 2018 to win Le Mans at the first attempt.
Toyota Gazoo Racing had to settle for second place with the #8 car of Sébastien Buemi, Brendon Hartley and Hirakawa Ferrari also ended Toyota's victory streak of five wins which spans from 2018 to 2022.
Cadillac Racing claimed a third and a fourth-place finish as the #2 V Series.R of Alex Lynn, Earl Bamber and Richard Westbrook heads home the #3 car of Renger van der Zande, Sebastien Bourdais and Scott Dixon.
The second Ferrari AF Corse 499P, driven by Nicklas Nielsen, Antonio Fuoco and Miguel Molina rounded out the top five.
Glickenhaus Racing maintained its 100% finishing record at Le Mans as #708 and #709 claimed sixth and seventh positions.
INTER EUROPOL MAKES HISTORY
Final-hour battle between the long-time leading #34 Inter Europol Competition Oreca-Gibson driven by Fabio Scherer and the #41 Team WRT car of Louis Deletraz thrilled the massive Le Mans crowd.
The fight was settled when Scherer is able to hold off Deletraz's attack despite the gap coming down to just nine seconds in the final moments of the race.
Inter Europol Competition, therefore, become the first Polish team to win in WEC and at Le Mans, after achieving its first podium only last time out in Spa-Francorchamps.
Robin Frijns had hunted down the #30 Duqueine Racing entry in the final hour to look as though he would grab a double podium for the Team WRT squad.
However, Duqueine's Neel Jani ensured that he and teammates Rene Binder and Nicolas Pino took the French team's best-ever Le Mans result in LMP2.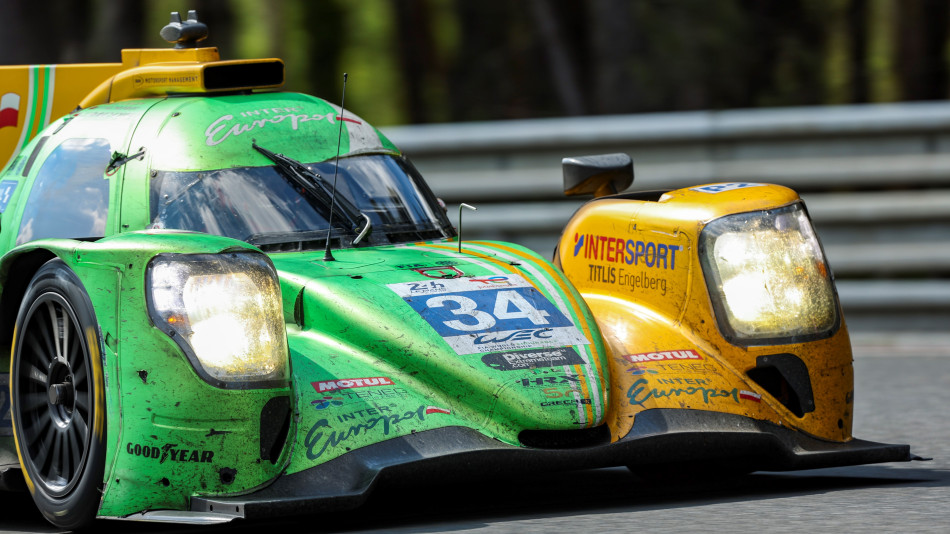 CORVETTE'S MAIDEN AM WIN
Corvette Racing took first ever LMGTE Am victory at Le Mans as Ben Keating, Nicolas Varrone and Nicky Catsburg achieved a hard-earned win after a difficult start to the race.
The pole-winning car struggled with a damper problem in the first portion of the race but came through to win and extend their large WEC points lead at the same time.
Keating took his second consecutive Le Mans LMGTE Am win, having previously won driving an Aston Martin, while Varrone become only the second Argentinian to taste victory at La Sarthe, while the #33 Corvette become the first GTE Am polesitter to even finish on the LM podium.
ORT by TF Sport took runner-up position after a late battle with the Iron Dames Porsche sees Charlie Eastwood make a move on Rahel Frey's Iron Dames Porsche 911 RSR-19 on the Mulsanne late on in the race. Eastwood celebrated with teammates Ahmed Al Harthy and Michael Dinan.
The final rung on the podium went to the GR Racing Porsche 911 RSR-19 of Mike Wainwright, Riccardo Pera and Ben Barker who went one better after finishing fourth in 2022.
The Iron Dames trio of Rahel Frey, Michelle Gatting and Sarah Bovy took fourth ahead of the #54 AF Corse Ferrari 488 GTE Evo of Thomas Flohr, Francesco Castellacci and Davide Rigon
Hendrick Motorsports took a popular finish with its Chevrolet Camaro ZL1 NASCAR after largely faultless display from Jenson Button, Jimmy Johnson and Mike Rockenfeller. The all-American project finishes 39th overall, which was the second-best Innovation category result.