This page contains archived information and may not display perfectly
WEC - Disaster Strikes Toyota in Second Quarter at Le Mans
WEC - 2017 24 Hours of Le Mans - 12 Hours Race Report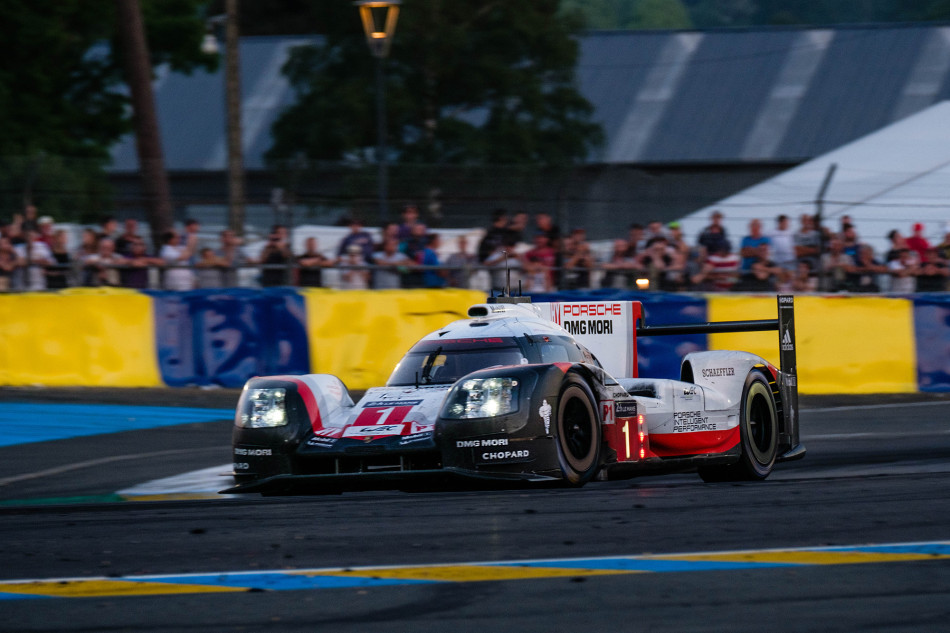 It was heartbreak in the Toyota garage during the second part of the first half of the 2017 24 Hours of Le Mans as their challenge to win the big race was dashed.
The no8 Toyota hit problems first and underwent lengthy repairs in the garage to replace a front motor dropping the car well down the order from 2nd place.  Anthony Davidson rejoined the battle 29 laps down and in 51st position.
The no7 TS050 of Kamui Kobayashi was holding a comfortable lead when a safety car was deployed to clean the track of gravel that had been dropped by the no66 Ford GT of Olivier Pla.  When the race resumed the no7 Toyota didn't pick up speed and Kobayashi had to try and complete a whole lap of the 13.6 La Sarthe track to get back to the pits.  The Japanese driver managed to get the car half way round before he was forced to admit defeat and park the car at the side of the track.
The no1 Porsche 919 was now leading the race, with the no9 Toyota of Nicolas Lapierre in second place. But Toyota's woes were not over as Lapierre was hit by another car on the run into Dunlop, puncturing the rear left tyre.  This started to delaminate and destroy the rear bodywork as the French driver tried to get the get back to the pits.  Lapierre almost made it but was forced to retire the car in sight of the pitlane entrance.
Aston Martin are holding the upperhand in the LMGTE Pro class with the no95 Vantage of Richie Stanaway holding a 2-second lead over the no97 car of Jonny Adam.  The Aston Martins are being chased hard by the no51 AF Corse Ferrari of Alessandro Pier Guidi, the Italian just 1-second behind the no97 Aston Martin.
With the demise of the LMP1 competitors the LMP2 front runners are currently holding 2nd and 3rd places overall.  The two Vaillante Rebellion Orecas were running 1st and 2nd in class with the no13 car holding the class lead before pitting at the top of the hour.  The no31 Oreca of Nicolas Prost is holding the top position ahead of the no38 Jackie Chan DC Racing Oreca of Ho Pin Tung with David Heinemeier-Hansson in third spot.
In the LMGTE Am section the leader is currently the no84 JMW Motorsport Ferrari, with Dries Vanthoor holding a one lap advantage over the no90 TF Sport Aston Martin of Euan Hankey.