WEC championship leaders after round 3 at Le Mans
After three rounds of the 2014 FIA World Endurance Championship, the race for the various titles has changed following the 24 Heures du Mans at the weekend.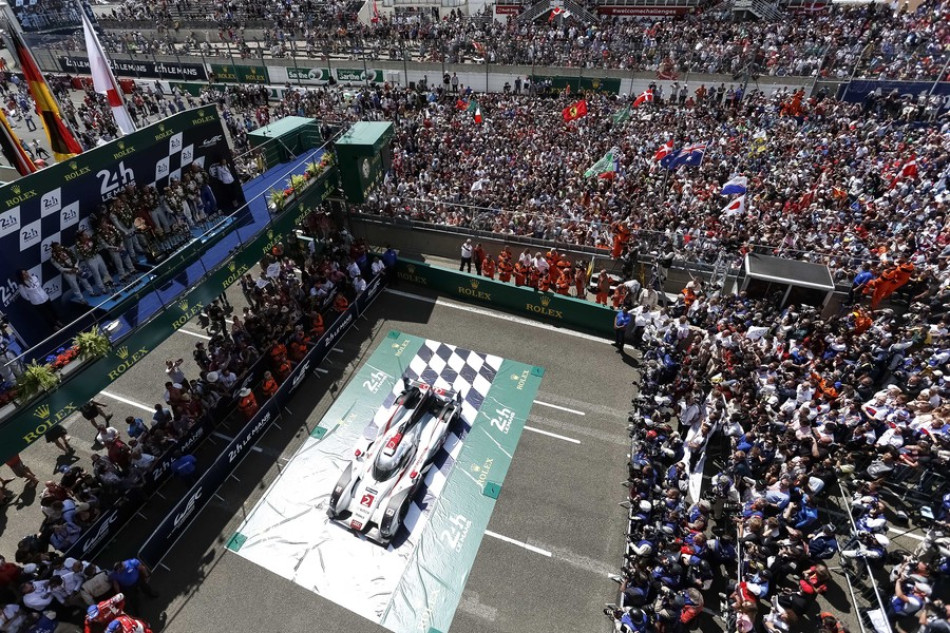 In the World Endurance Manufacturer's Championship Toyota still leads but, thanks to its 1-2 finish at the weekend, Audi is now trailing Toyota by just one point. Toyota (115pts) is 55 points ahead of Porsche (60 points).
In the Drivers' Championship, Nicolas Lapierre, Sebastien Buemi and Anthony Davidson have extended their lead to 20 points over their nearest rivals thanks to third place at Le Mans, with Round 3 winners Andre Lotterer, Benoit Treluyer and Marcel Fassler moving up the table from 8th to 2nd behind the Toyota trio.
In the World Endurance Cup for GT Drivers Gianmaria Brui and Toni Vilander extend their lead to 27 points thanks to their victory and pole position at Le Mans ahead of the Porsche duo of Fred Makowiecki and Marco Holzer who finished second on Sunday. In the Manufacturer's Cup, Ferrari has opened up a 12 point gap to Porsche and is 50 points ahead of Aston Martin.
In the LMP1 Privateer Trophy the no12 Rebellion Racing R-One of Mathias Beche, Nick Heidfeld and Nicolas Prost once again took the chequered flag. While Rebellion doesn't yet have any rivals (the Lotus LMP1 challenger was unveiled at Le Mans) the fact that this brand new car, which is still being developed by the team, reached the chequered flag in the world's most demanding race is worthy of note.
In LMP2 Sergey Zlobin is the current leader in the FIA Endurance Trophy for LMP2 Drivers after the SMP Racing ORECA was the first WEC eligible car to take the chequered flag. Zlobin is 12 points ahead of his teammate Anton Ladygin and a further 25 points ahead of the G-Drive Racing trio of Julien Canal, Olivier Pla and Roman Rusinov. The rounds 1 & 2 winners failed to finish in the 24 Hours of Le Mans after getting caught up in an accident, forcing the car into retirement.
Kristian Poulsen and David Heinemeier-Hansson leave Le Mans as championship leaders in the FIA Endurance Trophy for LMGTE Drivers, 18 points ahead of teammate Nicki Thiim after the no95 Aston Martin Racing Vantage scored an emotional victory. Poulsen is 29 points ahead of the AF Corse Ferrari trio of Luis Perez-Companc, Marco Cioci and Mirko Venturi.
The next round of the FIA World Endurance Championship will take place at the Circuit of the Americas in Texas on the 18-20 September.
Championship Leaders after Round 3
World Endurance Drivers' Championship: Sebastien Buemi, Anthony Davidson, Nicolas Lapierre - 80pts
World Endurance Manufacturers' Championship:Toyota - 115pts
World Endurance Cup for GT Drivers: Gianmaria Bruni, Toni Vilander - 90pts
World Endurance Cup for GT Manufacturers: Ferrari - 135pts
FIA Endurance Trophy for Private LMP1 Drivers: Mathias Beche, Nick Heidfeld, Nicolas Prost - 100pts
FIA Endurance Trophy for Private LMP1 Teams: Rebellion Racing - 100pts
FIA Endurance Trophy for LMP2 Drivers: Sergey Zlobin - 77pts
FIA Endurance Trophy for LMP2 Teams: 27 SMP Racing - 77pts
FIA Endurance Trophy for LMGTE Pro Teams: 51 AF Corse - 90pts
FIA Endurance Trophy for LMGTE Am Drivers: Kristian Poulsen, David Heinemeier-Hansson - 93pts
FIA Endurance Trophy for LMGTE Am Teams: 95 Aston Martin Racing - 93pts