WEC: centenary 24 Hours of Le Mans, a celebration of endurance racing
The FIA World Endurance Championship is preparing for its biggest event of the season, the legendary 24 Hours of Le Mans (10-11 June), which celebrates its 100th anniversary in 2023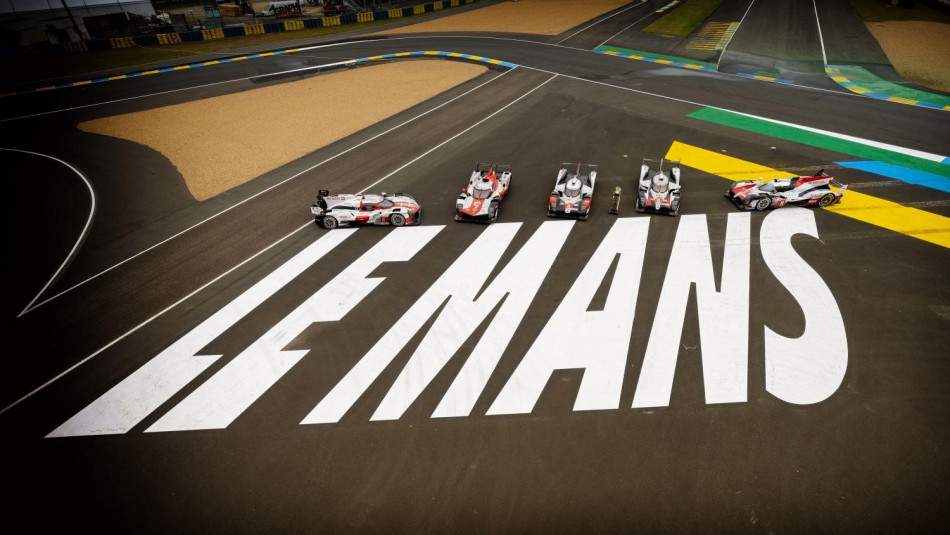 Round four of this year's FIA WEC season marks the centenary of the 24-hour French classic which was first staged in 1923. Le Mans also represents the halfway point for the seven-round FIA WEC season, with a total of 62 cars shared by 186 drivers (including 37 full-time FIA WEC entries) set to tackle the 13.6-kilometre circuit, where Hypercars reach speeds in the region of 330kph and nearly 70% of the lap is travelled with fully-opened throttle while there are 74 gearshifts during each tour.
With a total of 50 points on offer for the winners across all three classes (Hypercar, LMP2 and LMGTE Am), Le Mans is crucial in the 2023 title chase.
This year's event has been sold-out with around 300,000 fans expected at the world's oldest active endurance race.
16 HYPERCARS TO BATTLE FOR OVERALL HONOURS
The Hypercar line-up for this year's Le Mans features 16 cars from seven different brands, the highest entry since 2011 owing to the influx of manufacturers to the WEC's premier class. The entry list also has 24 cars in LMP2 and 21 in LMGTE Am classes, promising intense battles all the way through the field.
12 of the Hypercars are eligible to score FIA WEC points as full-season entrants, headlined by championship-leading Toyota Gazoo Racing and its pair of Toyota GR010 Hybrids. The Japanese manufacturer is yet to be defeated this season, but the likes of Ferrari AF Corse, Porsche Penske Motorsport and Cadillac Racing have all scored podiums this season and will be on the hunt for their maiden Hypercar victory.
Both Porsche Penske Motorsport and Cadillac Racing will field three Hypercars, with Ferrari returning to the fray after a 50-year absence from the top class with of its 499Ps.
Thirty years after Peugeot took an overall win at Le Mans, Peugeot TotalEnergies will contest the race with a pair of Peugeot 9X8 Hypercars, on this occasion sporting striking one-off liveries.
After a strong debut at Spa-Francorchamps last month, Hertz Team JOTA in a privately-run Porsche 963 will once again bolster Porsche's Hypercar-class presence, alongside the three official Porsche Penske Motorsport-operated cars.
Completing the entry list in Hypercar will be American-flagged Glickenhaus Racing with two Glickenhaus 007s, as well as Floyd Vanwall Racing with its sole Vanwall Vandervell 680. 
The entry list features strong local representation across all three classes with a total of 33 French drivers, including two drivers from the city of Le Mans itself, Cadillac Racing's Sebastien Bourdais and Alpine's Julien Canal.
TOYOTA AND CORVETTE LEAD THE POINTS; UNITED ON TOP IN LMP2
Toyota comfortably leads the Hypercar standings with a hat-trick of wins. Ferrari is currently 33 points behind, with Porsche a further 15 points adrift. However, with 50 points on the table at Le Mans, this is the race where everything can change.
Among drivers, it is the crew of the #8 Toyota GR010 Hybrid (Sébastien Buemi, Brendon Hartley, Ryō Hirakawa) that has a slender five-point lead over the sister #7 car of José María López, Kamui Kobayashi and Mike Conway.
In LMP2, there are just eight points between the two front-runners: United Autosports and Team WRT. Meanwhile, five points separate the #23 United Autosports crew, #63 Prema Racing and the sole Inter Europol Competition entry in the fight for third position.
In LMGTE Am, Corvette Racing leads the way with a total of 82 points, owing to two victories and a runner-up spot at the previous round in Spa-Francorchamps.
Richard Mille AF Corse is second, the crew buoyed by their victory in Belgium last month which, with Lilou Wadoux becoming the first-ever female WEC class winner.
The all-female Iron Dames crew of Rachel Frey, Michelle Gatting and Sarah Bovy will be hoping their luck will change after showing some excellent pace already this season without being able to secure their first win.
Running outside of the three classes will be a modified NASCAR Chevrolet Camaro ZL1 operated by renowned stock car team Hendrick Motorsports and entered under the Garage 56 banner, reserved for an innovative car. The car will be shared by an all-star line-up of Formula 1 World Champion Jenson Button, Le Mans winner Mike Rockenfeller and seven-time NASCAR Cup Series champion Jimmie Johnson.
The on-track action is set to kick off on Sunday 4 June with the official Test Day, with the race week action starting from Wednesday 7 June, with Qualifying taking place on Thursday.
The 24-hour will get underway at 16:00 on Saturday, with FIA president Mohammed Ben Sulayem in attendance.
2023 24 Hours of Le Mans timetable:
Sunday 4 June
Official Test Day

Wednesday 7 June
14:00 – 17:00: FP1
19:00 – 20:00: Qualifying practice sessions
22:00 – 00:00: FP2
Thursday 8 June
15:00 – 18:00: FP3
20:00 – 20:30: Hyperpole
22:00 – 23:00: FP3
Saturday 10 June
16:00: race start