WEC: 24 Hours of Le Mans after 19 Hours
Day light over the La Sarthe circuit and there was more drama out on track. Mechanical issues and race incidents shook things up in LMP1 and LMP2 and the ongoing battle in LMGTE Pro.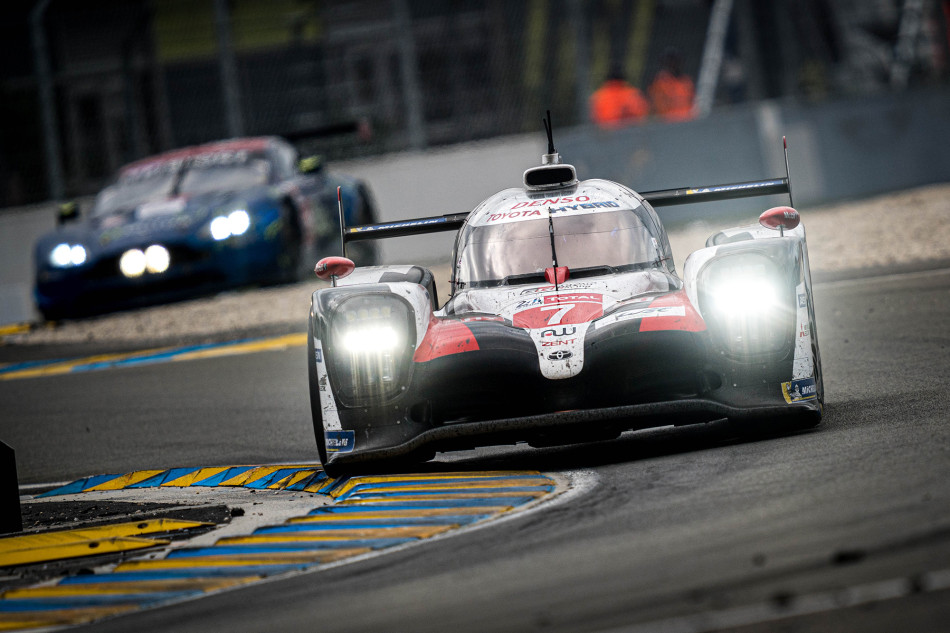 LMP1
Gustavo Menezes in the #3 Rebellion R13 was hot on the heels of Stoffel Vandoorne in the #11 SMP Racing for a while, but lost momentum in the traffic. Lying third, Menezes span the Rebellion off and spent five minutes in the gravel before rejoining the track. In the meantime Vandoorne moved ahead to take third place four laps behind the two Toyotas.
The #3 Rebellion R13 in the hands of Nathanaël Berthon was fourth in class but slowed on the Mulsanne Straight, returning slowly to the garage for repairs, which took 14 minutes. Meanwhile, André Lotter put the #1 Rebellion R13 in fourth place.
The leading car, the #7 Toyota TS050 Hybrid, was almost two minutes ahead of the sister car.
LMP2
Pastor Maldolando went straight on at Terte Rouge Corner, taking off the nose of the #31 DragonSpeed Oreca 07 – Gibson. The accident spelled retirement.  The #26 G-Drive Racing Aurus01 was leading but a starter motor problem forced the team to put the car in the garage for repairs. The Signatech Alpine Matmut #36 Alpine A470 went into the class ahead of the #38 Jackie Chan DC Racing Oreca 07-Gibson, with these two cars battling not just for the LMP2 win at Le Mans but also the WEC title as well.
LMGTE Pro
As usual, there is a fantastic tussle in this class. This year the Corvette Racing #63 Corvette C7.R is pitted against the AF Corse #51 Ferrari 488 GTE with little to choose between them. The Porsche GT Team #91 Porsche 911 RSR is not far behind. The Ford armada has not yet had the last word and the Risi Competizione #89 Ferrari 488 GTE is quietly making its way up the field, currently in ninth place.
LMGTE Am
The #85 Keating Motorsports #85 Ford GT still has a comfortable lead of over a lap on the Team Project 1 #56 Porsche 911 RSR. The JMW Motorsport #84 Ferrari 488 GTE lies second while WeatherTech Racing #62 and Clearwater Racing #61 Ferrari 488 GTEs wrangle for third.