This page contains archived information and may not display perfectly
WEC - 24 Hours of Le Mans – 6 Hours Report
WEC - 24 Hours of Le Mans - 6 Hours Report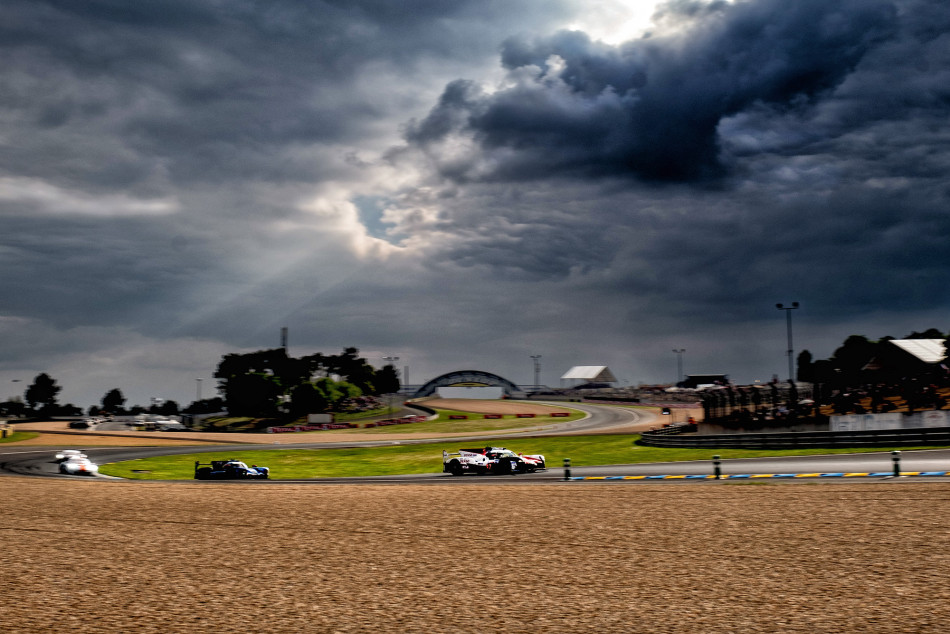 The first quarter of the 86th edition of the 24 Hours of Le Mans is over with several safety zones and two safety cars during the first six hours of racing.
Several accidents during the first quarter but there is only one official retirement which is the no4 Bykolles Racing Team ENSO-Nismo after Dominik Kraihamer clipped a backmarker while passing and the Austrian spun off into the wall.  Kraihamer emerged unscathed but the car was unable to continue.
With just over 90 laps of the 13.6km La Sarthe circuit complete the two Toyota TS050s are leading with the no8 Toyota of Kazuki Nakajima leading by just 12 seconds from the no7 TS050 of Kamui Kobayashi.  The no17 SMP Racing BR01 is in third place, one lap behind the leaders and over a lap ahead of the no3 Rebellion Racing R13 of Gustavo Menezes.
In the LMGTE Pro category two of the Porsche 911s hold the upperhand, with the no92 911 of Michael Christensen holding a two minute advantage over the no93 Porsche of Patrick Pilet.  The early race leader Gimmi Bruni is currently in 4th in the no91 911, 3 seconds behind the no81 BMW of Martin Tomczyk
The no26 G-Drive Racing Oreca is out in front thanks to the efforts of jean-Eric Vergne and the Russian entered team now has Roman Rusinov holding a 1 lap advantage over the no23 Panis Barthez Competition Ligier of Timothe Buret.
Porsche also hold the upperhand in the LMGTE Am class after six hours of racing with the no77 Dempsey-Proton Racing Porsche of Christian Ried holding a strong lead over the no56 Team Project 911 of Edigio Perfetti.  Third spot is currently held by the reigning LMGTE Am WEC champions in the no98 Aston Martin Racing, with Paul Dalla Lana at the wheel and just over three seconds behind the Team Project Porsche.