This page contains archived information and may not display perfectly
WEC - 2020-2024: Revolutionary Regulations
A new top class will be launched for 2020-2024: sleeker prototypes with more marque cachet.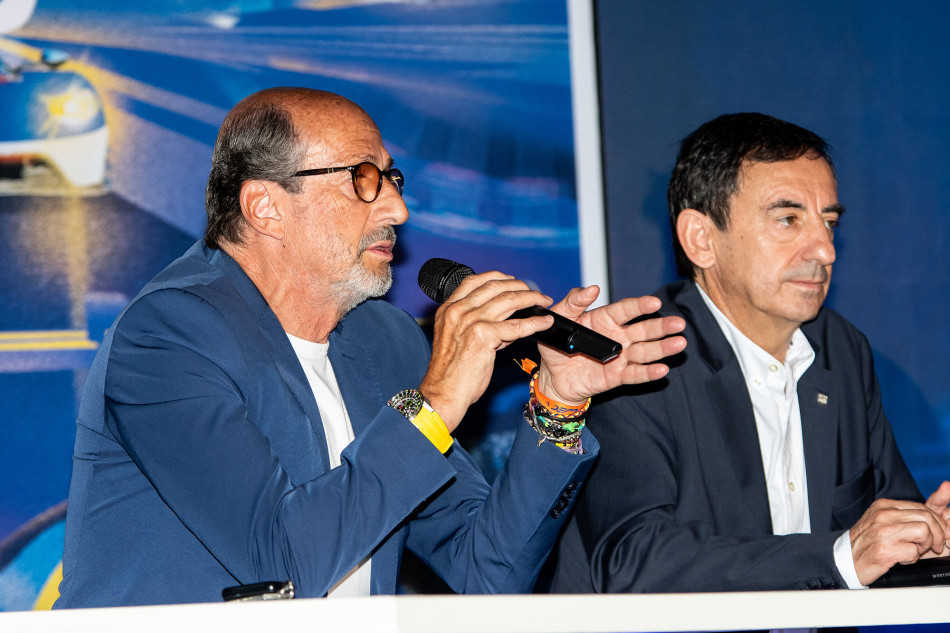 A new top class for the FIA World Endurance Championship will be launched for 2020-2024: sleeker prototypes with more marque cachet. While these racing cars will cut quite an imposing figure, they will also retain the usage of a hybrid system while leaving free the choice of combustion engine at a predetermined and fixed cost. The name of the new class will be chosen by popular vote.
The 2020-2024 plan will usher in a new era of endurance racing with an ultramodern style of prototype, with a name to be determined by fans of the FIA WEC. Super Sportscar, GTPrototype, Le Mans Supercars or Le Mans Hypercars? The choice is the fans'! 
The regulations, devised by the FIA and the ACO, focus on the appearance, style and lines of the cars in the new premier league. Team and car diversity in endurance racing is one of the discipline's foremost trademarks, never truer with the emergence of these stylized yet muscular cars, veritable racing beasts in the spirit and image of endurance. They will take on circuits like Le Mans, Spa, Silverstone, Fuji and Sebring in the day and night, rain or shine, in hot weather as in cold. That calls for a tough prototype, one as imposing as it is ingenious and technological. One that turns heads, like hypercars, supercars, prestigious GTs and concept cars do on the street or at any given motor show.
Aerodynamics cannot take precedence over aesthetics.
Being the top class, these new prototypes must be technologically powerful and compelling in design and will therefore remain hybrid, with a KERS system in front and 4WD to ensure energy efficiency. This technology will become more and more popular as the KERS system developed by some constructors will have to be used on production cars at a pre-defined price.
These new prototypes will have an alluring design and incredible pace. The regulations seek excellence: 3:20.00 per lap at Le Mans with limited fuel. The other priority is cost. They will be remarkable, competitive, innovative and affordable - requiring around a quarter of current budgets. Costly developments will be kept in check by a new homologation procedure and technical rules that will naturally reduce budgets.
However, there will be no restrictions on engine selection. Consumption rules will ensure fair competition between different systems. The new regulations will take effect for 2020-2024.
Jean Todt, FIA President: "The new regulations for the FIA World Endurance Championship, which come into effect for the 2020/21 season, are the result of hard work between members of the FIA, ACO, manufacturers and teams.  This will provide endurance racing with a long term, stable platform, while continuing to offer a cost-effective stage to showcase future technologies."
Pierre Fillon, President of the Automobile Club de l'Ouest: "Crafting these regulations was particularly satisfying as very quickly it sparked interest and gained the support of competitors or potential competitors. A new era will dawn in 2020 for endurance racing. On paper it has enormous potential. Le Mans 2018, 2019 and 2020 will each be outstanding editions, but now I can't wait for the start at the 2021 24 Hours of Le Mans."
Richard Mille, President of the FIA Endurance Commission: "What has been announced today is the first step in a new direction for the premier class of the FIA World Endurance Championship and the 24 Hours of Le Mans.  The new regulations are a framework that will be attractive to more manufacturers and teams, while at the same time retaining the excitement of endurance racing for existing fans to enjoy and to attract a new generation of spectator to the sport. The proposals announced today include cost limiting measures, making hybrid power more affordable and building a future for endurance with renewable energy.  From 2020 the front of the grid will look very different and it is an exciting prospect that we are all looking forward to seeing."
Gérard Neveu, CEO FIA World Endurance Championship: "The direction for the new regulations announced today jointly by the ACO and the FIA is a supremely positive one. The 2020-24 regulations are, for competitors, both technically interesting and sustainable, with the controlled budgets being a key factor.  We are confident that we will welcome an increased number of world-class manufacturers and international teams to the WEC and that all the elements are in place for them to be able to compete at the highest level, with the pinnacle of course being the 24 Hours of Le Mans."
2020-2024: UN REGLEMENT REVOLUTION-AIR
Pour 2020-2024, une nouvelle catégorie reine va faire son apparition : des prototypes plus racés et davantage griffés selon leurs marques. Fort d'un look musclé, ces machines de course  auront toujours recours à un système hybride, tout en laissant libre le choix de la motorisation à combustion. Les coûts seront en revanche encadrés. Les Fans choisiront leurs noms ! 
2020-2024 marquera une nouvelle ère pour l'Endurance, avec des prototypes d'un nouvel air, qui répondront au nom.... que les fans de la discipline auront très prochainement retenu. Super Sportscar, GTPrototype, Le Mans Supercars ou encore Le Mans Hypercars..., le public aura son avis sur la question!  
Ce règlement, résultat d'un travail commun entre les équipes de l'ACO et de la  FIA et de plusieurs constructeurs automobiles, insiste en effet sur l'apparence, le style, les lignes des machines de la catégorie reine. En endurance, la diversité, la variété des équipes et des voitures a toujours été une marque de fabrique. Elle le sera encore davantage,  avec des voitures racées et musclées, des bêtes de courses. Car c'est l'esprit et l'image de l'Endurance. Et puis, pour affronter, de jour comme de nuit, sous le soleil ou la pluie, sous la chaleur ou par le froid, des circuits comme Le Mans, Spa, Silverstone Fuji ou encore Sebring, il faut du robuste, un proto aussi imposant qu'ingénieux, technologique, une voiture sur laquelle on se retourne, comme on se retourne dans la rue ou dans les allées des salons automobiles, sur les hypercars, les supercars, les GT de luxe ou les concept cars. Pourquoi dès lors ne pas s'inspirer de ces derniers pour construire les voitures de course de l'endurance ? Ce sera chose faite. 
Clairement la recherche de performance aérodynamique ne pourra se faire au détriment du design de la voiture. Parce que la catégorie reine doit aligner des machines performantes et probantes en matière de technologies, ces nouveaux prototypes seront encore ''hybrides'', avec l'utilisation d'un système KERS à l'avant, pour toujours plus d'efficacité énergétique avec des voitures 4 roues motrices. 
Cette technologie se démocratisera puisque le système KERS, développé par certains constructeurs sera obligatoirement proposé à la vente, à un prix défini par le règlement. Ces nouveaux protos auront fière allure, mais fileront aussi à vive allure. L'esprit du règlement vise un certain niveau de performance : 3'20''00 par tour au Mans, avec une consommation encadrée. 
Autre priorité du règlement, le coût de ces machines. Elles seront certes remarquables, compétitives et useront de technologies innovantes, mais avec des budgets limités : quatre fois inférieur à celui des LMP1 H actuelles. Pour obtenir cet équilibre, une procédure d'homologation innovante qui limite fortement les développements coûteux a été décidée, tout comme un encadrement technique qui contraindra les dépenses naturellement, en fermant les voies techniques onéreuses. En matière de motorisation, la liberté est en revanche totale. La garantie d'une compétition entre les différentes architectures de moteurs sera assurée par une consommation spécifique règlementée. 
Ce règlement courra sur 2020-2024. 
Jean Todt, président de la Fédération Internationale de l'Automobile : « Le nouveau règlement du Championnat du Monde d'Endurance de la FIA, qui s'appliquera pour la saison 2020-2021, est le résultat d'un travail constructif et consciencieux entre les membres de l'ACO, de la FIA, les constructeurs et les équipes. Il va conférer une plateforme stable et pérenne pour l'Endurance, tout en poursuivant les efforts sur les budgets engagés et la promotion de nouvelles technologies. » 
Pierre Fillon, président de l'Automobile Club de l'Ouest : « Le travail fourni pour parvenir à ce règlement a été particulièrement satisfaisant, car très tôt nous avons ressenti l'intérêt et l'adhésion de nombreuses concurrents ou potentiels concurrents, à ce projet de nouvelle catégorie. C'est une nouvelle étape qui commence en 2020 pour l'endurance. Elle s'annonce plus que prometteuse sur le papier. Certes, Le Mans 2018, 2019 et 2020 seront enthousiasmants néanmoins je suis curieux d'être au départ des 24 heures du Mans 2021. » 
Richard Mille, Président de la Commission Endurance de la FIA: « Les annonces qui ont été faites aujourd'hui sont un premier pas vers une nouvelle direction pour la catégorie reine du Championnat du Monde d'Endurance de la FIA et des 24 Heures du Mans. Alors que ce nouveau règlement établit un cadre attractif pour les constructeurs comme pour les équipes privées, il ravira dans le même temps les fans de la discipline tout comme il pourra séduire un nouveau public pour ce sport. Parmi les propositions annoncées, la limitation des coûts devrait permettre de rendre plus accessible la technologie hybride et participer à construire avec l'endurance un avenir plus écologique. Dès 2020, la catégorie reine aura une allure bien différente, et cette perspective nous rend impatient. » 
Gérard Neveu, CEO FIA Championnat du Monde d'Endurance: « Le règlement annoncé aujourd'hui souligne la nouvelle direction que prennent l'ACO et la FIA. Cette initiative est extrêment positive. Pour les concurrents, le règlement 2020-24 est techniquement intéressant avec une visée à long terme, la maîtrise des budgets étant un facteur clé.  Nous avons confiance en notre capacité d'attirer et d'accueillir bon nombre de constructeurs d'envergure internationale. Tout est en place pour une compétition du plus haut niveau, avec les 24 Heures du Mans en apothéose. »