This page contains archived information and may not display perfectly
WEC - 2017 6 Hours of Circuit of the Americas - Preview
WEC - 2017 6 Hours of Circuit of the Americas - Preview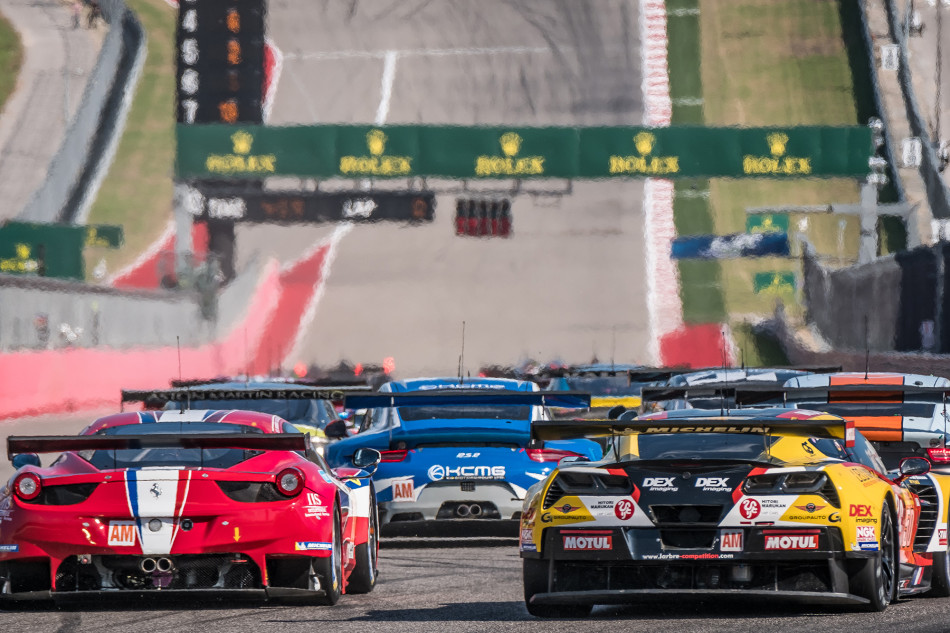 2017 6 HOURS OF CIRCUIT OF THE AMERICAS
Round 6:  14-16 September 2017
Lap distance:      5.513 km
Race duration:    6 hours
Location:            9201 Circuit of The Americas Blvd.
                           Austin, TX 78617
Website :            http://circuitoftheamericas.com/events
Other Races:     World Series Formula V8 3.5
               F4 USA Championship
               Ferrari Challenge North America
Airport:              Austin Bergstrom – 9 miles / 14km – http://www.austintexas.gov/airport
Circuit of The Americas
The North American round of the FIA WEC returns to the ultra modern circuit near Austin, Texas, for the fifth edition of the 6 Hours of the Circuit of the Americas and the Lone Star Le Mans weekend.  The first ever FIA WEC event was held the USA at Sebring in March 2012 with the US round of the WEC moving to the Circuit of the Americas in September 2013.
DATE

20-22 Sept 2013

18-20 Sept 2014

17-19 Sept 2015

16-18 Sept 2016

 

 

 

 

 

WINNERS

2013

2014

2015

2016

LMP1

Kristensen / Duval / McNish

no2 Audi Sport Team Joest

Audi R18 e-tron quattro (M)

187 laps

Fässler / Lotterer / Tréluyer

No2 Audi Sport Team Joest

Audi R18 e-tron quattro (M)

157 laps

Bernhard / Webber / Hartley

No1 Porsche Team

Porsche 919 Hybrid (M)

185 laps

Bernhard / Webber / Hartley

No1 Porsche Team

Porsche 919 Hybrid (M)

186 laps

LMP2

Rusinov / Martin / Conway

no26 G-Drive Racing

Oreca 03 – Nissan (D)

178 laps

Bradley / Howson / Matsuda

no47 KCMG

Oreca 03 – Nissan (D)

145 laps

Rusinov / Canal / Bird

no26 G-Drive Racing

Ligier JS P2 – Nissan (D)

170 laps

Menezes / Lapierre / Richelmi

No36 Signatch Alpine

Alpine A460 – Nissan (D)

172 laps

LMGTE Pro

B. Senna / F. Makowiecki

no99 Aston Martin Racing

Aston Martin Vantage V8 (M)

167 laps

D Turner / S Mücke

no97 Aston Martin Racing

Aston Martin Vantage V8  (M)

141 laps

Lietz / Christensen

no91 Porsche Team Manthey

Porsche 911 RSR  (M)

162 laps

Thiim / Sorensen

no95 Aston Martin Racing

Aston Martin Vantage V8  (D)

163 laps

LMGTE Am

Hall / Campbell-Walter

no96 Aston Martin Racing

Aston Martin Vantage V8 (M)

165 laps

Dalla Lana / Lamy / Nygaard

no98 Aston Martin Racing

Aston Martin Vantage V8  (M)

138 laps

Shaytar / Bertolini / Basoc

No72 SMP Racing

Ferrari 458 Italia  (M)

159 laps

Dalla Lana / Lamy / Lauda

no98 Aston Martin Racing

Aston Martin Vantage V8  (D)

158 laps
POLE POSITION

2013

2014

2015

2016

LMP1

L. Duval / A. McNish

no2 Audi Sport Team Joest

Audi R18 e-tron quattro (M)

1:48.355

S. Buemi / A. Davidson

no8 Toyota Racing

Toyota TS 040 – Hybrid (M)

1 :49.093

M.Lieb / N.Jani

No18 Porsche Team

Porsche 919 Hybrid (M)

1 :46.211

A.Lotterer / M.Fassler

No7 Audi Sport Team Joest

Audi R18 e-tron quattro (M)

1:45.750

LMP2

J. Martin / M. Conway

no26 G-Drive Racing

Oreca 03 – Nissan (D)

1 :54.951

R. Rusinov / O. Pla

no26 G-Drive Racing

Ligier JS P2 - Nissan  (D)

1 :56.075

J. Canal / S. Bird

no26 G-Drive Racing

Ligier JS P2 – Nissan (D)

1:57.148

G.Menezes / N.Lapierre

No36 Signatch Alpine

Alpine A460 – Nissan (D)

1:55.892

LMGTE Pro

B. Senna / F. Makowiecki

no99 Aston Martin Racing

Aston Martin Vantage V8 (M)

2 :04.628

G. Bruni / T. Vilander

no51 AF Corse

Ferrari F458 Italia (M)

2 :06.456

F.Rees / R. Stanaway

no99 Aston Martin Racing

Aston Martin Vantage V8 (M)

2 :05.872

N.Thiim / M.Sorensen

no95 Aston Martin Racing

Aston Martin Vantage V8 (D)

2 :04.610

LMGTE Am

R. Aguas / M. Malucelli

no81 8 Star Motorsports

Ferrari F458 Italia (M)

2 :06.515

E. Collard / M. Vaxivière

no75 Prospeed Competition

Porsche 911 GT3 RSR

2 :08.271

P. Dempsey / P. Long

no77 Dempsey Proton Racing

Porsche 911 RSR

2 :08.085

P. Dalla Lana / P.Lamy

no98 Aston Martin Racing

Aston Martin Vantage V8 (D)

2 :07.683
LAP RECORDS

LMP1

L.Duval

Audi R18 e-tron quattro

1m47.052

185.5kph

18 September 2016

LMP2

M. Conway

Oreca 03 - Nissan

1m54.559

173.3kph

22 September 2013

LMGTE Pro

K. Kobayashi

Ferrari F458 Italia

2m03.520

160.8kph

22 September 2013

LMGTE Am

N. Thiim

Aston Martin Vantage V8

2m04.830

159.1kph

22 September 2013
Wednesday 13 September
08:30-18:00                        Scrutineering
Thursday 14 September               
10:15                                   Drivers' briefing
12:00-13:30                        Free Practice #1
15:00                                   Pre-event Press conference
16:30 - 18:00                      Free Practice #2
Friday 15 September    
10:00 - 11:00                    Free Practice #3
15:05 – 15:25                    Qualifying - LMGTE-PRO/LMGTE-AM
15:35 - 15:55                    Qualifying - LMP1/LMP2
16:05                                 Qualifying Press Conference
16:35                                  Mixed Interview Zone
Saturday 16 September
12:00 - 18:00                      RACE: 6 Hours of CoTA
18:15                                   Post-race Press Conference
FIA OFFICIALS
Eduardo Freitas                                FIA Race Director
Jean-Francois Veroux                      FIA WEC Steward (Chairman)
Denis Chevrier                                  FIA Technical Delegate
Jacques Tropenat                             FIA Medical Delegate
Jeff Carter                                          FIA Media Delegate
David Escribano                                Chief timekeeper
Yannick Dalmas                                Driver Adviser
FIA WORLD ENDURANCE CHAMPIONSHIP CLASSIFICATIONS
The provisional classifications for all the Championship can be found on the following link:
FIA WORLD ENDURANCE CHAMPIONSHIP –6 HOURS OF CIRCUIT OF THE AMERICAS
Shortly after the finish of the sessions, results of the event can be found on the following link: