Webber claims pole in Abu Dhabi
Australian beats Vettel to P1 as Red Bull lock out front row at Yas Marina.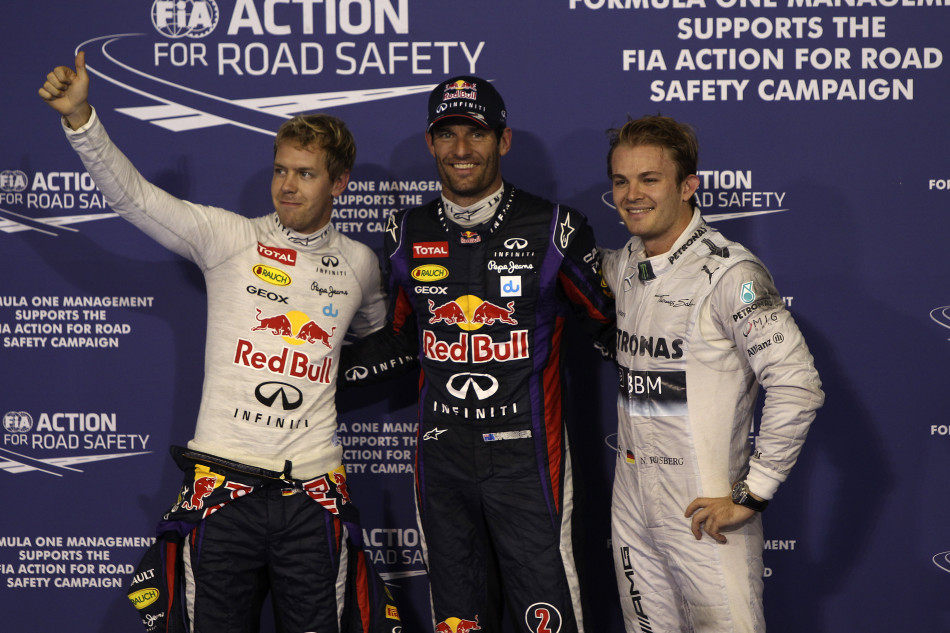 Mark Webber claimed the 13th pole position of his career in Abu Dhabi, beating out team-mate Sebastian Vettel by just over four hundredths of a second as Red Bull Racing locked out the front row of the grid for the fourth time this season.
Nico Rosberg qualified in third position ahead of team-mate Lewis Hamilton, who made it an all Mercedes row two despite a session-ending spin during his second run in Q3 that caused the top-10 shootout to come to a close under yellow flags.
"This weekend so far has gone pretty smoothly for us," said Webber afterwards. "[In] Q1, we were not electric but then we got into the groove. We changed the car quite a bit, with the front wing level and things like that as the session went on. I got more and more comfortable. So, I knew I had to work on certain sections of the track. Sebastian had already been doing a good job there, so I had to try to match him there and keep the areas where I was still doing a pretty good job.
"Overall, happy with the pole," he added. "It was good lap on a track which in the past hasn't been super-invigorating for me in terms of layout, but we certainly enjoyed quali today and I'm really looking forward to the race tomorrow because we've got a good car for the race in these conditions."
Vettel, meanwhile, admitted that he had lost out to Webber in the first sector of his second run in Q3.
"I did what I could today and it wasn't enough and Mark deserved to be on pole, no doubt," he said. "I [told the team], 'sorry guys, I messed up a bit at turn one'. It's a tricky corner. If you get it right, it feels great. It you mess it up, it doesn't and then you have a long lap trying to make up for it. But obviously there is a limit. Overall, I was happy but didn't manage to get everything perfect. Whether it would have been enough, I don't know, Mark did a very good lap, so we'll see tomorrow."
Mercedes had threatened in Q2 as Rosberg took that segment's fastest time, but in the final 10 minutes, neither he nor Hamilton could find the pace to compete with Webber or Vettel, with Rosberg later admitting he had been happy to simply "annoy the Red Bulls".
"I'm pleased with the result for sure: third place, best of the rest, which is our target for the weekend," said Rosberg. "It was nice to annoy Red Bull a little bit from time to time there in qualifying but in the end they were just too quick again.
"Anyway, third place is good, I'm pleased with that," he added. "[We're] just looking at the Constructors' [Championship]. That's what counts for us, third and fourth, blocking out the second row of the grid. Lotus are some way back but especially Ferrari, who are our direct competition, they're well back, so that's a very good result for us today in qualifying."
Whether Hamilton might have annoyed the front pairing more is open to question. After a good first flying lap, the Briton took to the track again in pursuit of more. However, a problem in the final sector saw him run wide over the kerbs and his Mercedes was pitched into a spin. The yellow flags immediately appeared and the times remained static.
Behind the front four, the Lotus cars of Kimi Raikkonen in fifth and Romain Grosjean in seventh were split by the Sauber of Nico Hulkenberg.
In eighth place, Felipe Massa salvaged Ferrari pride after Fernando Alonso dropped out of the session in Q2, the Spaniard only managing a desultory 11th place. Sergio Perez enjoyed a good run for McLaren to qualify ninth, ahead of Toro Rosso's Daniel Ricciardo.

2013 Abu Dhabi Grand Prix – Qualifying Result
1 Mark Webber Red Bull Racing 1:39.957
2 Sebastian Vettel Red Bull Racing  1:40.075
3 Nico Rosberg Mercedes  1:40.419
4 Lewis Hamilton Mercedes 1:40.501
5 Kimi Räikkönen Lotus 1:40.542
6 Nico Hulkenberg Sauber 1:40.576
7 Romain Grosjean Lotus 1:40.997
8 Felipe Massa Ferrari 1:41.015
9 Sergio Perez McLaren 1:41.068
10 Daniel Ricciardo Toro Rosso 1:41.111
11 Fernando Alonso Ferrari 1:41.093
12 Paul di Resta Force India-Mercedes 1:41.133
13 Jenson Button McLaren 1:41.200
14 Jean-Eric Vergne Toro Rosso 1 1:41.279
15 Pastor Maldonado Williams 1:41.395
16 Valtteri Bottas Williams 1:41.447
17 Esteban Gutierrez Sauber 1:41.999
18 Adrian Sutil Force India 1:42.051
19 Giedo van der Garde Caterham 1:43.252
20 Jules Bianchi Marussia 1:43.398
21 Charles Pic Caterham 1:43.528
22 Max Chilton Marussia 1:44.198