This page contains archived information and may not display perfectly
W2RC - Spanish title showdown for Al-Attiyah and Loeb at Andalucia Rally
2022 Rally Andalucia - FIA event preview
Four-time Dakar Rally winner Nasser Saleh Al-Attiyah will go head-to-head with nine-time WRC champion Sébastien Loeb to decide the outcome of the Drivers' Championship in the inaugural FIA World Rally-Raid Championship (W2RC) at this week's Andalucia Rally (October 18-23). 
Finishing third at the recent Rally of Morocco has given the Qatari a slight advantage and he will take a 22-point cushion into the season's finale in southern Spain. Individual selective sections may well be crucial on the five-day event, where fastest times are rewarded with additional bonus points on the four longer stages. A win or a second-placed finish for Al-Attiyah and his Andorra-based co-driver Mathieu Baumel in their South African-built Toyota Gazoo Racing GR DKR Hilux could well prove decisive.
Loeb and Belgian-driver Fabian Lurquin suffered technical issues in North Africa in a Prodrive-built Hunter BRX and finished 56th overall. Outright victory may well be a necessity for the Frenchman, in addition to consistently fast daily stage times if he is to wrest the title from Al-Attiyah clutches. 
Yazeed Al-Rajhi is a distant third in the points' standings but could still finish second if Loeb hit trouble. He again teams up with German co-driver Dirk von Zitzewitz and heads to Spain directly after competing at Rally Qassim in Saudi Arabia. Al-Rajhi drives the first of three Overdrive Racing Toyota Hiluxes: Dutchman Erik van Loon and Frenchman Lionel Baud are also registered for championship points.
Guerlain Chicherit returned to the rallying discipline in spectacular style to win the Rally of Morocco and he drives the second of the Bahrain Raid Extreme Hunters in Spain. The former rallycross star holds sixth in the points' standings, but he and co-driver Alex Winocq could well provide a vital supporting role for Loeb by potentially depriving Al-Attiyah of much-needed points. 
Portugal's João Ferreira and David Monteiro drive the only X-raid built Mini John Cooper Works Rally in Spain. Ferreira recently clinched the FIA World Cup for Cross-Country Bajas title and will use the car in which he claimed the title at Baja Poland. 
Toyota Gazoo Racing currently holds a 20-point lead over Bahrain Raid Xtreme in the W2RC Manufacturers' series. With Loeb and Chicherit representing the BRX team and pushing for outright victory in Spain, there is a strong chance that the Prodrive team could snatch the title from Toyota at the 11th hour.
Twenty SSVs are entered in the T3 section and eight drivers are registered for W2RC points. The South Racing Can-Am Team's Francisco Lopez extended his lead in the Drivers' Championship to 28 points in Morocco and remains the favourite to clinch the title, despite finishing behind Red Bull Off-Road Junior Team driver Seth Quintero at the last round.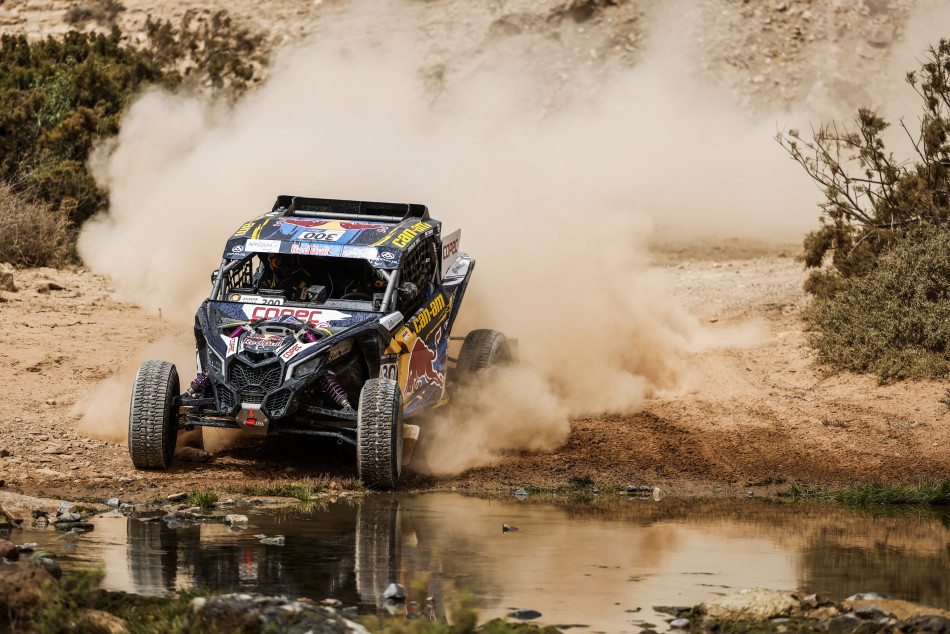 Quintero and G Rally Team OT3 team-mate Cristina Gutierrez are the Chilean's closest title challengers, with Gutierrez holding second in the rankings, 10 points ahead of Quintero. Belgium's Guillaume de Mevius drives the third of the OT3s, while Spain's Fernando Alvarez will play a supporting role to Lopez in his South Racing Can-Am. 
PH Sport will be represented by a pair of Zephyrs in the hands of the French duo of Jean-Luc Pisson and Mathieu Serradori. Annett Fischer (Can-Am) completes the line-up of registered drivers and a good finish for the German lady could lift her into fourth place in the final T3 championship standings. 
François Cazalet currently has a one-point lead over Dennis Zenz in the co-driver's series and the results earned by De Mevius and Quintero will decide the outcome in Spain. 
Three South Racing Can-Am drivers will battle it out for W2RC's T4 title supremacy: Poland's Marek Goczal currently has a one-point cushion over Lithuania's Rokas Baciuška and a two-point lead over American racer Austin Jones.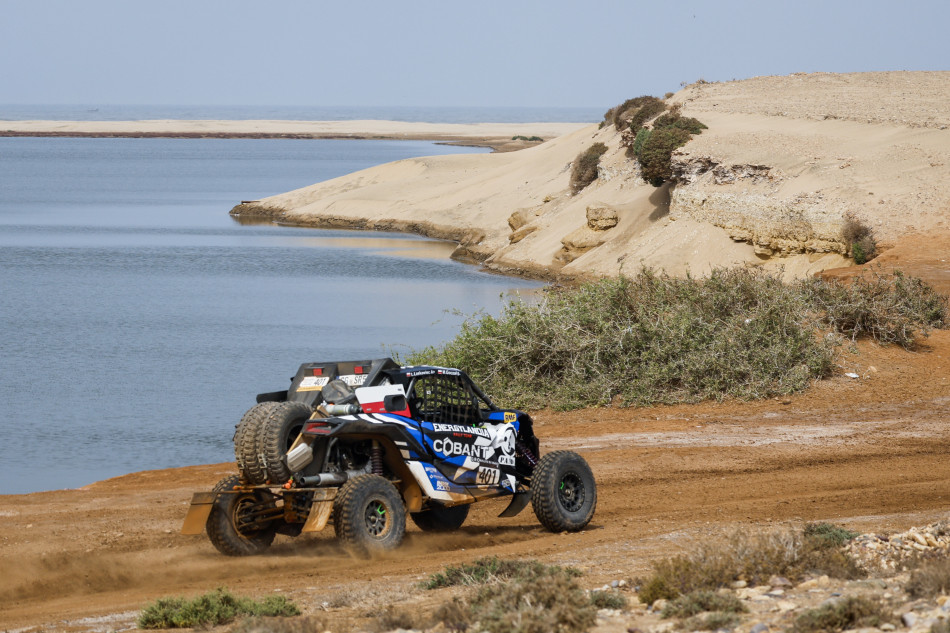 What is likely to be a winner-takes-all situation for the leading trio will also determine the outcome of the co-drivers' title. Goczal's navigator Lukasz Laskawiec has a two-point lead over Jones's wingman Gustavo Gugelmin heading into the start on Wednesday.
The final round of the W2RC had originally been scheduled to take place in early June, but a long period of hot, dry weather increased the risk of bush fires and the decision was taken to postpone the event to the autumn. 
Competitors will tackle a Qualifying Stage and four selective sections of 315km 228km, 333km and 126km in a compact route of 2,111km that sees teams visit the Sevilla region on day one, the Malaga province for leg two and the areas around Huelva and Cadiz on the last two days.
The event will be based out of the Gran Hipódromo de Andalucia in the town of Dos Hermanas, situated 15km south of Seville. 
2022 Andalucia Rally– leading entries:
200. Nasser Saleh Al-Attiyah (QAT)/Mathieu Baumel (FRA), Toyota GR DKR Hilux*
201. Sébastien Loeb (FRA)/Fabian Lurquin (BEL), Prodrive Hunter BRX*
202. Yazeed Al-Rajhi (SAU)/Dirk von Zitzewitz (DEU), Toyota Hilux Overdrive* 
204. Erik van Loon (NLD)/Sébastien Delaunay (FRA), Toyota Hilux Overdrive*
205. Guerlain Chicherit (FRA)/Alex Winocq (FRA), Prodrive Hunter*
208. Lionel Baud (FRA)/Remi Boulanger (FRA), Toyota Hilux Overdrive*
209. João Ferreira (PRT)/David Monteiro (PRT), Mini John Cooper Works Rally* 
211. Isidre Esteve Pujol (ESP)/José Maria Villalobos (ESP), Toyota Hilux Overdrive
212. Tomas Baronowski (POL)/Maciej Marton (POL), Toyota Hilux
214. Jose Gameiro (ESP)/Antonio Saraiva (ESP), Toyota Land Cruiser (T2)
* denotes registered for W2RC
            
TIMETABLE OF EVENTS
Tuesday, October 18
Administration checks, Gran Hipódromo - Dos Hermanas: 08.00hrs-20.00hrs
Scrutineering checks, Gran Hipódromo - Dos Hermanas: 09.00hrs-21.00hrs
Pre-event press conference, Gran Hipódromo - Dos Hermanas: 19:00 hrs
Wednesday, October 19  
Qualifying Stage (Leg 1A - 12km), Dos Hermanas: 15.30hrs
Thursday, October 20
Leg 1B (315km), First car – 11.13hrs
Friday, October 21
Leg 2 (228km), First car – 11.33hrs
Saturday, October 22 
Leg 3 (333km), First car – 11.23hrs
Sunday, October 23
Leg 4 (126km), First car – 11.33hrs
Post-event press conference, Gran Hipódromo - Dos Hermanas: 19.30hrs
Prize-giving ceremony, Gran Hipódromo - Dos Hermanas: 21.00hrs