W2RC - Loeb and Al-Attiyah set to resume their duel in the dunes of the Abu Dhabi Desert Challenge
Teams, crews and fans will experience an all-new version of the event for its second edition in the FIA World Rally-Raid Championship.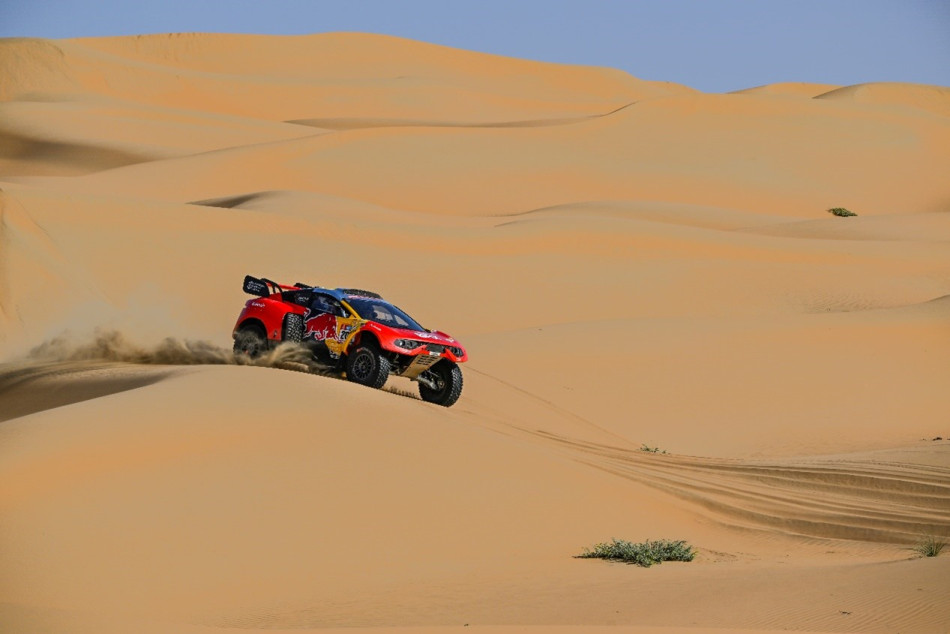 Sébastien Loeb and Nasser Saleh Al-Attiyah are the top seeds for the forthcoming Abu Dhabi Challenge, round two of the FIA World Rally-Raid Championship (W2RC), which will carve its way through the UAE's vast Empty Quarter and its swathes of towering sand dunes from February 26th to March 3rd.
The duo are currently separated by just two points in the Drivers' Championship with nine-time WRC winner Loeb and his Belgian co-driver Fabian Lurquin leading courtesy of the additional points they scored for a greater number of stage wins secured in their Prodrive Hunter BRX en route to second place at the Dakar Rally.
All-Attiyah secured his fifth Dakar success last month and co-driver Mathieu Baumel earned his fourth. The Toyota Gazoo Racing duo arrives in Abu Dhabi fresh from securing a terrific victory at the Qatar International Rally last weekend. The switch back to the cross-country discipline and a Toyota Hilux T1+ will see the Qatari aiming to win the event for a fourth time after he secured wins in 2008, 2016 and 2021. He has also won the Saudi Baja since his recent Dakar triumph.
Thirteen of the 18 entries in the FIA T1 category are registered for the W2RC and nine are representing a manufacturer.
Bolstering Prodrive's Bahrain Raid Xtreme challenge in a second Hunter BRX is Frenchman Guerlain Chicherit. He and co-driver Alex Winocq currently hold third in their respective Drivers' and Co-Drivers' Championships behind the top two crews.
Toyota's challenge for honours is supported by a pair of Overdrive Racing-run Hiluxes in the hands of Argentina's Juan-Cruz Yacopini and Saudi Arabia's Yazeed Al-Rajhi, the latter returning to action after sustaining a minor back injury in a skiing accident in France before the recent Saudi Baja. The Riyadh driver teams up with Germany's Timo Gottschalk on this occasion.
The X-raid Mini JCW Team will be represented by the Argentinian duo of Sebastien Halpern and Bernando Graue and Denis Krotov and Konstantin Zhiltsov on the second appearance of the team's new Mini John Cooper Works Plus. Halpern holds seventh place in the Drivers' Championship.
The Orlen Benzina crew of Martin Prokop and Viktor Chytka hold fifth in their respective championships in a Ford Raptor RS Cross-Country. The Czech former WRC driver has a good record in Abu Dhabi: he won the event outright in 2018 with then co-driver David Pabiška.
The Chinese BAIC ORV team is registered for the W2RC Manufacturers' Championship and is represented by Guoyu Zhang and Yunliang Zi in a pair of BJ40s.
Bahrain Raid Xtreme currently leads the series by a single point from Toyota Gazoo Racing. The X-raid Mini JCT Team and BAIC ORV are in striking distance in third and fourth places.
There are additional entries for the Chinese Hanwei Motorsport pairings of Wei Han/Ma Li and Tian Po/Du Xuanyi in Lichi HW21 Buggies and Poland's Magdalena Zajac and Jacek Czachor in a Toyota Hilux.
Among the non-registered T1 drivers are Toyota Gazoo Racing's Henk Lategan – a stage winner at the recent Dakar Rally – local favourite and 2017 winner Sheikh Khalid Al-Qassimi in an Abu Dhabi Team Mini John Cooper Works Plus and local veteran and multiple top 10 finisher Yahya Al-Helai (Nissan Pick-Up).
American trio top quality T3 entry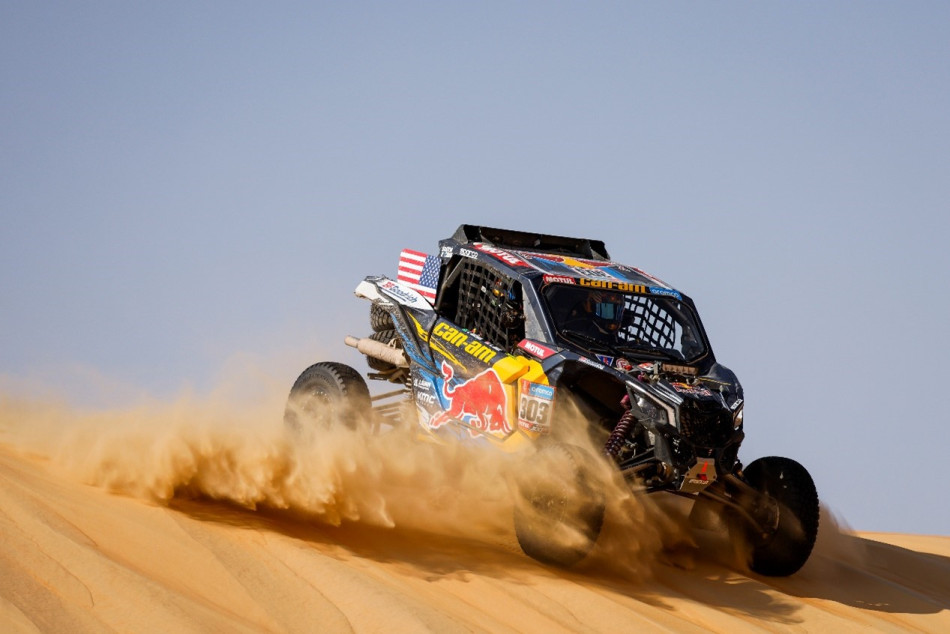 The second round of the W2RC has attracted 24 entrants in the FIA T3 section for series-production cross-country vehicles and 13 are registered for W2RC points.
Red Bull Off-Road Junior Team USA Can-Am driver Austin Jones won the section at the Dakar Rally, leads the field and will be trying to defend the six-point advantage he gained over fellow American Seth Quintero. Mitch Guthrie and his co-driver Kellon Walch are also part of the same team and hold third in the points' standings in their prototype MCE-5 T3M, which makes it an all-American trio at the top of the T3 leaderboard.
Jones's navigator Gustavo Gugelmin currently leads the Co-drivers' Championship from Quintero's partner Dennis Zenz and Walch.
With Chile's Francisco Lopez absent from the entry, his Spanish Red Bull Can-Am Factory Team colleagues, Cristina Gutierrez and Pablo Moreno, will be hoping to close the gap on the leading three American drivers.
The top seeded entrant is actually Mattias Ekström, the motor sporting all-rounder who was part of Team Audi Sport at the recent Dakar Rally. He teams up with fellow Swede Emil Bergkvist in a South Racing Can-Team Maverick on this occasion. Ekström was the only Audi driver at the finish of the Dakar and currently holds fourth place in the overall Drivers' Championship.
Other W2RC registered crews include a pair of X-raid Yamaha YXZ 1000 R prototypes in the hands of Portugal's João Ferreira and Germany's Annett Fischer and there are South Racing Can-Am entries for Saudi Arabia's Yasir Seaidan and Dania Akeel and Dutch businessman Erik van Loon.
Frenchman Jean-Luc Ceccaldi wheels out a PH Sport Zephyr, while there is a Buggyra ZM Racing Can-Am DV21 in the hands of Emirati Aliyyah Koloc and a Can-Am for French veteran Claude Fournier.
Non-registered drivers include Chile's Hernan Garces, Spain's Eduardo Pons, van Loon's wife Anya and Australian driver Glenn Brinkman.
Rokas Baciuška aims to top FIA T4 category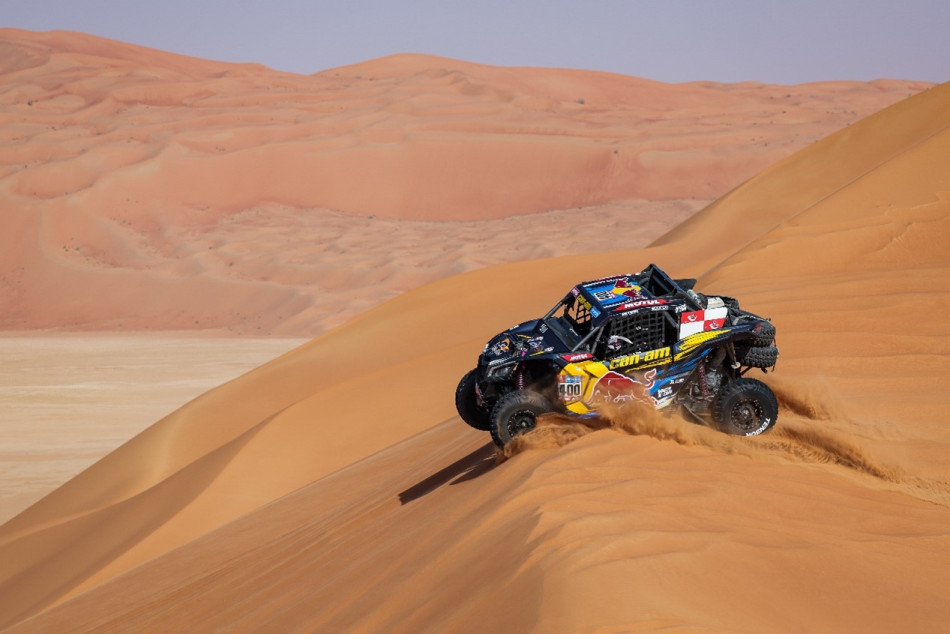 Nine teams will compete in the FIA T4 category and four are registered for the W2RC. Series leader Eryk Goczal is not present in the UAE, but his closest rival Rokas Baciuška will be hoping to take full advantage in his Red Bull Can-Am Factory Team Maverick with co-driver Oriol Vidal. The Lithuanian trails Goczal by seven points after the Dakar Rally.
Spain's Pau Navarro and Japan's Shinsuke Umeda hold seventh and 12th in the points' standings and have their chances to move up in the classification. Navarro drives his usual FN Speed Can-Am, alongside Frenchman Michael Metge, while Umeda teams up with Argentina's Facundo Jaton in a Polaris RXR Pro R. 
The Italian duo of Michele Cinotto and Maurizio Dominella crew an Xtremeplus Team Polaris.
It will be the 32nd edition of the event, organised by the Emirates Motorsports Organisation (EMSO) under the patronage of H.H. Sheikh Hamdan Bin Zayed Al Nahyan.
Khalid Bin Sulayem, EMSO President; commented: "Despite only entering its second season, the World Rally-Raid Championship has already surpassed its counterparts to represent the highest level of the sport.
"The FIA and FIM joining forces for the first time to create this championship was an exciting time in the cross-country rally world, and we are thrilled to be a part of the story.
"The Abu Dhabi Desert Challenge brings a lot of its own history to the championship, and it continues to grow and adapt under the EMSO's supervision. The thriving city of Abu Dhabi convenes with tradition and ancient terrain to make a rally that is both glamorous and technical – and we look forward to seeing what history is made this time around."
Pre-event formalities will be based at the ADNOC Energy Business Centre in Abu Dhabi for the first time and these precede the ceremonial start and Prologue in the Al-Dhannah desert on Sunday, February 26th. This will be the event's first visit to Al-Dhannah City (formerly known as Al-Ruwais).
After a night stop at a bivouac close to the Al-Dhannah Heritage Village, the action switches to the UAE deserts in the Al-Dhafra (western region).
Crews will tackle five selective sections, including three loops through the remote Empty Quarter, near Liwa, and the remote Qasr Al-Sarab bivouac that will host the event for four nights (February 27th-March 2nd). The stages have been revised by the Emirates Motorsports Organisation (EMSO) with an additional 237km in a total route of 2,170km.
A shorter fifth stage on Friday, March 3rd takes competitors from Qasr Al-Sarab and back to the ADNOC Energy Business Centre for the finish and ceremonial prize giving.
Abu Dhabi Desert Challenge  – leading entries:
| | |
| --- | --- |
| 200. Sébastien Loeb (FRA)/Fabian Lurquin (BEL)  | Prodrive Hunter BRX |
| 201. Nasser Saleh Al-Attiyah (QAT)/Mathieu Baumel (FRA)  | Toyota GR DKR Hilux |
| 202. Guerlain Chicherit (FRA)/Alex Winocq (FRA) | Prodrive Hunter BRX |
| 203. Martin Prokop (CZE)/Viktor Chytka (CZE) | Ford Raptor RS Cross-Country |
| 204. Juan Cruz Yacopini (ARG)/Daniel Oliveras (ESP) | Toyota Hilux Overdrive |
| 205. Sebastien Halpern (ARG)/Bernardo Graue (ARG)  | Mini John Cooper Works Rally Plus |
| 206. Han Wei (CHN)/Ma Li (CHN) | Lichi HW2021 |
| 207. Yazeed Al-Rajhi (SAU)/Timo Gottschalk (DEU) | Toyota Hilux Overdrive |
| 208. Denis Krotov (RUS)/Konstantin Zhiltsov (RUS) | Mini John Cooper Works Rally Plus |
| 209. Guoyu Zhang (CHN)/Oriol Mena (ESP) | Baic ORV BJ40 |
| 210. Yunliang Zi (CHN)/He Sha (CHN) | Baic ORV BJ40 |
| 211. Henk Lategan (ZAF)/Brett Cummings (ZAF) | Toyota GR DKR Hilux* |
| 212, Tian Po (CHN)/Du Xuanyi (CHN) | Lichi HW2021 |
| 213. Magdalena Zajac (POL)/Jacek Czachor (POL) | Toyota Hilux |
| 214. Sheikh Khalid Al-Qassimi (ARE)/Ola Floene (NOR) | Mini John Cooper Works Rally Plus* |
| * denotes not registered for W2RC |   |
|   |   |
| Timetable of events |   |
|   |   |
| Saturday, February 25  |   |
| Administration checks | Energy Business Centre (07.00-16.00hrs) |
| Scrutineering | Energy Business Centre (08.00-17.30hrs) |
| Pre-event press conference | Energy Business Centre, Murban Theatre (19.00hrs) |
|   |   |
| Sunday, February 26 |   |
| Ceremonial start | Al-Dhannah Desert (15.00hrs) |
| Prologue – 5km | Al-Dhannah Desert (15.15hrs) |
|   |   |
| Monday, February 27 |   |
| Stage 1  | Al-Dhannah to Qasr Al-Sarab  |
|   |   |
| Tuesday, February 28 |   |
| Stage 2  | Qasr Al-Sarab to Qasr Al-Sarab  |
|   |   |
| Wednesday, March 1  |   |
| Stage 3  | Qasr Al-Sarab to Qasr Al-Sarab  |
|   |   |
| Thursday, March 2 |   |
| Stage 4  | Qasr Al-Sarab to Qasr Al-Sarab  |
|   |   |
| Friday, March 10 |   |
| Stage 5  | Qasr Al-Sarab to Energy Business Centre  |
| Prizegiving ceremony | Energy Business Centre (19.00hrs) |