This page contains archived information and may not display perfectly
Toyota's Al-Attiyah/Baumel seal fourth victory in Dakar Rally
Toyota Gazoo Racing's Nasser Al-Attiyah produced a strategy master class to dominate the 44th Dakar Rally in Saudi Arabia from start-to-finish. The Qatari benefited from co-driver Mathieu Baumel's meticulous navigational skills to see off a fierce challenge from nine-time WRC champion Sébastien Loeb and reach the finish in Jeddah with a winning margin of 27min 46sec.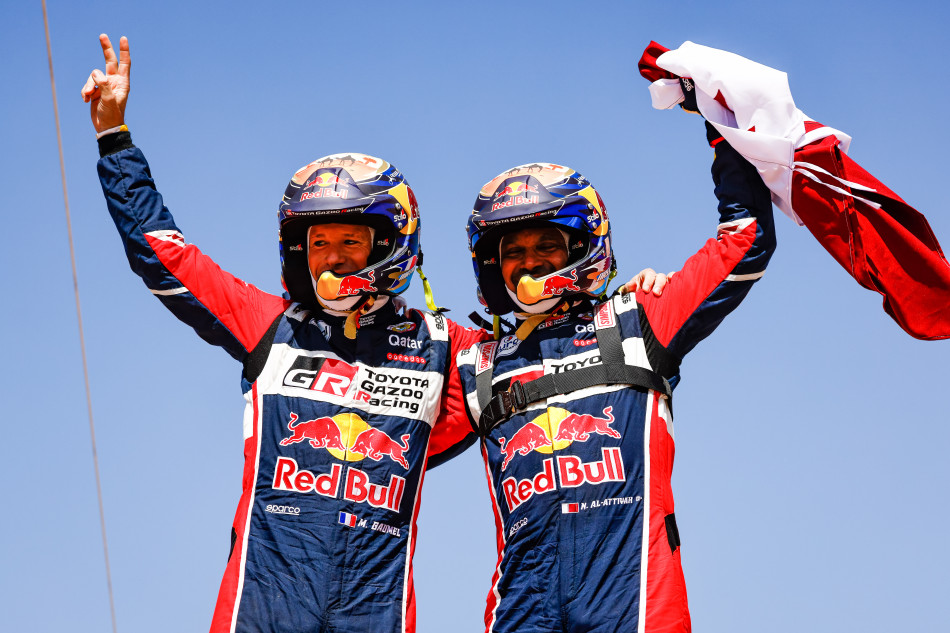 Al-Attiyah won three of the 13 timed stages and had built up a lead of 48min 54sec at the Riyadh rest day. On each stage after the mid-point, he eased his pace to conserve the Toyota Hilux and overcame a five-minute penalty for a safety belt violation, punctures and finishing one stage in two-wheel drive to confirm his fourth Dakar success after 2011, 2015 and 2019. The feat meant the Qatari equalled flying Finn Ari Vatanen's record of four outright successes and gives him an early lead in the FIA World Rally-Raid Championship.
Al-Attiyah said: "It was an incredible Dakar for us. We hadn't won since 2019. We're pleased with the new T1+ regulations. Mathieu and I and the team did a great job to win. We had finished second every time since we came to Saudi Arabia two years ago and now, we are really happy to achieve our goal. The whole race went without a hitch. We were on high alert, but now we know that we have an amazing car and we will do our best for the World Championship.
"We opened up a gap on the first day and have since managed our lead. We're fortunate to get to race the Dakar in Saudi Arabia and I would like to thank the government for this opportunity to discover such breathtaking landscapes."
Loeb suffered his own fair share of mechanical issues, including a transmission failure which cost him valuable time, punctures and navigational woes in the first of three Hunter BRXs, built by Prodrive. The Frenchman also overcame a five-minute time penalty for a speeding violation on the penultimate stage and delivered numerous consistent stage performances that ensured that he is a major contender for the new FIA World Rally-Raid Championship after the opening round.
Loeb said: "I think we had a great rally. We ran into trouble at the beginning and, seeing the differences there were on the stages, we were unable to close the gap. We never stopped attacking, so we have no regrets. It's part of the game. This is motor sport. We could only grab a few minutes here and there. Nasser has tons of experience and a co-driver who only makes mistakes once in a blue moon, so he controlled the race to perfection. I still had a blast though."
Loeb's team-mate Nani Roma is a two-time Dakar winner, but early time delays cost the Spaniard dearly and he finished the event in 50th. Argentina's Orlando Terranova drove a third BRX that wasn't registered for the new FIA World Championship, but he came home in a fine fourth overall.
All three Hunter BRXs were powered by a sustainable generation 2 biofuel that was developed from agricultural waste and efuels created by carbon capture from the atmosphere. The fuel reportedly reduces greenhouse gas emissions by 80% compared to equivalent petrol.
Yazeed Al-Rajhi teamed up with Ulster co-driver Michael Orr and held second overall at the rest day in an Overdrive Racing Toyota Hilux. The Saudi slipped behind Loeb when action resumed out of Riyadh, but he managed to reach the finish to secure the final place on the podium.
The X-Raid Mini John Cooper World Team suffered mixed fortunes: Poland's Jakub Przygonski finished sixth after technical issues cost him over an hour in stage nine and he completed the 11th stage with no spare wheel after sustaining two punctures.
Argentina's team-mate Sebastián Halpern reached the finish in eighth with fellow countryman Bernardo Graue, having lost a position on the penultimate stage when he got stuck in sand. Russia's Denis Krotov was classified in 28th in the third of the Buggies.
Lucio Alvarez held a top five position for long periods in his Overdrive Racing Toyota, but a broken differential on stage eight and subsequent punctures dropped the Argentine down to 18th. He had the consolation of the second quickest time on the penultimate stage.
Russian privateer Vladimir Vasilyev dropped from seventh to 10th overall on the final stage after losing an hour in his VRT Team BMW X5. Frenchman Mathieu Serradori benefited from the BMW driver's misfortune and climbed to seventh in a South African-built Century CR6 Buggy.
Team Audi Sport enjoyed a successful Dakar debut with the new Audi RS Q e-tron and its state-of-the-art electric technology. Carlos Sainz won two specials and both Mathias Ekström and Stéphane Peterhansel won one apiece, with the latter securing a career 49th stage win to move within one of all-time Dakar record-holder Ari Vatanen.
Ekström was the highest-placed of three drivers in ninth at the finish, after punctures, a navigational mistake and a broken damper had cost Sainz a lot of time and the three-time Dakar winner came home in 12th. Peterhansel suffered broken suspension and radiator issues and had to call upon his assistance truck on two occasions.
Dakar veteran Peterhansel said: "We're making good progress. I'm not necessarily a stage hunter but each Audi driver won at least one stage. This is good for morale. We need to win in 2023. Failure is not an option."
Frenchman Guerlain Chicherit teamed up with Alex Winocq to drive a environmentally-friendly bioethanol-powered GCK Thunder Buggy. He suffered a roll and several mechanical setbacks before reaching the finish at the rear of the field.
Five-time motorcycle Dakar winner Cyril Despres drove a Peugeot 3008 to 19th. The Frenchman used this Dakar to examine data with plans to develop a hydrogen-powered car for the 2023 Dakar.
The FIA T3 category became a battle ground between the Red Bull Off-Road Junior Team and South Racing. Nineteen-year-old American driver Seth Quintero won a staggering 12 stages out of 13 to beat both Hubert Auriol's 1984 record and Pierre Lartigue's record of 10 stage wins in 1994. But Quintero lost a lot of time on stage two with transmission issues and was never in contention for the win.
Can-Am drivers "Chaleco" Lopez and Austin Jones win T3 and T4 sections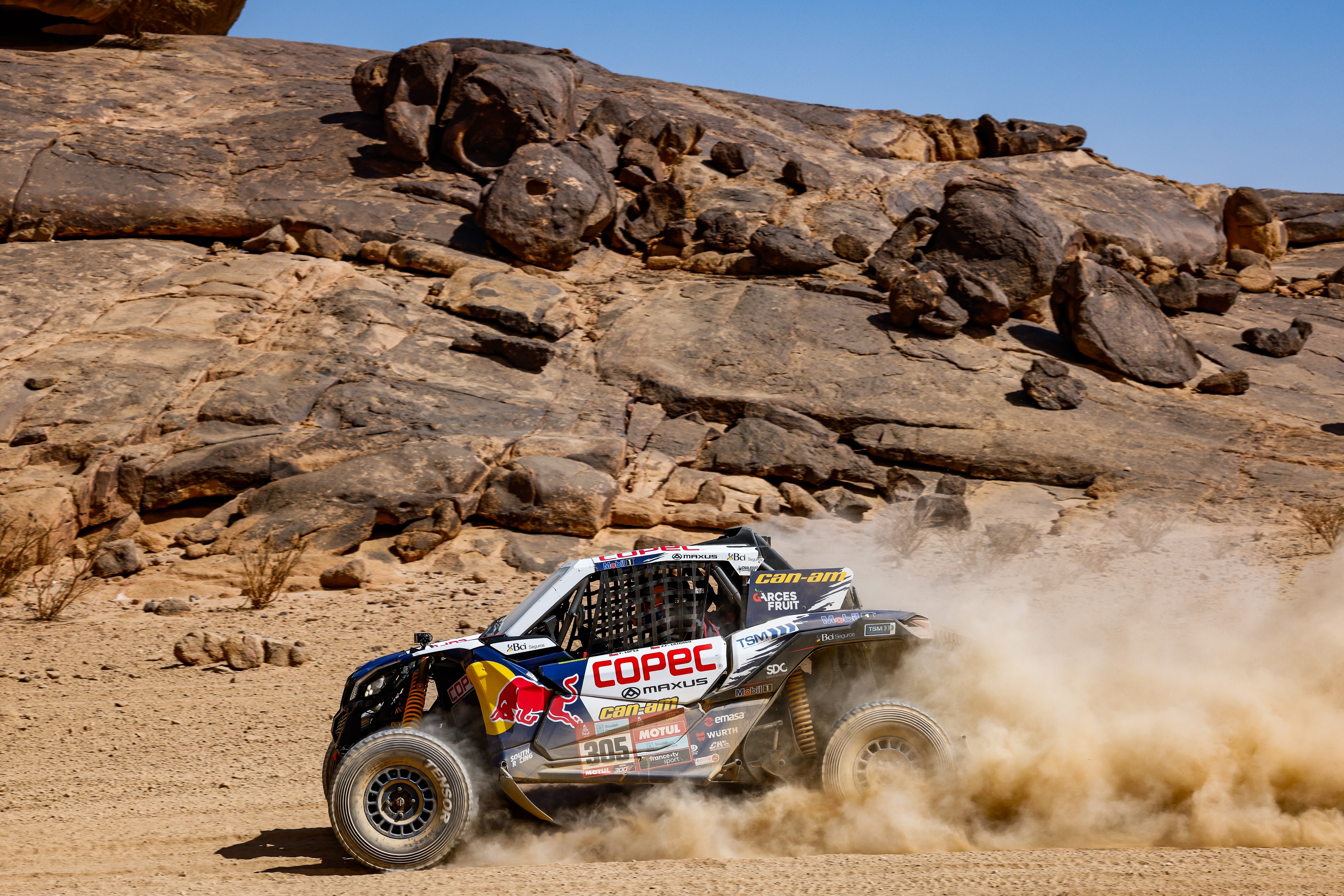 Chile's Francisco "Chaleco" Lopez Contardo held his nerve to claim a second Dakar victory to add to the SSV successes he earned in 2019 and 2021. The South Racing Can Am driver held off Swedish team-mate Sebastian Eriksson to take the win by 51min 28sec. Spain's Cristina Gutièrrez, who shone throughout the event, rounded off the podium places in her OT3.
"It's definitely a rewarding feeling," said Quintero. "We did 13 stages with 12 wins. Every day was an adventure in itself and I was trying to take it day-by-day. Dennis did an amazing job. Stage two definitely crosses my mind quite a bit. If we'd had 30 less kilometres on that stage it would have been pretty good. You never know. In some ways it took a lot of pressure off us and I had a lot of fun for all the Dakar! We are now the sole record holder for the most stage wins on a single Dakar, which is absolutely mind-blowing. I came here to try sand become the youngest ever to win a Dakar but, in the end, we've broken another record."
T3 winner Lopez said: "It was a long race. These two weeks went pretty smoothly. It was a completely different scenario compared to last year, when I had to go flat out every day without fail. After stage two, we held a considerable lead, so we just needed to focus on making it to the finish day after day. I'm really happy that our strategy worked out. It was a test of endurance, we had to avoid breakdowns. After all that, victory tastes really sweet."
Guillaume de Mevius retired the third of the OT3s after stage 10. He had been plagued by a catalogue of transmission issues during the first week and had massive time penalties.
Spain's Santiago Navarro finished fourth and Saudi female racer Dania Akeel drove a South Racing Middle East Can-Am to finish eighth behind team-mate Thomas Bell. Fellow Saudi female driver Mashael Al-Obaidan was classified in 16th.
South Racing-built Can-Ams dominated the fight for FIA T4 success. Spain's Gerard Farrés headed into the final morning with a 1min 41sec advantage over long-time leader Austin Jones. But the American pushed hard through the final 164km, took advantage of electrical gremlins for Farrés and managed to squeeze through to take victory by 2min 37sec in his Can-Am Factory South Racing Maverick.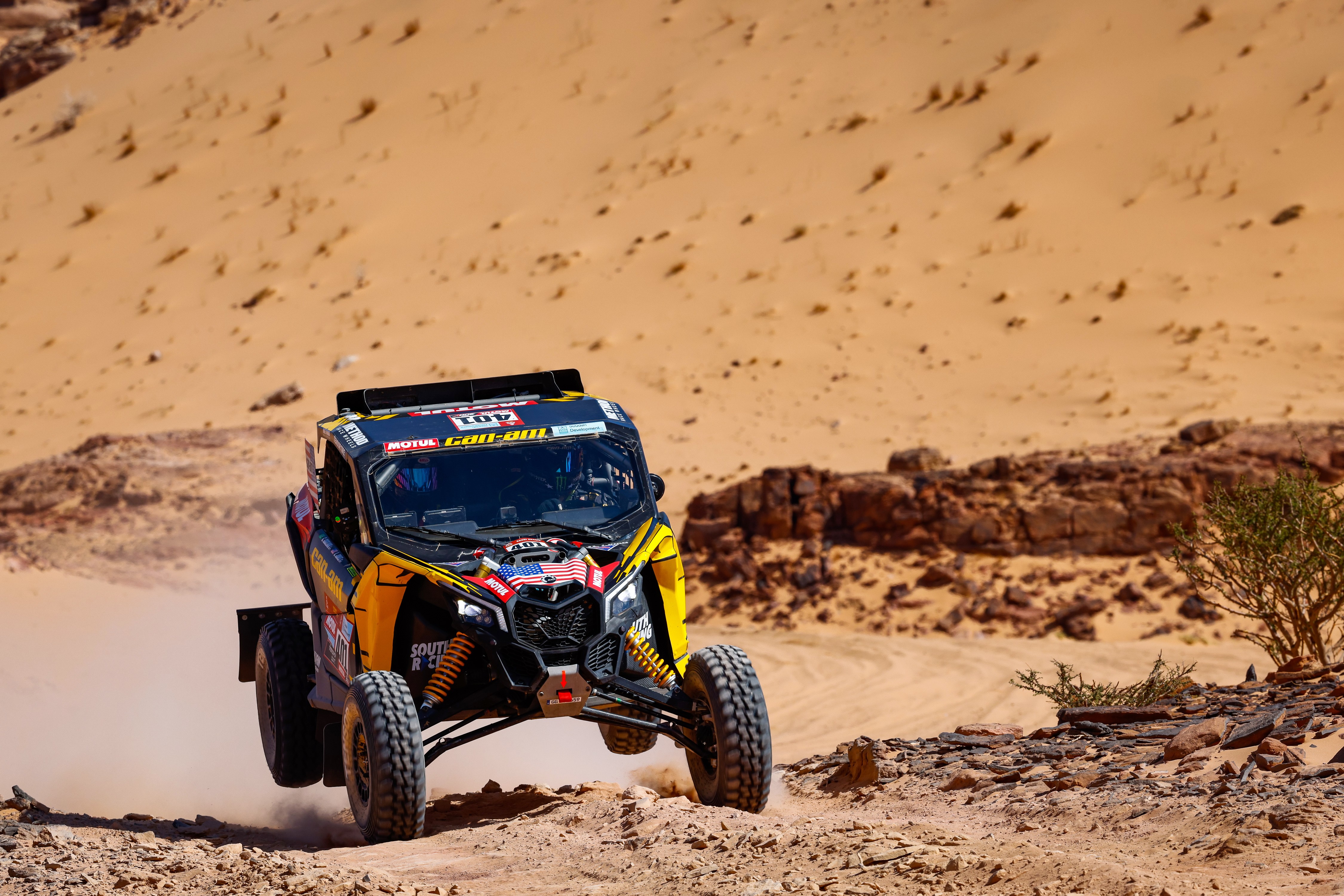 T4 winner Jones said: "Dakar is the ultimate test of off-road racing. Nothing else compares to it. Competing for 14 days, in Saudi Arabia's diverse terrain, and to live out here, it's so much harder than you think. Not only is it a test of driving, it's a mental game. There's a reason Dakar is considered the toughest race in the world.
"To be the youngest American to win means a lot. Winning Dakar is everything. It's everything that you work for. All the training. All the work you put in. This is the most important race. To win the Dakar is the number one goal in rally racing."
Lithuanian rookie Rokas Baciuska overtook Poland's Marek Goczal to secure the final place on the podium, with Goczal and his brother Michal finishing in fourth and fifth. Brazilian privateer Rodrigo Luppi de Oliveira led at the rest day and eventually finished sixth.
Kamaz dominates T5 Truck class; Czech Martin Macik top W2RC-registered driver
Kamaz dominated the Truck's T5 section, with Dmitry Sotnikov, Ilgiz Akhmetzianov and Ruslan Akhmadeev claiming victory by 9min 58sec from team-mates Eduard Nikolaev, Evgenii Iakovlev and Vladimir Rybakov.
Kamaz 43509 trucks filled the top three positions, although they were not registered for the FIA World Rally-Raid Championship. The leading crew registered in the FIA World Rally-Raid Championship were the Czech trio of Martin Macik, Frantisek Tomasek and David Svanda, who came home in seventh place in an Iveco Powerstar.
Next home amongst the registered contenders was the experienced Dutchman Kees Koolen, running alongside Wouter De Graaff and Gijsbert Van Uden in a similar Iveco Powerstar running under Project 2030 to develop trucks of the future with zero emissions.
FIA final unofficial T1 standings:
1. Nasser Al-Attiyah (QAT)/Mathieu Baumel (FRA) Toyota Gazoo Racing Hilux 38hr 33min 03sec
2. Sébastien Loeb (FRA)/Fabian Lurquin (BEL) Prodrive Hunter BRX 39hr 00min 49sec
3. Yazeed Al-Rajhi (SAU)/Michael Orr (GBR) Toyota Hilux Overdrive 39hr 34min 16sec
4. Orlando Terranova (ARG)/Daniel Oliveras (ESP) Prodrive Hunter BRX 40hr 00min 26sec
5. Giniel de Villiers (ZAF)/Dennis Murphy (ZAF) Toyota Gazoo Racing Hilux 40hr 14min 51sec
6. Jakub Przygonski (POL)/Timo Gottschalk (DEU) Mini John Cooper Works Buggy 40hr 26min 09sec 
7. Mathieu Serradori (FRA)/Loic Minaudier (FRA) Century Buggy CR6 41hr 05min 08sec
8. Sebastien Halpern (ARG)/Bernardo Graue (ARG) Mini John Cooper Works Buggy 41hr 11min 29sec
9. Mattias Ekström (SWE)/Emil Bergkvist (SWE) Audi RS Q e-tron 41hr 15min 14sec
10. Vladimir Vasilyev (RAF)/Oleg Uperenko (LVA) BMW X5 41hr 35min 24sec
Rally leaders
SS1-12 Nasser Saleh Al-Attiyah (Toyota)
Stage winners
SS1A Nasser Saleh Al-Attiyah (Toyota)
SS1B Nasser Saleh Al-Attiyah (Toyota)
SS2 Sébastien Loeb (Prodrive Hunter)
SS3 Carlos Sainz (Audi RS Q e-tron)
SS4 Nasser Saleh Al-Attiyah (Toyota)
SS5 Henk Lategan (Toyota)
SS6 Orlando Terranova (Prodrive Hunter)
SS7 Sébastien Loeb (Prodrive Hunter)
SS8 Mattias Ekström (Audi RS Q e-tron)
SS9 Giniel de Villiers (Toyota)
SS10 Stéphane Peterhansel (Audi RS Q e-tron)
SS11 Carlos Sainz (Audi RS Q e-tron)
SS12 Henk Lategan (Toyota)
FIA final unofficial T3 standings: 
1. Francisco Lopez (CHL)/Juan Pablo Vinagre (CHL) Can-Am Maverick XRS 45hr 50min 51sec
2. Sebastien Eriksson (SWE)/Wouter Rosegaar (NLD) Can-Am Maverick XRS 46hr 42min 19sec
3. Cristina Gutièrrez (ESP)/François Cazalet (FRA) Overdrive OT3 50hr 25min 34sec
FIA final unofficial T4 standings: 
1. Austin Jones (USA)/Gustavo Gugelmin (BRA) Can-Am Maverick XRS 47hr 22min 50sec
2. Gerard Farrés (ESP)/Diego Ortega Gil (ESP) Can-Am Maverick XRS 47hr 25min 27sec
3. Rokas Baciuska (LTU)/Oriol Mena (ESP) Can-Am Maverick XRS 47hr 38min 08sec
FIA final unofficial T5 standings:
1. Dmitry Sotnikov/Ilgiz Akhmetzianov/Ruslan Akhadeev (RAF) Kamaz 43509 41hr 37min 34sec
2. Eduard Nikolaev/Evgenii Iakovlev/Vladimir Rybakov (RAF) Kamaz 43509 41hr 47min 32sec
3. Anton Shibalov/Dmitrii Nikitin/Ivan Tatarinov (RAF) Kamaz 43509 42hr 48min 45sec 
2022 World Rally-Raid Championship, Round One – Classification points
T1 drivers
1. Nasser Al-Attiyah (QAT)                            85 pts
2. Sébastien Loeb (FRA)                                 84 pts
3. Yazeed Al Rajhi (SAU)                                51 pts
4. Jakub Przygonski (POL)                              36 pts
5. Mathieu Serradori (FRA)                           33 pts
Manufacturers
1. Toyota Gazoo Racing                                 80 pts
2. Bahrein Raid Xtreme                                 45 pts
3. X-Raid Mini JCW Team                              45 pts
4. MD Rallye Sport Optimus                          25 pts
5. OT3 by Overdrive                                      16 pts
6. PH-Sport                                                    14 pts
T3 drivers
1. Francisco 'Chaleco' Lopez Contardo (CHL)              90 pts
2. Cristina Gutierrez Herrero (ESP)               72 pts
3. Seth Quintero (USA)                                  63 pts
4. Santiago Navarro (ESP)                              38 pts
5. Thomas Bell (GBR)                                     25 pts
T4 drivers
1. Austin Jones (USA)                                    83 pts
2. Marek Goczal (POL)                                   68 pts
3. Rokas Baciuska (LTU)                                 68 pts
4. Michal Goczal (POL)                                   57 pts
5. Rodrigo Luppi de Oliveira (BRA)                49 pts
T5 drivers
1. Martin Macik (CZE)                                    108 pts
2. Kees Kolen (NED)                                       86 pts
Dakar standings for all T1 / T3 / T4 / T5 categories are available on the event website, subject to final approval of the results by the FIA.
For more information on the FIA World Rally-Raid Championship, please consult the championship's page on the FIA website or the dedicated website of the series.