Toyota's Al-Attiyah/Baumel hold Dakar advantage at the rest day in Riyadh
Toyota were dominant at the end of the first week of the 45th Dakar Rally and the Japanese manufacturer reached the rest day in Riyadh with four cars inside the top five and Nasser Saleh Al-Attiyah and his co-driver Mathieu Baumel winning three stages and leading the event by 1hr 03min 36sec.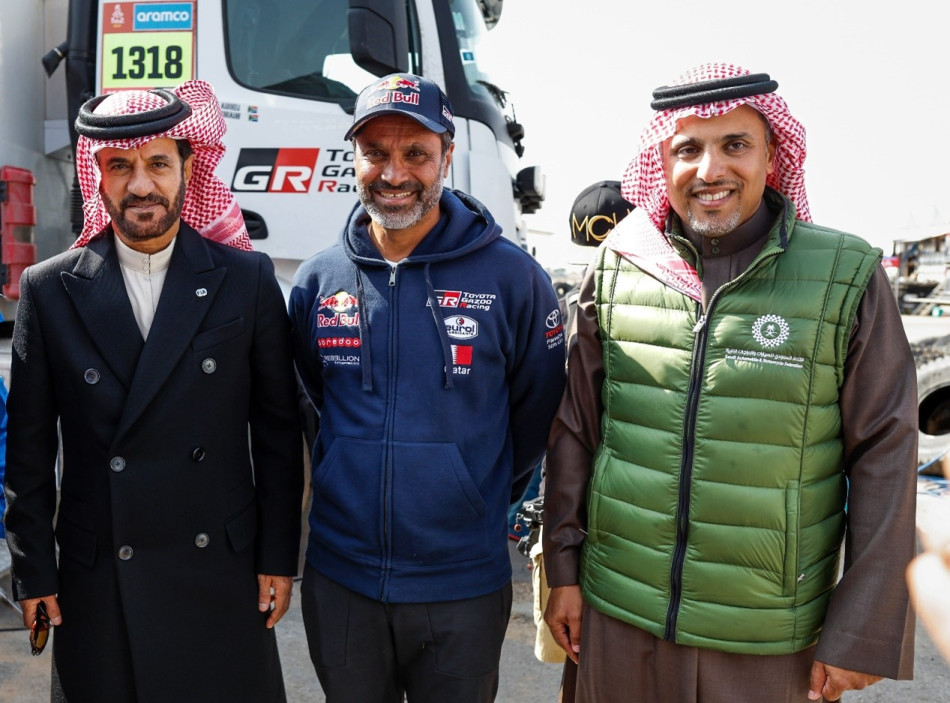 FIA President Mohammed Ben Sulayem and Robert Reid, FIA Deputy President for Sport, were greeted by His Royal Highness Prince Khalid bin Sultan Al-Abdullah Al-Faisal, Chairman of the Saudi Automobile and Motorcycle Federation (SAMF), when they arrived for a rest day visit in Riyadh on Monday.
On what has already been described as the toughest of all the Saudi Arabian Dakars, Al-Attiyah led the event from stage three, despite the Bahrain Raid Xtreme team winning three specials and Team Audi Sport dominating the Prologue and winning the first desert selective section on New Year's Day.
Al-Attiyah said: "We have been really careful from the beginning. We have worked hard from the start. Now we need to try and be always top three for the points for the championship. Next week I will be at home (in the dunes). It will be like homeland. There will be a lot of dunes and we need to be careful and work day-by-day to see how the race is going."
Adverse weather conditions played havoc with on-stage conditions for several days and rally officials were forced into route changes and last-minute amendments to the timetable. But Al-Attiyah guided his Toyota Gazoo Racing Hilux T1+ safely through the nine days with punctures and minor technical issues costing the Qatari only a little time.
The second-placed Toyota Gazoo Racing team of Henk Lategan and Brett Cummings and the third-placed Overdrive Racing crew of Brazilian Dakar rookie Lucas Moraes and German co-driver Timo Gottschalk are not registered for the FIA World Rally-Raid Championship (W2RC).
That means Al-Attiyah's arch W2RC rival Sébastien Loeb, who holds fourth overall, is on course for second place in the W2RC rankings in his Prodrive Hunter BRX. The nine-time World Rally Champion suffered time losses early in the rally but won stages four and eight and is still within touching distance of the podium heading into the remaining six stages.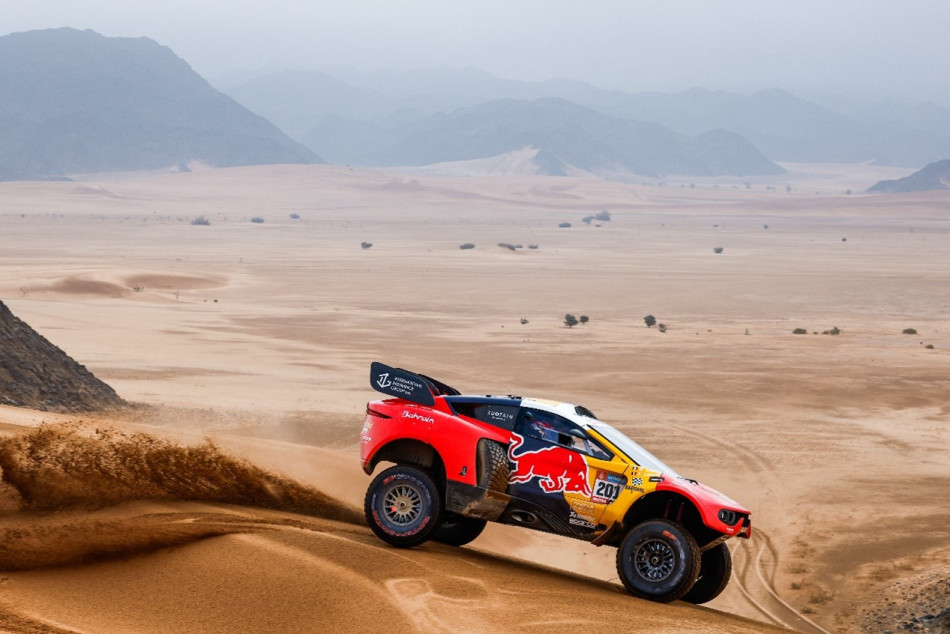 With fifth-placed Giniel de Villiers and Frenchman Romain Dumas, in sixth, also not registered for the W2RC, the Czech crew of Martin Prokop and Viktor Chytka are third of the W2RC crews in seventh overall in a Ford Raptor RS Cross-Country. It has also been a successful first week for the Chinese SMG HW Buggy crew of Wei Han and Ma Li: they are ninth and fourth of the registered crews, while Overdrive Racing's Juan Cruz Yacopini and Daniel Oliveras round off the top 10 and the French duo of Mathieu Serradori and Loic Minaudier are 11th in a Century CR6 Buggy.
Yacopini's team-mate Yazeed Al-Rajhi claimed one stage win, but a costly wheel hub failure pushed the Saudi down from second place to 19th overall and fellow Overdrive entrant Erik van Loon was side lined with a back injury after a heavy crash on day seven.
Loeb's Bahrain Raid Xtreme colleagues, Orlando Terranova and Guerlain Chicherit, endured mixed fortunes. Terranova was running strongly until he aggravated an old back injury after a heavy landing and was forced to retire, while Chicherit won stage three but has overcome a catalogue of set-backs and holds 18th.
What started off so promisingly with a Prologue win for Sweden's Mathias Ekström and a two-day lead and a stage win for Carlos Sainz, has turned sour for Team Audi Sport and its latest E2 version of the electric-powered Audi RS Q e-tron.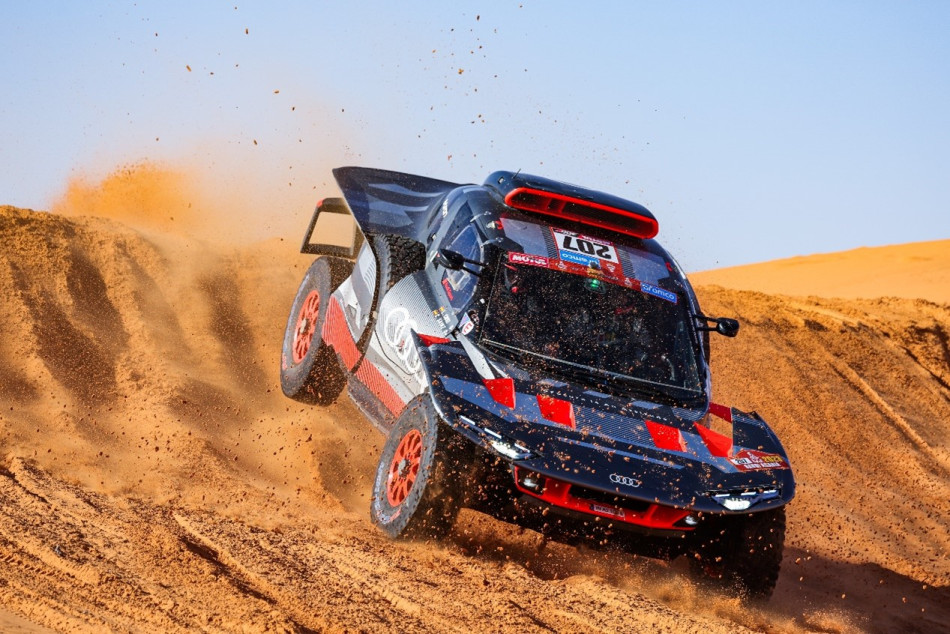 Fourteen-time event winner Stéphane Peterhansel had climbed to second overall after stage five, but a high-speed landing over a dune resulted in a fierce landing and co-driver Edouard Boulanger suffered a broken vertebra.
Sainz and co-driver Lucas Cruz are well placed to challenge for individual stage wins during the second week but mechanical damage sustained close to Peterhansel's accident have cost the three-time Dakar winner any chance of climbing back into contention. He languishes over 30 hours behind the leader in 100th place after ongoing time delays. Ekström and co-driver Emil Bergkvist are the highest-placed Audi crew in 35th overall.
The Dakar debut of the X-raid Mini JCW Team's new Mini John Cooper Works Plus has not been without issues, although Argentina's Sebastien Halpern and Bernando Graue have fought back well to hold 14th overall and seventh of the registered W2RC crews. Poland's Jakub Przygonski and Armand Monleón are 37th.
De Mevius leads in T3; Jones tops W2RC runners
Belgian driver Guillaume de Mévius and his French co-pilot François Cazalet had carved out a slender 3min 19sec advantage in the lightweight prototype T3 category after eight stages. The Grallyteam OT3 driver led from stage five and won the next special en route to Riyadh.
But De Mévius is not registered for championship points and last year's T4 Dakar winner Austin Jones tops the W2RC rankings and holds second overall in his Red Bull Off-Road Junior Team USA presented by BF Goodrich Can-Am. After making the switch from T4 to T3, the American and his Brazilian co-driver Gustavo Gugelmin battled back from early time delays to win the third special and reach Riyadh just under an hour clear of team-mates Seth Quintero and Dennis Zenz. His fellow American led after three stages and won stage five before losing time with a lack of power, no power steering and fuel issues.
Jones said: "We managed to gain five minutes back on the leader on the last stage. That's perfect for us and was the plan. Everything is coming together well. Next week we will kind of do the same thing, picking where we can go faster and where we need to go slower, based on what shakes out."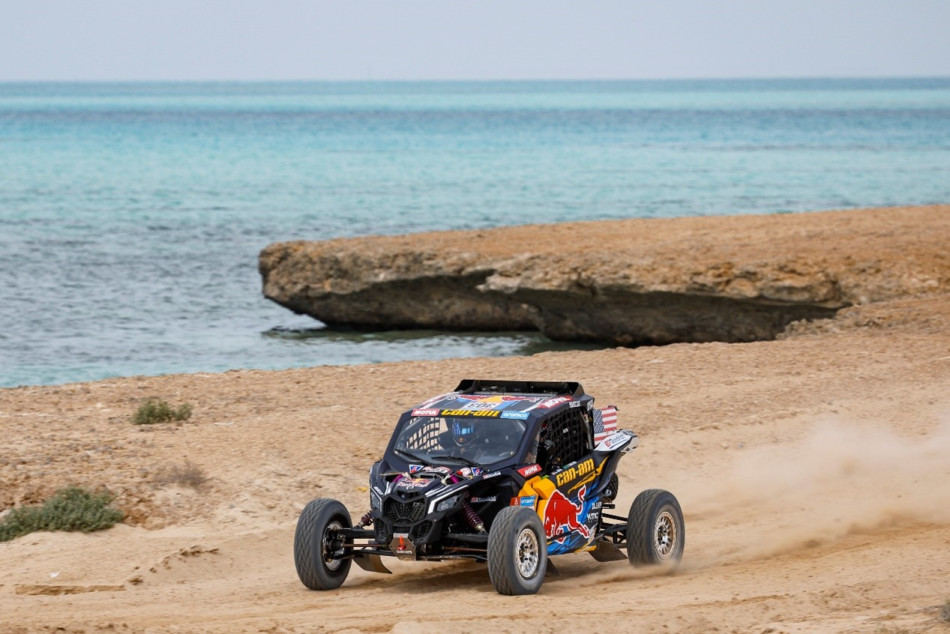 Three-time Dakar winner Francisco Lopez and co-driver Juan Pablo Latrach are member of the new Red Bull Can-Am Factory Team, won stage two and led for the first couple of stages before suffering delays. They hold fourth place, over 20 minutes ahead of team-mates and Prologue winners, Cristina Gutiérrez and Pablo Moreno Huete. Both crews lost a lot of time stranded in a flooded wadi after heavy rain around Ha'il.
Mitch Guthrie and Kellon Walch were the fastest crew on the stages on three occasions and led until stage four before dropping time waiting for their assistance truck to repair mechanical issues on their prototype T3M MCE-5.
The X-raid-built Yamaha YXZ 1000 Rs have struggled for consistency over the first week but Portugal's João Ferreira has been the shining light and he and Filipe Palmeiro won the eighth stage into Riyadh. That success enabled Yamaha to become the first manufacturer ever to win a Dakar special stage in both the car and motorcycle categories.
Lithuania's Baciuška leads Can-Am-dominated T4 leader board
Lithuanian Red Bull Can-Am Factory Team racer Rokas Baciuška and his Spanish navigator Oriol Vidal held a lead of just 4min 34sec over the Polish Cobant-Energylandia Rally Team crew of Marek Goczal and Maciej Marton in the T4 category.
Baciuška said: "It was an amazing welcome by Lithuanians at the finish line of the last stage. We broke two wheels but we are happy to have completed this half of the Dakar without major losses. A day of rest and then there are six stages where we will need to push."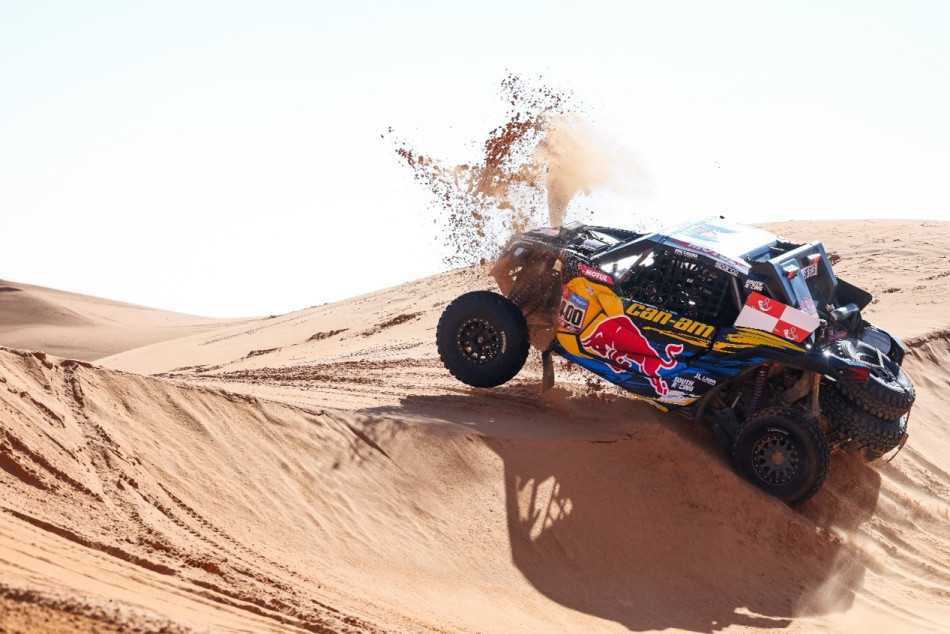 Can-Ams dominated the category with the top eight places taken by South Racing-built machines. Marek's son Eryk and co-driver Oriol Mena rounded off the podium places, with the 18-year-old making Dakar history by becoming the youngest competitor ever to win a stage. He won two specials to equal his father, while leader Baciuška topped the times on the Prologue and also won two stages. 
Spain's Gerard Farrés holds fourth, but is not registered for W2RC points, while the stage-eight-0winning Argentinean Jeremias Ferioli was fifth and the 2022 FIA World Cup for Cross-Country Bajas T4 champion Cristiano de Sousa Batista won a stage on his way to sixth.
The FN Speed Team's young Pau Navarro and Juan Miguel Fidel Medero round off the top 10, behind the seventh-placed Rodrigo Luppi de Oliviera and his brother Bruno Conti de Oliveira.
Van Kasteren leads W2RC T5 category in Riyadh
Four of the truck crews were registered for the W2RC and Janus van Kasteren, fellow Dutch team-mate Marcel Snijders and Pole Darek Rodewald held the bragging rights at the rest day in their Boss Machinery Team de Rooy Iveco.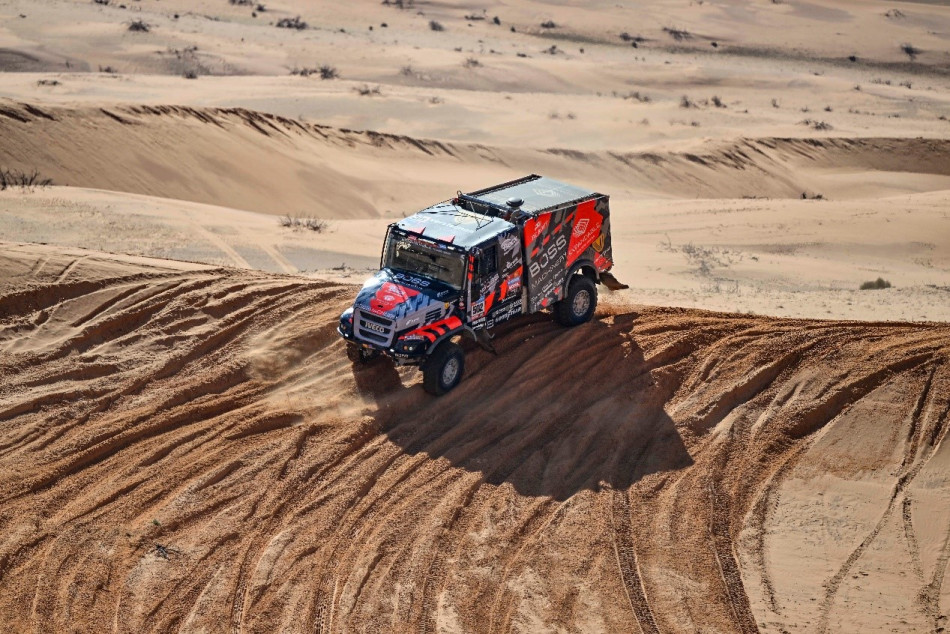 The Czech trio of Martin Macík, František Tomášek and David Švanda had pushed them all the way in the MM Technology Iveco Powerstar, despite ongoing shock absorber issues, and were a mere 47 seconds behind their rivals heading into the second week.
Last year's W2RC T5 champion Kees Koolen teamed up with Wouter de Graaf and Wouter Rosegaar and was a distant third. The Czech crew of veteran Ales Loprais, Petr Pokora and Jaroslav Valtr Junior are not registered for the championship and held the overall T5 lead in their Praga.
During his visit at the bivouac on Monday 9 January, FIA President Mohammed Ben Sulayem said: "I am delighted to be able to visit the rest day at the Dakar Rally in Riyadh and to see first hand the major effort that has gone into delivering such an impressive event on a grand scale to kick-start the 2023 motor sporting season.
"On behalf of the FIA, I would like to thank the A.S.O. and the Saudi Automobile and Motorcycle Federation (SAMF) for their remarkable work in staging this iconic event and overcoming the adverse weather conditions that the region experienced during the first week. It is a pleasure to meet the teams and competitors this year again and I have been impressed by the levels of advanced technology on show at the bivouac in Riyadh and the general commitment to sustainability."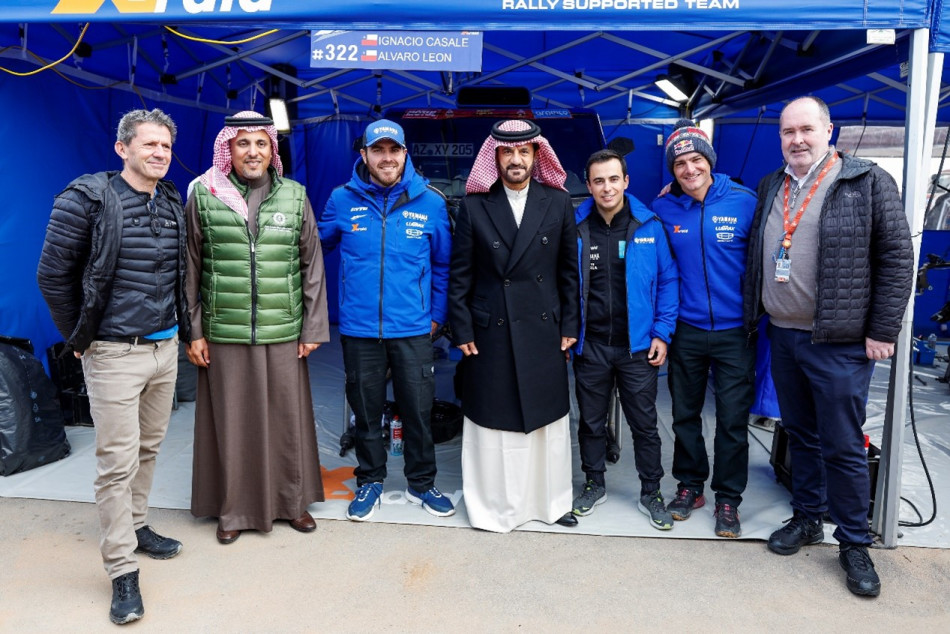 This week
This year's Dakar has been regarded as the toughest of the four in Saudi Arabia and, even though the bulk of the competitive stage distance took place on the run across the country from the Sea Camp start to the rest day in Riyadh, the second week will see the event entering the vast Empty Quarter in the deep south-east of the country for the first time.
The stages between Haradh, Shaybah, Al-Hofuf and the finish in Damman on January 15th will be shorter, but competitors will tackle towering sand dunes, rolling sandy desert and see a dramatic climb in temperatures – a far cry from the chilly weather and heavy rain that made week one so difficult. There is also the added challenge of the two-day Empty Quarter Marathon without service assistance.
45th Dakar Rally  – positions at Riyadh rest day:
| | |
| --- | --- |
| 1. Nasser Saleh Al-Attiyah (QAT)/Mathieu Baumel (FRA) Toyota GR DKR Hilux | 31hr 02min 58sec |
| 2. Henk Lategan (ZAF)/Brett Cummings (ZAF) Toyota GR DKR Hilux | 32hr 06min 34sec* |
| 3. Lucas Moreas (BRA)/Timo Gottschalk (DEU) Toyota Hilux Overdrive | 32hr 23min 20sec* |
| 4. Sébastien Loeb (FRA)/Fabian Lurquin (BEL) Prodrive Hunter BRX | 32hr 55min 04sec |
| 5. Giniel de Villiers (ZAF)/Dennis Murphy (ZAF) Toyota GR DKR Hilux | 33hr 07min 18sec* |
| 6. Romain Dumas (FRA)/Max Defino (FRA) Toyota Hilux | 33hr 30min 09sec* |
| 7. Martin Prokop (CZE)/Viktor Chytka (CZE) Ford Raptor RS Cross-Country | 33hr 39min 58se |
| 8. Brian Baragwanath (ZAF)/Leonard Cremer (ZAF) Century CR6 Buggy | 33hr 45min 04sec* |
| 9. Wei Han (CHN)/Ma Li (CHN) SMG HW 2021 Buggy | 34hr 18min 01sec |
| 10. Juan Cruz Yacopini (ARG)/Daniel Oliveras (ESP) Toyota Hilux Overdrive | 34hr 43min 20sec |
|  *Denotes not registered for W2RC |   |
|   |   |
| Rally leaders |   |
| Prologue | Mathias Ekström (Audi) |
| SS1-SS2 | Carlos Sainz (Audi) |
| SS3-SS8 | Nasser Saleh Al-Attiyah (Toyota) |
|   |   |
| Stage winners |   |
| Prologue | Mathias Ekström (Audi) |
| SS1 | Carlos Sainz (Audi) |
| SS2 | Nasser Saleh Al-Attiyah (Toyota) |
| SS3 | Guerlain Chicherit (Prodrive Hunter) |
| SS4 | Sébastien Loeb (Prodrive Hunter) |
| SS5 | Nasser Saleh Al-Attiyah (Toyota) |
| SS6 | Nasser Saleh Al-Attiyah (Toyota) |
| SS7 | Yazeed Al-Rajhi (Toyota) |
| SS8 | Sébastien Loeb (Prodrive Hunter) |
|   |   |
| FIA T3 standings:  |   |
| 1. Guillaume de Mévius (BEL)/François Cazalet (FRA) Grallyteam OT3 | 36hr 03min 09sec* |
| 2. Austin Jones (USA)/Gustavo Gugelmin (BRA) Can-Am Maverick X3  | 36hr 06min 28sec |
| 3. Seth Quintero (USA)/Dennis Zenz (DEU) Can-Am Maverick X3 | 37hr 05min 34sec |
| 4. Francisco Lopez (CHL)/Oriol Mena (ESP) Can-Am Maverick X3 | 38hr 34min 00sec |
| *Denotes not registered for W2RC |   |
|   |   |
| FIA T4 standings:  |   |
| 1. Rokas Baciuška (LTU)/Oriol Vidal (ESP) Red Bull Can-Am Maverick XRS Turbo | 37hr 33min 31sec |
| 2. Marek Goczal (POL)/Maciej Marton (POL) Can-Am Maverick XRS Turbo | 37hr 38min 05sec |
| 3. Eryk Goczal (POL)/Oriol Mena (ESP) Can-Am Maverick XRS Turbo  | 37hr 39min 19sec |
| 4. Gerard Farrés (ESP)/Diego Ortego (ESP) South Racing Can-Am Maverick XRS Turbo | 37hr 39min 50sec* |
| *Denotes not registered for W2RC |   |
|   |   |
| FIA T5 standings (W2RC registered crews only):  |   |
| 1. Janus van Kasteren (NLD)/Darek Rodewald (POL)/Marcel Snijders (NLD) Iveco | 37hr 09min 01sec |
| 2. Martin Macík (CZE)/František Tomášek (CZE)/David Švanda (CZE) Iveco | 37hr 09min 48sec |
| 3. Kees Koolen (NLD)/Wouter de Graaf (NLD)/Wouter Rosegaar (NLD) Iveco | 41hr 14min 44sec |
| 4. Tomas Vratny (CZE)/Bartolomiej Boba (POL)/Jaromír Martinec (CZE) Tatra | 45hr 57min 41sec |