Toyota Gazoo Racing, Team Audi Sport, X-Raid Mini and Bahrain Raid Xtreme set for Dakar Rally showdown
The 45th Dakar Rally will kick off another season of FIA world motor sport and, for the second year, the event will be the opening round of the expanded FIA World Rally-Raid Championship (W2RC) that will also visit Abu Dhabi, new events in Mexico and Argentina and finish in Morocco.
Toyota Gazoo Racing, the X-raid Mini JCW team, Team Audi Sport and Bahrain Raid Xtreme will lock horns on the longest Dakar for several seasons, which will also feature new rules and regulations and upgraded T1+ category machinery coming up against their rivals for the first time on equal terms.
Toyota Gazoo Racing are the defending champions and field three of the latest T1+ specification V6 Toyota Hiluxes for quadruple Dakar winner and inaugural W2RC champion Nasser Saleh Al-Attiyah, 2009 Dakar winner Giniel de Villiers and South African's Henk Lategan.
Prodrive-built Hunter BRXs pushed Al-Attiyah's Toyota all the way in 2022 and the British team has entered three biofuel-powered Hunters for nine-time WRC champion and last year's Dakar and W2RC runner-up Sébastien Loeb, Argentina's Orlando Terranova and Rally of Morocco winner Guerlain Chicherit, who is running under the GCK Motorsport banner. Lithuania's Vaidotas Zala drives a fourth customer Hunter.
Team Audi Sport has been developing an E2 version of the Audi RS Q e-tron away from the spotlight of international competition and entered the Open category in Morocco in October. The car features state-of-the-art electric technology and won four stages on a successful Dakar debut in 2022.
Once again, three-time Dakar winner Carlos Sainz will compete alongside 14-time event winner Stéphane Peterhansel and Sweden's Mathias Ekström. Sainz and Ekström finished 12th and ninth in 2022, while Peterhansel suffered serious delays and dropped out of contention, the Frenchman's consolation being able to equal Ari Vatanen's all-time Dakar record of 49 stage wins.
The team has tested extensively throughout the season and the E2 version of the e-tron is sure to be competitive from the outset.
The X-raid Mini JCW Team announced its new Mini John Cooper Works Plus in early December and two cars have been entered in the new T1+ category for Poland's Jakub Przygonski and Argentina's Sebastien Halpern. They run on second-generation HVO fuel.
Meanwhile, Denis Krotov and Sheikh Khalid Al-Qassimi will run a pair of traditional Mini John Cooper Works Buggies.
X-raid has an impressive record at the Dakar with six victories since 2012: Peterhansel earned three wins with Minis in 2012, 2013 and 2021, Nani Roma sealed success with team orders in 2014, Al-Attiyah won in 2015 and Sainz prevailed in 2020.
Adding weight to Toyota Gazoo Racing's challenge will be a further five Toyota Hiluxes entered by Belgium's Overdrive Racing. Third seed is the 2022 FIA World Cup for Cross-Country Bajas champion Yazeed Al-Rajhi in a team that also includes Dutchman Erik van Loon, Argentina's Juan Cruz Yacopini, Frenchman Lionel Baud and Brazil's Lucas Moraes.
Century Racing has entered a pair of CR6-Ts for Frenchman Mathieu Serradori and South Africa's Brian Baragwanath, while Czech privateers Miroslav Zapletal (Ford F-150) and Martin Prokop (Ford Raptor), Lithuania's Benediktas Vanagas (Toyota) and French veteran Christian Lavieille (Optimus MD) are more than capable of taking top 10 finishes.
Lopez looks to defend Dakar and W2RC titles in T3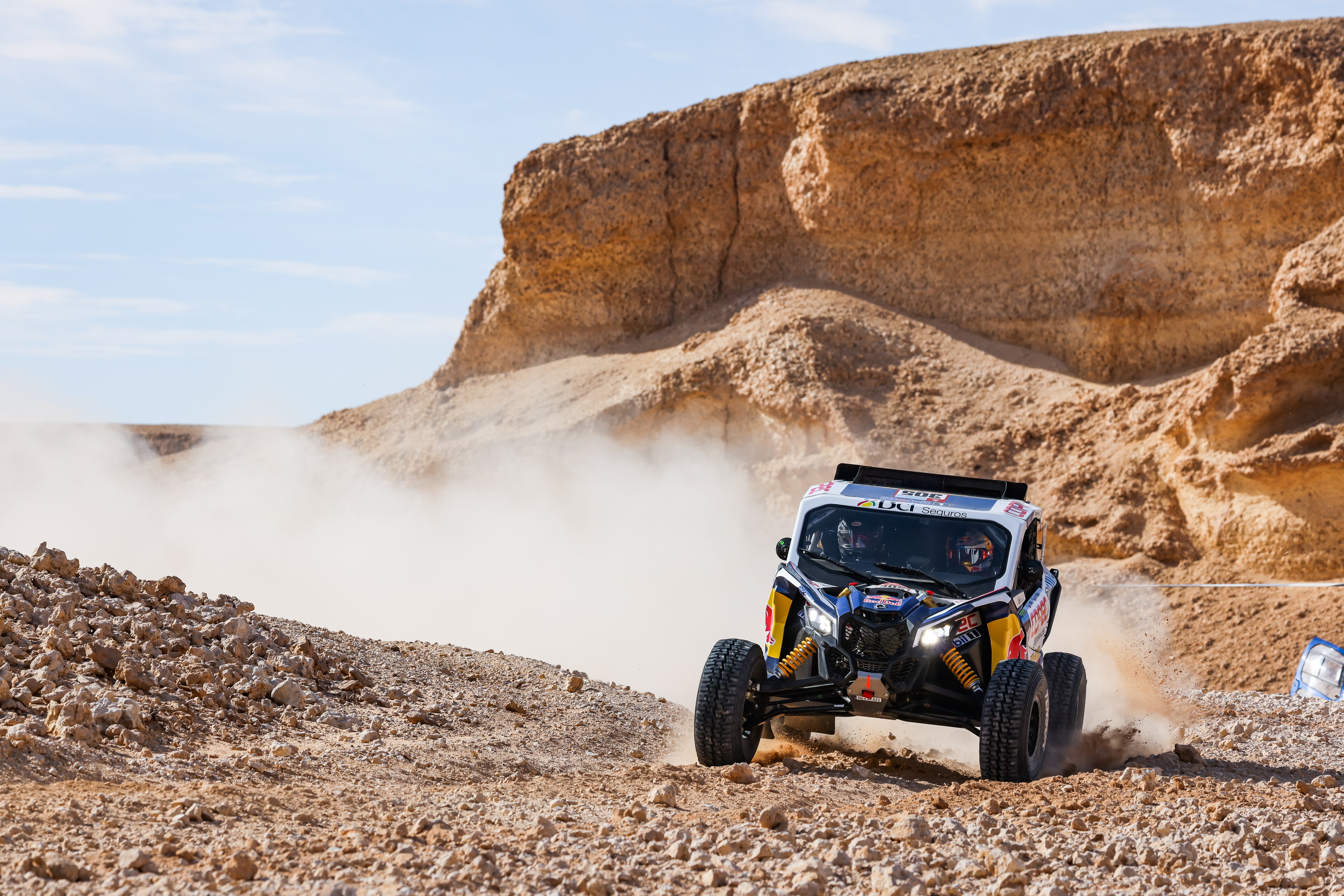 The FIA T3 category has become one of the most competitive in any form of motor sport and Francisco Lopez will have his work cut out to, not only defend his Dakar Rally title, but also to win the category again against a provisional 43 rivals.
The Chilean is a three-time Dakar winner and teams up with co-driver Juan Pablo Latrach as a member of the new Red Bull Can-Am Factory Team. He will tackle the event alongside new Spanish team-mate Cristina Gutiérrez, who finished third in last year's championship and will be competing in her seventh Dakar. The third member of the new team is 22-year-old Lithuanian Rokas Baciuška, who will drive a Can-Am in the FIA T4 section.
Meanwhile, Red Bull Off-Road Junior Team USA presented by BF Goodrich brings together last year's 20-year-old T3 runner-up Seth Quintero, the 2022 Dakar T4 winner Austin Jones and fellow American Mitch Guthrie.
Quintero won a record 11 stages on last year's Dakar and, like his American team-mates, will be challenging hard to beat Lopez on this occasion. Guthrie will drive a prototype T3-M by MCE5 at the Dakar, the vehicle running 32-inch wheels and tyres and using hybrid technology in line with the FIA regulations for the T3-U (Ultimate) category to be introduced in 2024.
Jones, who makes the transition from T4 to T3, explained: "The Dakar route is the longest it's been for a while now. We've got 5,000km and 15 days of racing. It's definitely going to be a challenge with the extra days. More days and more kilometres give extra opportunities for things to happen."
Competition in the lightweight prototype T3 category comes from the Grallyteam OT3 of Belgium's Guillaume de Mevius, FN Speed Team Can-Ams in the hands of Santiago Navarro and Jordi Vidiella, a JLC Racing Zephyr for Jean-Luc Pisson and a PH Sport Zephyr for Antoine Meo
A plethora of additional South Racing Can-Ams are entered in the hands of the likes of Fernando Alvarez, Dania Akeel, Helder Rodrigues and David Zille, while X-raid has also entered six Yamaha YXZ 1000 R prototypes for Annett Fisher, Camelia Liparoti, João Ferreira, Ricardo Porém, Ahmed Al-Kuwari and former Dakar quad champion Ignacio Casale.
Privateers likely to feature at the top of the leader board include Saudi Arabia's Saleh Al-Saif.
Can-Ams dominate T4 entry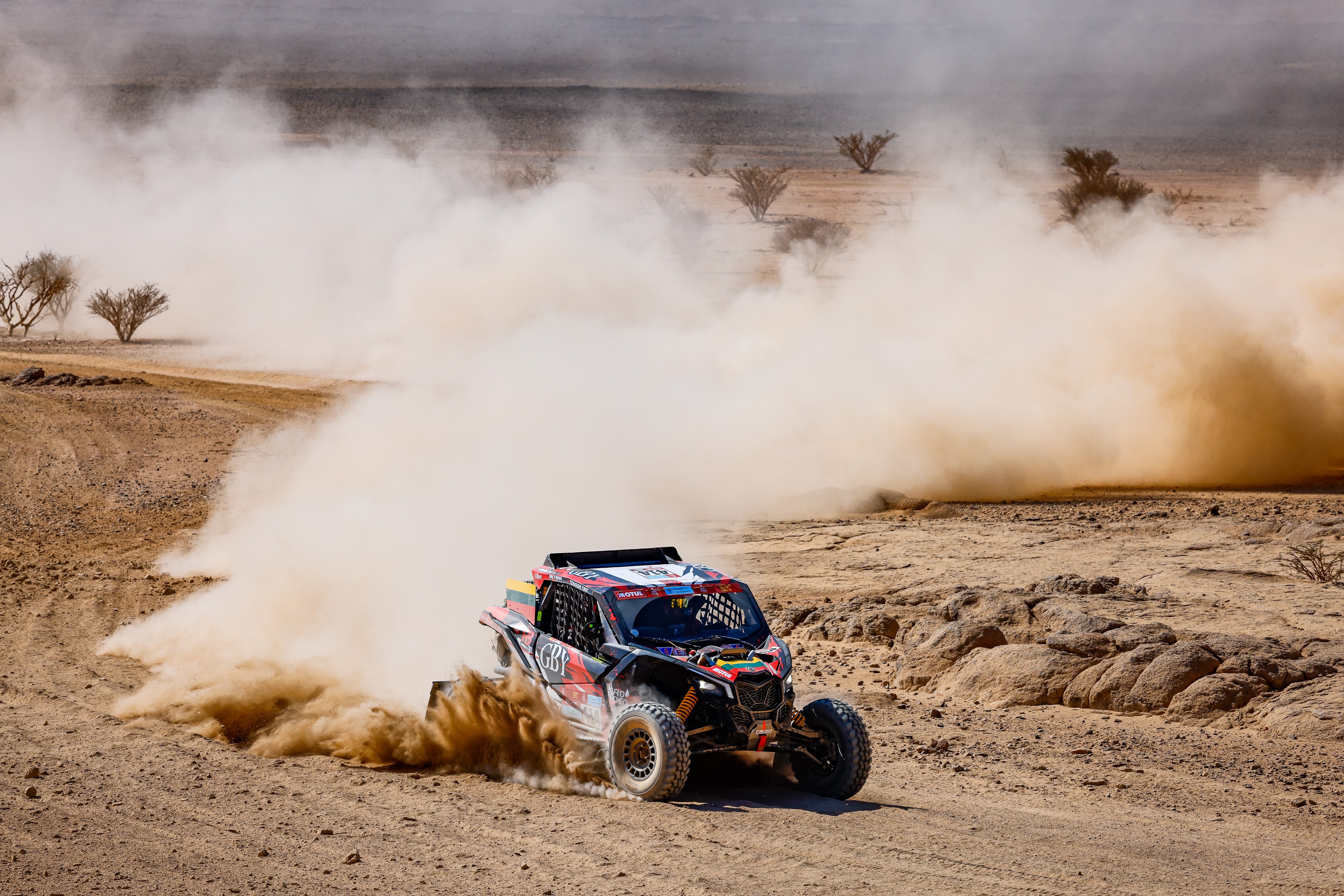 The FIA T4 section is also well-supported with 45 entries and Rokas will be hoping to begin the defence of his W2RC T4 title in winning style. With last year's category winner Jones switching to T3, the Lithuanian's main competition comes from a host of rivals in South Racing-built Can-Ams.
Marek Goczal and his brother Michal drive a pair of such cars entered under the Cobant-Energylandia Rally Team banner, along with young Eryk Goczal, the surprise recent outright winner of the Dubai International Baja.
South Racing Can-Am Team rivals include last year's Dakar runner-up Gerard Farrés, Rodrigo Luppi de Oliviera, Bruno Conti de Oliveira, former T1 front-running Saudi Yasir Seaidan, Molly Taylor and Cristiano de Sousa Batista.
FN Speed Team's young Pau Navarro, Luis Diaz and Juan Miguel Medero are likely to feature, while former professional Dakar biker Xavier de Soultrait is entered in a Polaris RZR Pro R running under the Sébastien Loeb Racing banner.
The Xtremeplus Polaris Factory Team is running Pro Rs for the likes of Michele, Carlo and Pietro Cinotto.
Koolen aims to defend FIA T5 title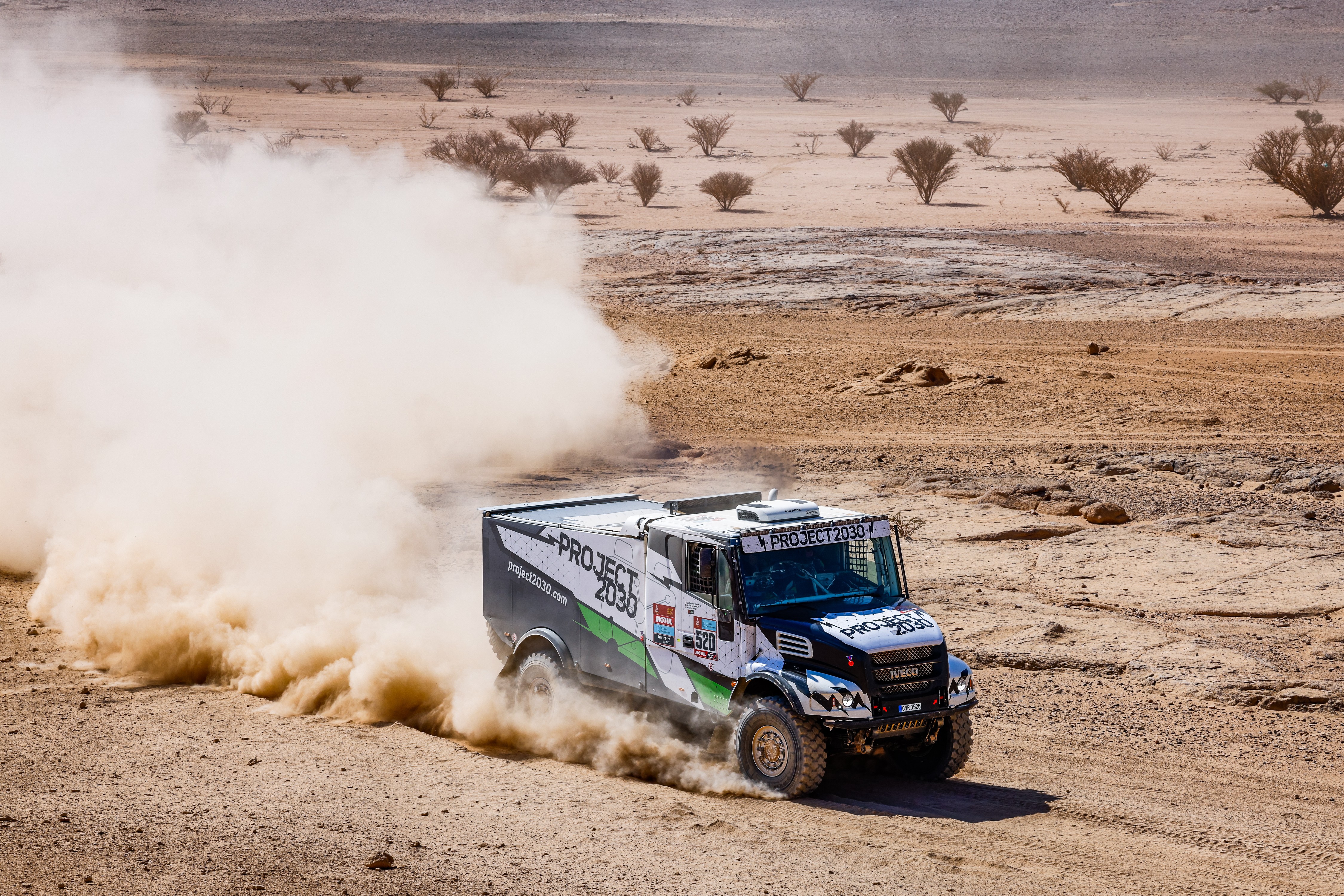 Kees Koolen teams up with Wouter de Graaf and Wouter Rosegaar to kick-start the defence of his FIA T5 Championship title in an Iveco Powerstar truck. Only the Dakar, Abu Dhabi Desert Challenge and Rally of Morocco count for T5 points and the Dutchman faces fierce competition in a category that has attracted a host of big names, many of whom do not compete for W2RC points and enter the Dakar as a one-off.
In the absence of the Kamaz-Master Team, main rivals include last year's W2RC runners-up, Martin Macik, Frantisek Tomasek and David Svanda, several Team de Rooy Ivecos, Tatra Buggyra ZM Racing Tatras, the Riwald Dakar Team, Hino Team Sugawara and Ales Loprais's Instaforex Loprais Praga.
New stages and extended format for 2023
The 2023 Dakar has been extended to include 4,695 competitive kilometres in a route of 8,538km over a Prologue and 14 demanding selective sections.
A 10-minute penalty will be introduced for a competitor not carrying his spare wheel after a puncture, neutralisation sections in the middle of stages will be eradicated and the points' structure for the Dakar has been revised.
The event starts from a new Sea Camp base on the Red Sea, near Yanbu, on New Year's Eve (December 31st) and heads across the central part of Saudi Arabia, via the An Nafud desert to Hail, and on to a rest day in Riyadh on January 9th.
The route then switches to a new southerly direction that includes a four-day Marathon adventure deep in the remote Empty Quarter in the south-east of the country.
Competitors then head back to civilisation and a new finish at the city of Damman in the Eastern Province on January 15th.
2023 Dakar Rally  – leading entries:
200. Nasser Saleh Al-Attiyah (QAT)/Mathieu Baumel (FRA)        Toyota GR DKR Hilux
201. Sébastien Loeb (FRA)/Fabian Lurquin (BEL)                        Prodrive Hunter BRX 
202. Yazeed Al-Rajhi (SAU)/Dirk von Zitzewitz (DEU)                Toyota Hilux Overdrive 
203. Jakub Przygonski (POL)/Armand Monleón (ESP)                 X-Raid Mini John Cooper Works Plus
204. Stéphane Peterhansel (FRA)/Edouard Boulanger (FRA)       Audi RS Q e-tron E2
205. Giniel de Villiers (ZAF)/Dennis Murphy (ZAF)                     Toyota GR DKR Hilux
206. Guerlain Chicherit (FRA)/Alex Winocq (FRA)                       Prodrive Hunter BRX
207. Carlos Sainz (ESP)/Lucas Cruz (ESP)                                   Audi RS Q e-tron E2
208. Orlando Terranova (ARG)/Alex Haro (ESP)                         Prodrive Hunter BRX
209. Mathieu Serradori (FRA)/Loic Minaudier (FRA)                   Century CR6-T Buggy
210. Martin Prokop (CZE)/Viktor Chytka (CZE)                          Ford Raptor RS Cross-Country
211. Mattias Ekström (SWE)/Emil Bergkvist (SWE)                     Audi RS Q e-tron E2
212. Sebastien Halpern (ARG)/Bernardo Graue (ARG)               X-Raid Mini John Cooper Works Plus
213. Vaidotas Zala (LTU)/Paulo Fiuza (PRT)                              Prodrive Hunter 
214. Benediktas Vanagas (LTU)/Kuldar Sikk (LTU)                    Toyota Hilux 
215. Erik van Loon (NLD)/Sébastien Delaunay (FRA)                 Toyota Hilux Overdrive
216. Brian Baragwanath (ZAF)/Leonard Cremer (ZAF)               Century CR6-T Buggy 
217. Henk Lategan (ZAF)/Brett Cummings (ZAF)                      Toyota GR DKR Hilux 
218. Christian Lavieille (FRA)/Valentin Sarreaud (FRA)              Optimus MD Buggy
219. Lionel Baud (FRA)/Remi Boulanger (FRA)                          Toyota Hilux Overdrive
Timetable of events
Thursday, December 29
Administration checks, Sea Camp 08.00hrs-20.00hrs
Scrutineering checks, Sea Camp 09.00hrs-21.00hrs
Friday, December 30
Administration checks, Sea Camp 08.00hrs-14.30hrs
Scrutineering checks, Sea Camp 09.00hrs-15.30hrs
Pre-event press conference, Sea Camp 18.00hrs
Saturday, December 31  
Start podium, Sea Camp 08.00hrs onwards
Sea Camp – Sea Camp (Prologue) 11km
Sunday, January 1
Sea Camp – Sea Camp (Stage 1) 367km
Monday, January 2
Sea Camp – Al-Ula (Stage 2) 430km
Tuesday, January 3 
Al-Ula – Hail (Stage 3) 447km
Wednesday, January 4
Hail – Hail (Stage 4) 425km
Thursday, January 5
Hail – Hail (Stage 5) 373km
Friday, January 6
Hail – Al-Duwadimi (Stage 6) 465km
Saturday, January 7
Al-Duwadimi – Al-Duwadimi (Stage 7) 472km
Sunday, January 8
Al-Duwadimi – Riyadh (Stage 8) 398km
Monday, January 9
Riyadh rest day
Tuesday, January 10
Riyadh – Haradh (Stage 9) 358km
Wednesday, January 11
Haradh – Shaybah (Stage 10) 113km
Thursday, January 12
Shaybah – Empty Quarter Marathon (Stage 11) 275km
Friday, January 13
Empty Quarter Marathon – Shaybah (Stage 12) 183km
Saturday, January 14
Shaybah – Al-Hofuf (Stage 13) 154km
Sunday, January 15
Al-Hofuf – Dammam (Stage 14) 136km