Sunred Ford GT makes hay in the Slovakian sunshine
The Sunred Ford GT No.10 of Milos Pavlovic (SRB) and Matteo Cressoni (ITA) set the fastest time of the day as the fourth round of the championship began in hot conditions in Slovakia.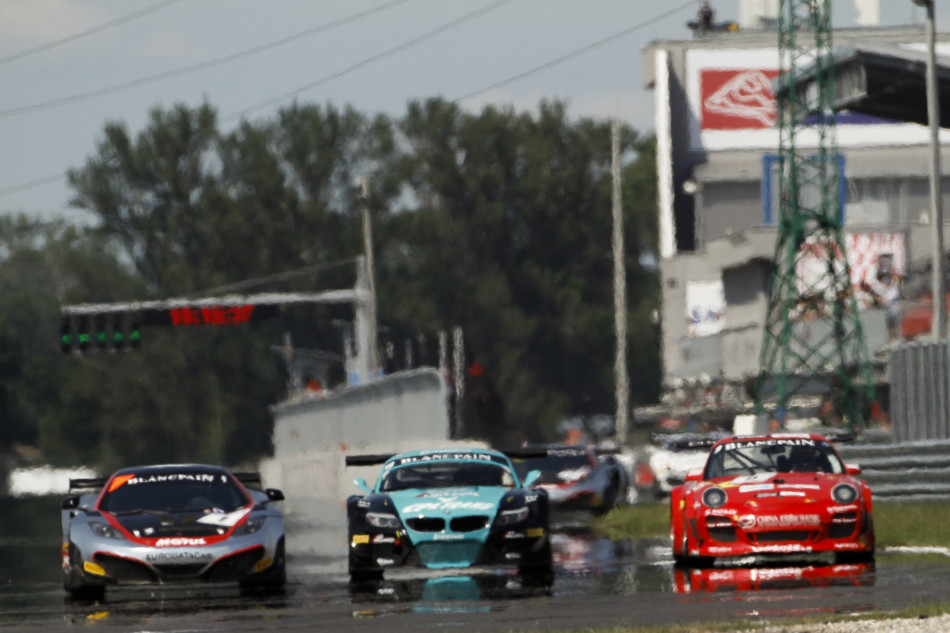 Blue skies and temperatures in the mid-30s were the order of the day at the Slovakia Ring.
The Ford GT showed flashes of a competitive streak at Navarra, Spain in round three before being struck down by mechanical issues in both races. The car qualified as high as eighth in Spain.
At the end of the first day in Slovakia, Pavlovic and Cressoni produced a time of 2:03.048 around the challenging 5.92-km track – one of the longest in Europe. The Ford pair produced their time in the afternoon's second Free Practice session.
The Hexis Racing McLarens picked up where they left off in Spain by ending the day second and third fastest overall.
The No.2 McLaren MP4-12C of Alvaro Parente (PRT) and Gregoire Demoustier (FRA) clocked a fastest time of 2:03.605 beating the sister No.1 car and Championship race winners in Navarra – Frederic Makowiecki (FRA) and Stef Dusseldorp (NLD) – who completed a lap of 2:03.726.
Next came the No.24 Reiter Engineering Lamborghini Gallardo of Tomas Enge (CZE) and Albert von Thurn und Taxis (DEU), as they set a time of 2:03.795.
Current teams' championship leaders ALL-INKL.COM Münnich Motorsport Mercedes SLS AMG were again on the pace with the No.38 car of German pair Marc Basseng and Markus Winkelhock fifth overall with a best lap of 2:03.999.
Since this is the first visit to the Slovakia Ring for the FIA GT1 World Championship, the track is new territory for a number of drivers.
A handful of them – Demoustier, von Thurn und Taxis, Mike Parisy (FRA) in the Exim Bank Team Porsche, Reiter Lamborghini's Nikolaus Mayr-Melnhof (AUT) and Francesco Castellacci (ITA) and Enzo Ide (BEL) in the AF Corse Ferrari competed here last year in the FIA GT3 European Championship. In fact, Parisy won Race Two last year in a Mercedes SLS AMG.
Of course local man Stefan Rosina knows the track well. To underline the point, he and team-mate Darryl O'Young (CHN) in the Reiter Lamborghini No.25 were sixth quickest overall with a time of 2:04.003.
Rosina replaces Peter Kox this weekend, the Dutchman having other driving commitments. Another replacement is Andreas Zuber (AUT) in the Exim Bank Team China Porsche No.8 for the convalescing Ren Wei (CHN) who was taken ill prior to Navarra.
Meanwhile, after completing technical and administrative checks, Valmon Racing Team Russia have withdrawn from the fourth round.
Valmon Racing Team Russia is in a partnership agreement for the running of two Aston Martin DBRS9 cars in the 2012 Championship with French team LMP.
The backers of Valmon Racing Team Russia have discovered that LMP has outstanding invoices unpaid with various partners relating to previous rounds.
Faced with this unforeseen situation, Valmon Racing Team Russia has decided to withdraw from the Slovakia Ring event so these matters can be resolved.
Following the two-day Spanish fiesta, the fourth round reverted to a three-day format with two Free Practice sessions on Friday with Qualifying and the Qualifying Race on Saturday and the Championship Race on Sunday.
What the drivers say …
Milos Pavlovic (SRB), Sunred Ford GT No.10
"We've been making huge steps since the car arrived. The potential is there, and when everything comes together, we have shown what we can do.
"It is a good day for Ford, it is a good day for the team, and everybody is happy after some long sleepless nights. Now I am just hoping for a trouble free weekend and we will end up where we deserve to be."
Oliver Jarvis (GBR), Belgian Audi Club Team WRT Audi R8 LMS ultra No.33
"We have had a very good day. In both sessions we managed to work on the car and improve it. Overall we cna be quite pleased. We don't quite have the pace of some of the other guys. The important thing is to try and score two strong results and come away with a load of points.
"It's a really interesting track, it's got a bit of everything. Some extremely quick corners, some technical, tight corners. It's a track where there is a lot of time in drivers because there are quite a few potential lines. You can go in extremely late, dive into the corner and make more of a V shape or you can brake earlier and enter a much smoother racing line. It's up to the drivers to decide which suits them best. In the race you will see some different lines throughout the field and that makes for a great race."
Yelmer Buurman (NLD), Vita4One Racing Team BMW Z4 No.18
"We didn't need too much time to get up to speed after we did a couple of laps on the quad bike to help learn the track yesterday.
"It's not an easy track, it is quite complicated because of the long, wide, open corners with a lot of different lines through them."
Michael Bartels (DEU), Vita4One Racing Team BMW Z4 No.18
"Both cars went into the gravel, so we lost a bit of time from that. They were not good sessions for us today, and it is difficult to see where we are, as we spent the time repairing and cleaning the cars, from small trips into the gravel."
Tomas Enge (CZE), Reiter Engineering Lamborghini Gallardo LP 560-4 No.24
"We've been quite near the pace this morning, before doing longer runs this afternoon. The circuit suits the car well, more so than other tracks, so we are quite happy with how the sessions have gone today."
Mike Parisy (FRA), Exim Bank Team China Porsche 911 GTR No.9
"It is not the best track for the Porsche, but we are going to fight to improve our chances. The team worked very hard in the second session, and we look to have gained some time. Of course we have to improve again for tomorrow's qualifying session, but we are heading in the right direction."
Stef Dusseldorp (NLD), Hexis Racing McLaren MP4-12C No.1
"I have never been here before, and Hexis McLaren have never been here either, so we needed some time to explore and learn the track.
"This morning's session went well, it is not an easy track and we need to find some compromises on the set up, and hopefully we can score a lot of points over the weekend."
Enzo Ide (BEL), AF Corse Ferrari 458 Italia No.4
"For me today it was quite difficult, the track is very different in the Ferrari compared to the Audi, which I drove here last year as part of the FIA GT3 European Championship.
"I have struggled a lot today in the second sector, so I need to work on that tonight to find a good way of attacking the sector."
Marc Basseng (DEU), ALL-INKL.COM Münnich Motorsport Mercedes SLS AMG No.38
"When we looked at the track map, before arriving, it was clear to me that we would be doing okay here, because there are a lot of quick corners.
"We had a similar set up in both cars, so it is abnormal to have one car in second and one car in second to last in the day's final session."