Sport for a changing world
A fascinating opening session saw a panel of expert speakers debate the challenges facing motor sport.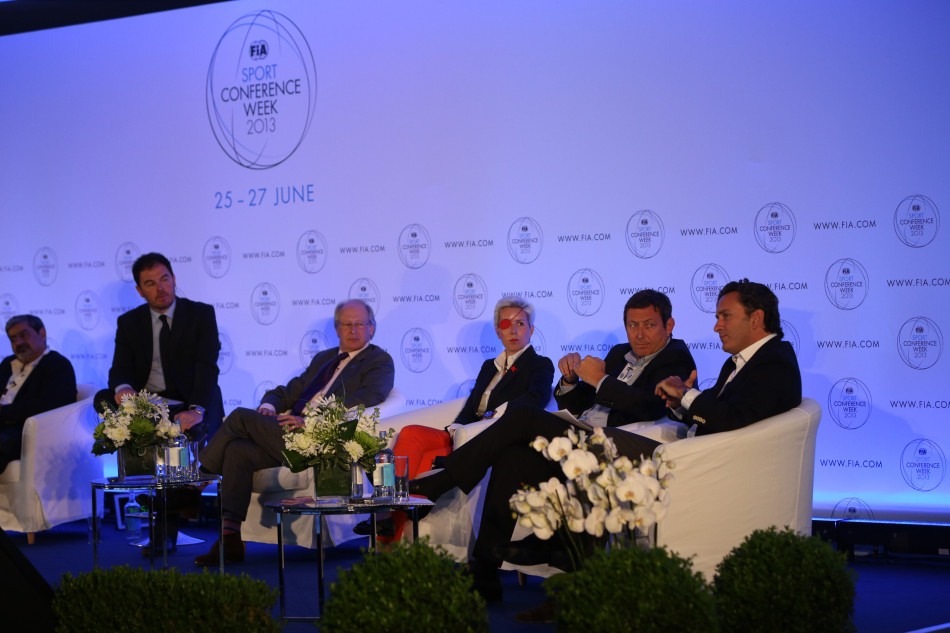 The opening plenary session of Sport Conference Week saw a diverse panel of experts from across the racing spectrum conclude that for motor sport to prosper in the future it must increase its social relevance yet retain the emotion that resonates with core fans.
Opening the debate, FIA Deputy President for Sport Graham Stoker remarked that for motor sport to remain a vital force development at local level must continue to be encouraged.
"A healthy grassroots motor sport culture is necessary," he said. "We need new blood and this has to be tackled with vigour."
He continued by saying that to appeal to new generations motor sport must further embrace sustainability, making the sport environmentally relevant in order to appeal to new fans.
"If we show that motor sport brings positive social change that's a real step forward," he insisted.
Vicky Chandhok, President of the Federation of Motorsport Clubs of India (FMSCI) then gave an insight into how an emerging motor sport nation grows involvement at all levels.
"It is a challenge creating events that develop motor sport and make it sustainable," he said. "From that angle we have taken a conscious decision that as well as hardcore rallying, racing and autocross, we will have time speed distance rallying, plenty of karting and family outing events. That whole batch then starts developing the sport in the sense of spectators and sponsors.
"This is working quite well for us. It has increased our events greatly," he said. "We have had a 40 per cent year-on-year increase, we now have 368 motor sport events. In a country like ours, that had only 100 events a year or two ago, I think we're doing something right."
Stoker also pointed to the development of the FIA Women in Motorsport Commission as a positive step in driving change in the sport, a sentiment echoed by María de Villota, who said: "If [Williams F1 development driver] Susie Wolff gets
a superlicence that would be good. We need girls to want to be like Susie; if there is no one involved at that level girls will think it's not possible to do it."
The theme of making motor sport appeal to new generations was picked up by Alejandro Agag, promoter of the electric- powered Formula E Championship.
"Formula E has the chance to talk to new fans but those fans want real racing as well and the way we deliver that racing will be decisive," he said. "Cars are not as relevant to kids these days, as they have smart phones and tablets – so to make it more relevant we need to give them motor sport through those devices."
Agag added that in developing Formula E an additional challenge is to appeal to a further group of fans – one made up of corporate decision makers. "Board members look at sustainability," he said. "These cars, their technology, are everyday options for people and that is appealing, I think. The minds of people are being changed through motor sport. The first Formula E car is the son of Formula One – all the interest is coming from F1 through companies such as McLaren, Williams and Renault and that's where technology is."
Agag then gave delegates a sneak preview of the new series by playing the engine note of a Formula E car through the auditorium's sound system.
Rob Armstrong, Senior Vice President, Global Head of Motorsport at IMG, the new promoter of European Rallycross, explained that in developing any series the presence of live television will be key to future success.
"What we'd like to do is develop the events, improve the marketing, to help our existing venues and for new venues to help make them bigger, better and more exciting events," he said. "That's a process we've started and I think we're making good progress. Key to that is getting the TV rights. We've moved to a live format. That's a critical thing for all sport around the world. Broadcasters increasingly do not want to know about a sport that cannot offer a live element."
Oliver Ciesla from WRC Promoter GmbH expanded on Armstrong's comments by adding that focusing on new media platforms will be a 'must do' for motor sport growth in emerging markets.
"If you look at our core market, which is Europe, we reach a lot of people with traditional linear TV but if we plan to grow
in South America, North America and Asia, it is a must to be available on the internet and on mobile applications."
Agag's earlier comments about the increasing influence of sound environmental credentials led Volkswagen's Motorsport Director Jost Capito to tell delegates that "sustainability is very important for manufacturers, it's a major issue".
Invoking the old racing adage of 'win on Sunday, sell on Monday', he added that innovation also lies at the heart of motor sport's appeal to manufacturers saying that the opportunity to showcase new technologies gives manufacturers a real incentive to grow their involvement in sport.
Agreeing with Capito, World Endurance Championship CEO Gérard Neveu said: "Motorsport gives a demonstration of technologies. It provides a business strategy for manufacturers. Manufacturers create emotion but also build the link between motor sport and buyers."
Returning to the need for motor sport to reflect and then bring about social change, Ronan Morgan, Sporting Director of the ATCUAE, gave the example of Rally Ireland's positive role in bridging political divisions in the country, with the event involving the governments of both Northern Ireland and the Republic of Ireland and in sport, the MSA and Motorsport Ireland. The rally was eventually awarded the Peace Through Sport award in 2007 for its efforts.
Commenting afterwards on the session's outcome, Deputy President Stoker said that the lasting impression of the afternoon's discussion was that while the debate's protagonists came from an array of different series and from a range of countries there were many similarities in their vision of the future of motor sport.
"There was a lot of common ground, not only about safety, which is critical, but also about sustainability and how that has to be looked at," he said. "On the back of us joining SportAccord, the FIA is getting involved in things international federations do in response to social responsibility and change."