Second win for Adamski
Ferrari Challenge Europe Coppa Shell – Race 2
Dirk Adamski today became the first driver to take two wins in this season's Ferrari Challenge Europe Coppa Shell. The German dominated the race in his Saggio Racing Team car, getting the upper hand right from the start.The only view he had of the battle raging for second was the one in his rear view mirrors.
Fons Scheltema, Thomas Loefflad, Marco Galassi, Massimiliano Bianchi and Thomas Gostner fought for a long time, putting on a great show for the crowd in the grandstands at the Mugello circuit. In the end, Scheltema (Kessel Racing) secured the runner-up spot thus consolidating his lead in the championship. Coming off worse in the battle was Massimiliano Bianchi (Kessel Racing) who tried to attack the Dutchman, but in doing so lost out on a podium place which went to Marco Galassi, the San Marino driver with the Motor-Malucelli team.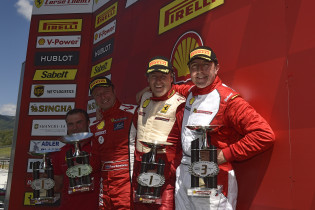 In the Coppa Gentleman for the over 55s, again it was Scheltema who took the win, with second place going to the outright winner from yesterday, Erich Prinoth (Ineco-MP Racing) who finished ahead of Rick Lovat (Kessel Racing). Obviously, Scheltema now heads the main classification too, on 53 points, followed by Adamski, who is on 45 and Bianchi on 42.
The next round takes place on Saturday 21 June at the Brno circuit, in the Czech Republic.