Ricciardo wins thrilling Hungarian Grand Prix
Alonso second. Hamilton rises from pit lane to final podium position ahead of Rosberg.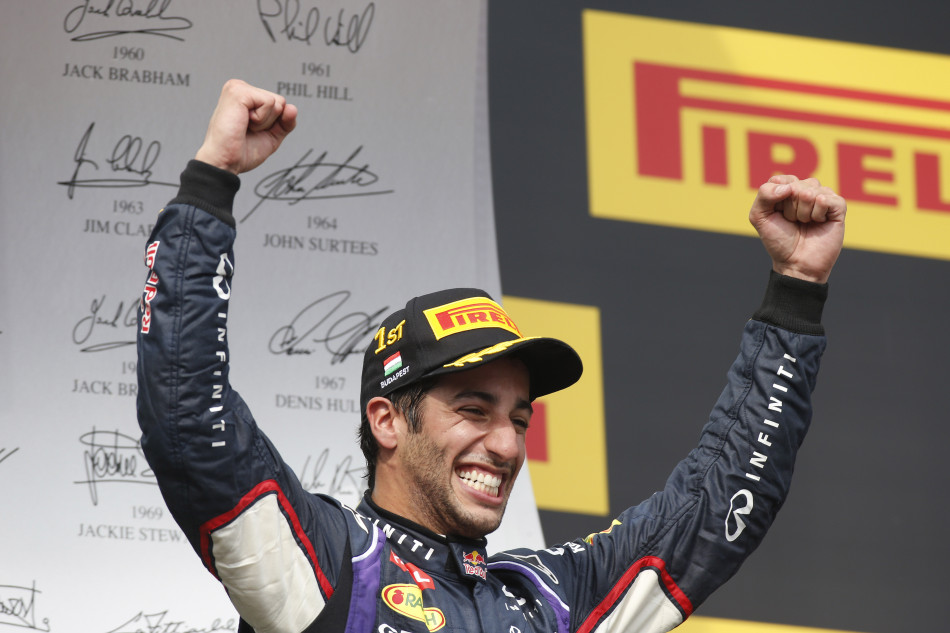 Daniel Ricciardo took as thrilling second win of the season at the Hungarian Grand Prix as Fernando Alonso clung on to second despite worn tyres and Lewis Hamilton battled from a pit lane start to the final podium position. Nico Rosberg, meanwhile finished fourth after starting from pole position.
Ricciardo's victory was sealed in the final handful of laps as equipped with fresh tyres he closed in on then leader Fernando, who was bravely trying to stretch a set of soft tyres through a 32-lap stint to the chequered flag, and Hamilton, who had muscled his way through the pack after starting from the pit lane and suffering a spin in a wet start to the race.
Ricciardo eventually muscled his way past Hamilton on lap 67 with a brave move aournd the outside of Turn Two of the tight and twisting Hungaroring. At the start of the following lap he passed Alonso into Turn One and the victory was sealed.
"There was only one way to win it and that was to get around them," he said afterwards. "Obviously I had the advantage of the fresher tyres, but I knew they wouldn't make it easy. I attempted Lewis into Turn Two, I think the previous lap or maybe two before I eventually got him, but just locked up and went too wide. I had a second crack at it and I still locked up but I managed to just hang on and just had a bit more grip around the outside there, so that was that.
"Then, once I got close enough to Fernando, I knew I just had to go for it. Being in that sandwich there, Lewis was still I think in the DRS zone, basically I couldn't waste too much time and that's what I did and then once I got the lead I knew it was just a couple of laps to go. Yeah, it feels good."
Due a rain shower in the hour before the start, the race began in damp conditions with the field on intermediate tyres. When the lights went out Rosberg got away well and maintained his lead as the field cautiously approached Turn One.
Sebastian Vettel, starting from the front row, lost out, though, being passed by third-on-the-grid Valtteri Bottas on the exit of the first corner and then by Alonso as they swept through Turn Two. The Red Bull driver was soon back up to third place, however, making his way past the Ferrari in Turn Five.
At the back Hamilton was spinning. He started from pitlane due to the first he suffered during qualifying on Saturday and as he set off after the pack lost control of the rear end of the car in Turn Two. He slid towards the barriers and was lucky not to sustain any damage. He rejoined and despite complaining of poor brake response and diff problems he began to make his way through the order, rising to 13th by lap eight, by which time Rosberg was nine seconds clear of Bottas at the front.
Rosberg's lead wouldn't last much longer, however. On the next lap Caterham's Marcus Ericsson lost control in Turn Three and hit the barriers hard. The safety car was deployed and the field from P5 back came into the pits, with the majority taking on slick tyres.
On the following lap the front runners, who has passed the pit lane entrance when Ericsson crashed, made their visit to pit lane and by the time the order had settled behind the safety car, Ricciardo was leading on soft tyres, ahead of McLaren's Jenson Button, who was on intermediate tyres. Behind them were Felipe Massa, Rosberg, Kevin Magnussen (who did not pit and was on his starting intermediate tyres), Jean-Eric Vergne, Vettel, Alonso, Nico Hulkenberg and in P10 Sergio Perez. Bottas, meanwhile, had dropped to 11th.
While the safety car was deployed, Lotus' Romain Grosjean also crashed out at Turn 3, forcing a longer stay on track for the pace car.
The safety car came in at the end of lap 13 and Button, told to push as the rain would not be reappearing, immediately used the better grip he had in the greasy conditions to take the lead. He soon came into the pits, however, to discard the intermediate tyres that were quickly degrading.
Behind them the order was changing. Rosberg was going backwards. He was passed by Vergne and Alonso and by lap 17 was down in fifth place, with only Vettel between him and team-mate Hamilton in P7.
Ricciardo, meanwhile, was picking up his pace in the improving conditions. By lap 20 he was setting fastest laps and was five seconds clear of Massa. Alonso was inside DRS range of second-placed Massa and pressuring his former team-mate hard, while Vergne was three seconds down on the Ferrari. The major battle though was between Vettel and Hamilton. On lap 21, the gap was just 0.3s and Vettel was in defensive mode. Rosberg, though, wasn't able to use the fight to his advantage, with the gap to Vettel continuing to hover around the one second mark.
Then on lap 23 the safety car made its second appearance as Sergio Perez lost control on the exit of the final turn and spun into the wall on the pit straight.
Leader Ricciardo pitted on lap 24 behind the safety car, the Red Bull driver taking on more soft tyres. Second-placed Massa and Bottas (P8) also pitted on the same lap, with both taking on medium tyres.
Massa rejoined in seventh behind Ricciardo, with Bottas in P13. The stops left Alonso in the lead from Vergne, with Rosberg third ahead of Vettel and fourth-placed Hamilton.
The safety car left the track at the end of lap 26 and Alonso held his lead. He soon began to pull Away from Vergne, with the Frenchman becoming something of a cork in a bottle. By lap 31 he was 3.3s down on Alonso and was holding Rosberg up.
Rosberg tried to change that on lap 33, pitting for soft tyres. On track Vettel almost replicated Perez's crash, losing control on the kerb at the exit of the final corner. He narrowly missed the wall but dropped back to seventh. Ther German was then told to nurse his ageing tyres through to the end of the race.
Ahead, Hamilton managed to squeeze past Vergne at Turn Four around the outside, causing the Frenchman to pit soon after for new tyres. As those ahead of him began to pit, Ricciardo rose up the order and started to push, setting another fastest lap on lap 35 while in P3.
Rosberg, after his second stop, was now in P10 and 27 seconds down on second-placed Hamilton. The German was told that his title rival now had time to make his second stop and emerge in front, so Rosberg attempted to push.
He got past Bottas on lap 38 but his times were still slower than Hamilton's and the Briton was quickly on the radio to tell his time he could remain on track at the same pace for a further couple of laps.
Hamilton finally pitted on lap 40m, taking on medium tyres. He emerged in P5 behind Alonso (who had made his second stop), but crucially, he was ahead of Rosberg.
At the front, Ricciardo led once more, from Massa and Kimi Raikkonen, who had only made one stop. The Finn was soon in for more soft tyres.
Massa made a third stop on lap 46 taking more mediums. That promoted to Alonso to second, 15.8s behind Ricciardo and 2.4s ahead of Hamilton.
The Mercedes driver was being pressured by his team-mate, however. Rosberg was just a second behind and the Briton was soon told not to hold the German up as they worked through different strategies.
After five laps of Rosberg not being to close enough in the turbulent air, Hamilton was asked to allow Rosberg past on the main straight on the next lap. The Briton refused, reasoning that to do so would cost him too much time.
Ricciardo, meanwhile, was concerned about the state of his rear tyres and though the team wanted the Australian to race the set until the end of the race, the Red Bull driver was unable to do and was forced to pit for soft tyres on lap 55. He rejoined in fourth place but armed with much greater pace than his riavls.
Mercedes then decided to shift things, bringing Rosberg in on lap 57 to take on used soft tyres. He emerged in P7 ahead Verttel and was told he needed to put in "a quali lap, every lap".
The order, then, with 13 laps to go was Alonso, three seconds clear of Hamilton, with Ricciardo, on fresh tyres, a further 3.7s back. Bottas had risen to fourth ahead of Massa, Raikkonen and Rosberg, who was just half a second behind the Finn.
As Bottas pitted, Rosberg made his way past Raikkonen down the inside into Turn One on lap 60 take fifth place. He cleared Massa on the following lap but 22 seconds down on Ricciardo and with the front three determined to hang on to their fading tyres, could the German make up the ground.
The answer was yes. By lap 66 the German was just 11 seconds adrift of Ricciardo and lapping three seconds faster than the Red Bull.
The Australian was determined to make a bid for victory, however. After several failed attempts to pass the hyper-defensive Hamilton, Ricciardo eventually made a great move around the outside of Turn Two stick and then on lap 68 muscled past Alonso to claim the lead and his second grand prix win of the season.
Behind, Hamilton was pushing Alonso just as hard, attempting to claw a gap to the hard-charging Rosberg.
With two laps to go Rosberg was just 1.5s behind his team-mate. Robserg almost got past with a move around the outside on the final lap, but Hamilton moved very wide through the corner to deny his team-mate, who had to settle for fourth place.
Behind the top four, Massa took fifth for Williams ahead of Raikonen, Vettel, Bottas, Vergne and in P10 Jenson Button.
2014 Hungarian Grand Prix – Race Result
1 Daniel Ricciardo Red Bull Racing 70 Winner 4 25
2 Fernando Alonso Ferrari 70 +5.2 secs 5 18
3 Lewis Hamilton Mercedes 70 +5.8 secs 22 15
4 Nico Rosberg Mercedes 70 +6.3 secs 1 12
5 Felipe Massa Williams 70 +29.8 secs 6 10
6 Kimi Räikkönen Ferrari 70 +31.4 secs 16 8
7 Sebastian Vettel Red Bull Racing 70 +40.9 secs 2 6
8 Valtteri Bottas Williams 70 +41.3 secs 3 4
9 Jean-Eric Vergne Toro Rosso70 +58.5 secs 8 2
10 Jenson Button McLaren 70 +67.2 secs 7 1
11 Adrian Sutil Sauber 70 +68.1 secs 11
12 Kevin Magnussen McLaren 70 +78.4 secs 21
13 Pastor Maldonado Lotus 70 +84.0 secs 20
14 Daniil Kvyat Toro Rosso 69 +1 Lap 10
15 Jules Bianchi Marussia 69 +1 Lap 15
16 Max Chilton Marussia 69 +1 Lap 18
Ret Esteban Gutierrez Sauber 32 +38 Laps 13
Ret Kamui Kobayashi Caterham 24 +46 Laps 17
Ret Sergio Perez Force India 22 +48 Laps 12
Ret Nico Hulkenberg Force India 14 +56 Laps 9
Ret Romain Grosjean Lotus 10 +60 Laps 14
Ret Marcus Ericsson Caterham 7 +63 Laps 19