This page contains archived information and may not display perfectly
Rally Greece Offroad takes its place in the FIA European Bajas Cup calendar
2022 FIA European Cup for Cross-Country Bajas - Round Two - Rally Greece Offroad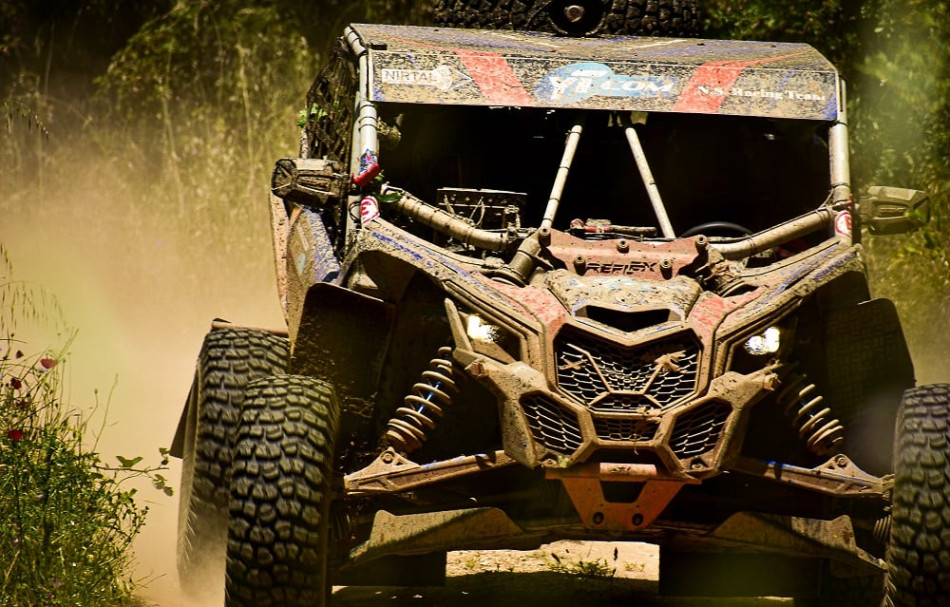 Rally Greece Off-Road joins an official FIA championship for the first time this weekend and will host the second round of the 2022 FIA European Cup for Cross-Country Bajas.
The event is being organised by the Attica Motorsport Club, in conjunction with the Greek Automobile Club West Attica and the Hellenic Ministry of Culture and Sport. It is based out of the western Macedonian town of Argos Orestiko in the north of the country.
Poland's Michal Maluszyński won the opening Spanish round of the five-event series and holds a 10-point lead over Spain's Felix Deiguez. The Mini John Cooper Works Rally driver teams up with Lukasz Kurzeja and tops a 24-car FIA entry with competitors from nine nations.
He faces 10 rivals in the FIA T1 category, with a strong challenge expected from Portugal's Edgar Condenso in his PRK Sport Rally Team prototype Ford and Pedro da Silva entered in a second PRK-run car. Other rivals include Hungary's Pal Lonyai (Porsche) and Greek driver Evangelos Bersis  (Toyota).
The Italian R Team duo of Andrea Schiumarini and Alessandro Bellini will contest the FIA T2 section for showroom production vehicles in their Mitsubishi Pajeros.
Santiago Navarro currently leads the FIA T3 Championship after his category win on home terrain. Six Can-Am crews will battle for honours, with FN Speed entering cars for third-placed Jordi Vidiella and Navarro, while South Racing wheels out a pair of Mavericks for Italy's Eugenio Amos and Hungary's Lorinc Meszaros. Spain's Ricardo Ramilo and Portugal's Filipe Nascimiento complete the T3 line-up.
Poland's Tomas Bialkowski has an eight-point lead in the FIA T4 category and is sixth in the overall Drivers' Championship.  The Polaris driver heads a five-car T4 field and faces competition from his closest Italian T4 rival Amerigo Ventura (Yamaha), Spain's Miguel Angel Valero, Hungary's Balazo Molnar and Lithuania's Egidijus Valeisa in an SRT-run Can-Am.
The Greek event ran for the first time in 2013 from the town of Kalavryta in the south of the country and then switched to Florina in the west of Macedonia in 2014, where it remained for a further four years.
The race moved to Kastoria in 2018 and 2019 and then to its current location in the town of Argos Orestiko in 2021, when action resumed after the Covid-19 shutdown. The 2021 FIA candidate event was also a round of the Italian off-road series and was won by Sergio Galletti and Guilia Maroni in a Toyota Hilux Overdrive.
Competitors will tackle a 5.95km Qualifying Stage on Thursday (May 26th) and then repeat runs through two demanding selective sections of 108.28km and 110.28km on Friday and Saturday. In a route of 661.53km, 442.69km will be timed against the clock.
9th Rally Greece Off-Road  – leading entries:
201. Michal Malusznynski (POL)/Lukasz Kurzeja (POL)  Mini JCW Rally
202. Edgar Lima Condenso (PRT)/Chambel Soraia (PRT)  Ford EXR05 Proto 
203. Gal Shacham (ISR)/Nimrod Ofir (ISR)   Toyota Hilux
204. Pedro da Silva (PRT)/Viktor Jesus (PRT)   Volkswagen Amarok
205. Andrea Alfano (ITA)/Carmen Marsiglia (ITA)   Nissan Pathfinder Proto
206. Evangelos Bersis (GRE)/Panagiotos Kalfas (GRE)  Toyota Hilux
207. Pal Lonyai (HUN)/Nikolett Szoke (HUN)   Porsche Macan
208. Alexandre Franco (PRT)/Rui Franco (PRT)   Mercedes V23 OTD
209. Henrique Silva (PRT)/Henrique Damasio (PRT)  Mercedes Proto 350
210. Petr Hozak (CZE)/Rene Kilian (CZE)    Hummer HS RS
2022 FIA European Cup for Cross-Country Bajas – positions after round 1/ Drivers:
| | |
| --- | --- |
| 1. Michal Maluszyński (POL) | 37pts |
| 2. Felix Dieguez (ESP) | 27pts |
| 3. Pedro da Silva (PRT) | 23pts |
| 4. Santiago Navarro (ESP) | 20pts |
| 5. Joāo Ferreira (PRT) | 18pts |
| 6. Tomasz Bialkowski (POL) | 17pts, etc |
|   |   |
| T3 |   |
| 1. Santiago Navarro (ESP) | 40pts |
| 2. Bernd Hoffmann (ESP) | 28pts |
| 3. Jordi Vidiella (ESP) | 24pts, etc |
|   |   |
| T4 |   |
| 1. Tomasz Bialkowski (POL) | 39pts |
| 2. Amerigo Ventura (ITA) | 31pts |
| 3. Miguel Martinez (ESP) | 27pts |
| 4. Miguel Angel Valero (ESP) | 21pts, etc |
Timetable of events
| | |
| --- | --- |
| Wednesday, May 25 |   |
| Pre-event press conference | 17.30hrs |
More information on the event website and Cross-Country page on fia.com.