This page contains archived information and may not display perfectly
Ragginger wins high-stakes qualifying lottery
Porsche Carrera Cup Asia – Qualifying Round 8
Malaysia. Team Porsche Holding's Martin Ragginger took pole position for Round 8 of the Porsche Carrera Cup Asia, after drying track conditions on Malaysia's 5.54km Sepang International Circuit turned the single qualifying session into a dramatic, high-stakes tyre lottery.
With the 30-minute session declared wet following torrential rains, reigning champion Earl Bamber initially topped the time sheets, the LKM Racing driver followed by Ragginger and Alexandre Imperatori of PICC Team StarChase, with current Class B championship leader Alif Hamdan of Malaysia quickest in the category in his Nexus Racing Porsche 911 GT3 Cup (Type 991).
Even as the rains began to ease, with the track holding water several drivers got caught out and their sessions ended early in the gravel traps. However, as the session wore on – and the track began to dry – surface conditions changed dramatically. Several drivers elected to switch from wet weather Michelins to slicks as the clock ticked down.
With just five minutes to go, Imperatori shot to the top of the times, bettering Bamber's best lap by just 0.016 of a second, with Ragginger and Budweiser Team Absolute Racing's Tung Ho-Pin holding on to a provisional second row start, and Zheng Tong Auto's Zhang Da Sheng, one of the four China Junior Development Programme drivers, fifth fastest.
However, in what was a thrilling twist, as the drivers crossed the line for the final time it was Ragginger who ended the session in truly sensational style with a fastest lap of 2:25.885, more than two seconds faster than Team Jebsen's Rodolfo Avila, who also put in a spectacular drive to secure his place alongside the Austrian for Round 8. Team Yongda Dongfang's Ro.C. Skyangel celebrated his birthday by rocketing into the spotlight with a lightning final lap and will start alongside Class B driver Yuey Tan of Dorr Havelock Racing on the second row of the grid. Tan was one of the first to switch to slick tyres, and his absolute trust in his team, skill, courage and maturity were duly rewarded with the fourth best time overall.
Imperatori and Bamber make up the third row of the grid for the first of this weekend's two races.
After the intense and eventful qualifying session, Ragginger, second and now just seven points behind Bamber in the race for the title, was relieved to have got his time in, albeit on the very last lap: "It was very exciting. I think I've never had three shots in one qualifying of Porsche Carrera Cup; coming in changing tyres and going out again three times, but in the end it was the right decision. We got temperature in the tyres and that was my goal in the out lap. I was pushing even though it was very slippery, then I had some temperature in the tyres for my fast lap. I overtook five cars in that lap but it was still enough for P1 because the track was drying up. We had exactly the window where we could cross the line again."
Noting that the Sepang circuit, known for its sudden downpours, can go from completely wet to slicks condition in as little as ten minutes, Avila was delighted with his qualifying time: "It was a very exciting qualifying and a good call from Team Jebsen. We started out on very old wets which wasn't very nice as the car was all over the place and I was much slower than the other drivers. On the old tyres we managed to clock the fifth fastest time, and then we decided we had nothing to lose so I came in to and changed to slicks and that proved to be the best possible decision. It's a shame we didn't pit maybe a lap earlier because we managed to do our best lap right at the end, and on my in-lap I was much, much faster than on my fastest lap. Second on the grid is a good result and means I start on the right side and get a good line into the first corner."
For Tan, it was a matter of keeping the faith after his Dorr Havelock Racing team made the decision to fit the Michelin slicks while the track was still holding a considerable amount of water: "Wet's not my favourite thing sometimes. Things changed during the session though. Hindsight is a beautiful thing and I'd like to say right now it was a smart thing [to switch to slicks] but at the time, even five or six minutes after we made the switch, I wasn't sure because we were pumping three minute laps and the tyres just weren't coming in. There was no heat. But the sun came out at the very end and all of a sudden things came good and I managed to post a good time."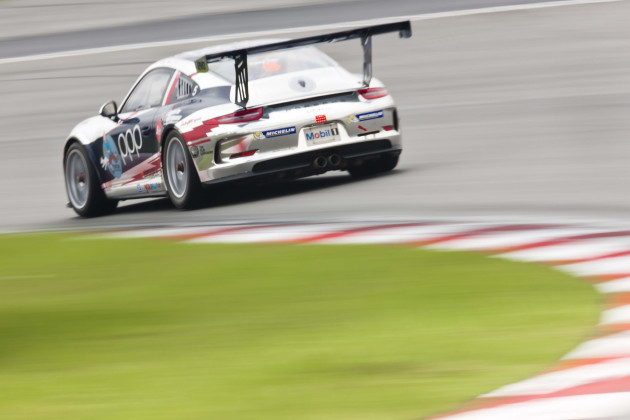 Round 8 will be held over 10 laps, and every one of the 28 Porsche Carrera Cup Asia has everything to race for as the second half of the 2014 season thunders to life.
Porsche Carrera Cup Asia – Round 8 Qualifying
Pos No  Driver/Nationality   Class    Entrant/Nationality        Time
1    86 Martin RAGGINGER (AUT) Team Porsche Holding (CHN)     2:25.885
2    20 Rodolfo AVILA (MAC)         Team Jebsen (HKG)              +2.104
3    8 Ro.C. Skyangel (SIN)         Team Yongda Dongfang (CHN)     +2.535
4    5 Yuey TAN (SIN)         B Dorr Havelock Racing (SIN)     +3.578
5    99 Alexandre IMPERATORI (HKG)  PICC Team StarChase (CHN) +3.834
6    1      Earl BAMBER (NZL)       LKM Racing (MAS)     +3.850
7    88    Egidio PERFETTI (SIN)          Mentos Racing (SIN)  +4.258
8    58   TUNG Ho-Pin (CHN)    Budweiser Team Absolute Racing (HKG)     +4.329
9    55      ZHANG Da Sheng (CHN)         Zheng Tong Auto (CHN)     +5.277
10   66  Jason ZHANG Zhi Qiang (CHN)     Team C&D (CHN)          +5.595
11   72    Alif HAMDAN (MAS)  B    Nexus Racing (MAS)   +5.659
12   12   *Max TWIGG (AUS)    B     Clearwater Racing (SIN)  +5.834
13   6     *Evan CHEN (TPE)   B    Evan Chen (TPE)      +6.666
14   11     Ringo CHONG (SIN)      Team Kangshun (CHN)  +6.835
15   98  Henri RICHARD (USA)    B   Silicon Tech Racing LLP (USA)  +7.700
16 7 BAO Jin Long (CHN)        Team Synsanly (CHN)  +8.205
17 51 Johnson HUANG (TPE)  B    Team BC Racing (TPE) +9.216
18 16    Wayne SHEN (HKG) B     Modena Motorsports (HKG) +9.313
19 9 LI Chao (CHN)               Team Betterlife (CHN)   +9.591
20 21 Francis TJIA (HKG)   B    OpenRoad Racing (HKG)     +9.768
21 18 ZHANG Zhen Dong (CHN)          Team Basetex (CHN)   +10.323
22   2   Kenneth LAU (HKG)    B    Prince Racing (HKG)  +10.436
23   33  Samson CHAN (HKG)    B    Samson CHAN (HKG)    +11.486
24 68 MAK Hing Tak (HKG)   B    Kamlung Racing (HKG) +11.637
25   28  John SHEN (HKG)      B     Modena Motorsports (HKG) +11.653
26 22 SIU Yuk Lung (HKG)   B    LKM Racing (MAS)     +11.676
27   3   Michael S. (INA)     B    OpenRoad Racing (HKG)     +11.930
28   78    Bentley YEUNG (HKG)     B     Tiger Racing Team (HKG)  +12.277
*Non series registered