Quotes from the winners
With the first victory of a hybrid vehicle at the Le Mans 24 Hours, Audi - in front of 240,000 spectators - has again gone down in motorsport history.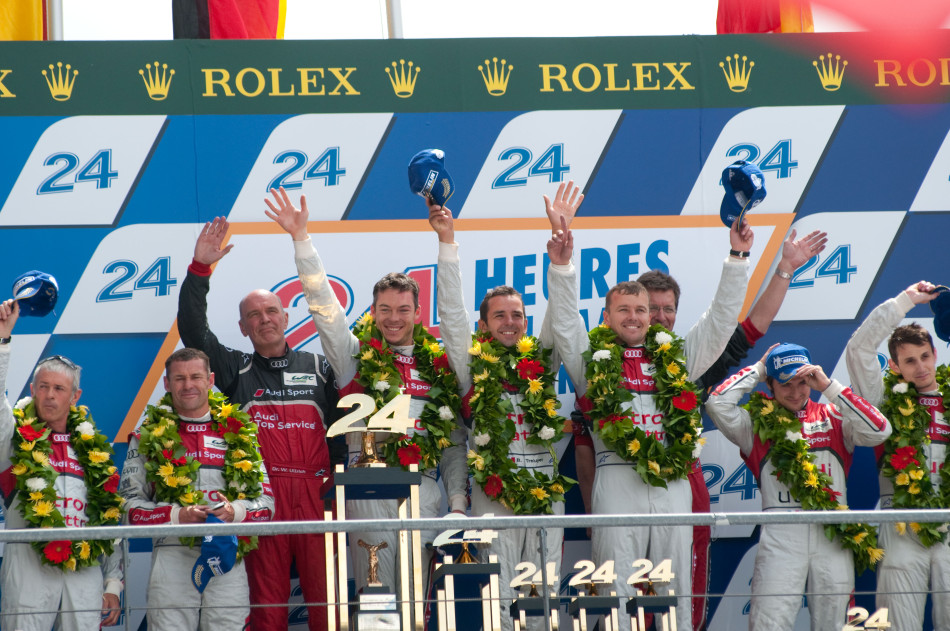 Quotes after Audi's eleventh Le Mans triumph.
Marcel Fässler (Audi R18 e-tron quattro #1):
"This was an incredible race. There were so many highs and low - especially for me. I had a great team. The mechanics gave everything after the accident to repair the car as quickly as possible. As always, my driver colleagues did a fantastic job too. For Audi, this is a great day. Clinching not just victory but a one-two result with the new technology of the e-tron quattro is a brilliant feat."
André Lotterer (Audi R18 e-tron quattro #1):
"The new Audi R18 e-tron quattro is very strong and gave us a lot of confidence. It's brilliant to have won yet again! That's an incredibly nice feeling. It was a really strenuous race. A year ago, we were battling against Peugeot and this year against Toyota at the beginning of the race. Unfortunately, our rival retired. But we contested a very fierce race against car number '2' in our team as well. Audi Sport allowed all of us to give everything. It was real racing, and in your own team that's particularly interesting. Last year, we were running against Peugeot by ourselves after two major accidents. This year, the trust among the entire squad has grown even further. Competing with Audi continues to be very special."
Benoît Tréluyer (Audi R18 e-tron quattro #1):
"It was a very tough race because traffic on track was particularly heavy this year. You had to be extremely careful not to leave the racing line while lapping as the track was extremely slippery there. There were a number of critical maneuvers. In the morning hours, we had a thrilling and fair duel with our 'sister car.' The duel between the two Audi R18 e-tron quattro impressively proved the potential of the hybrid car. I'm happy to be on the top spot of the podium again."
Cécile Bonardel