Q&A with Jean Todt
Jean Todt : "Motor racing technology can have a very positive impact on road safety"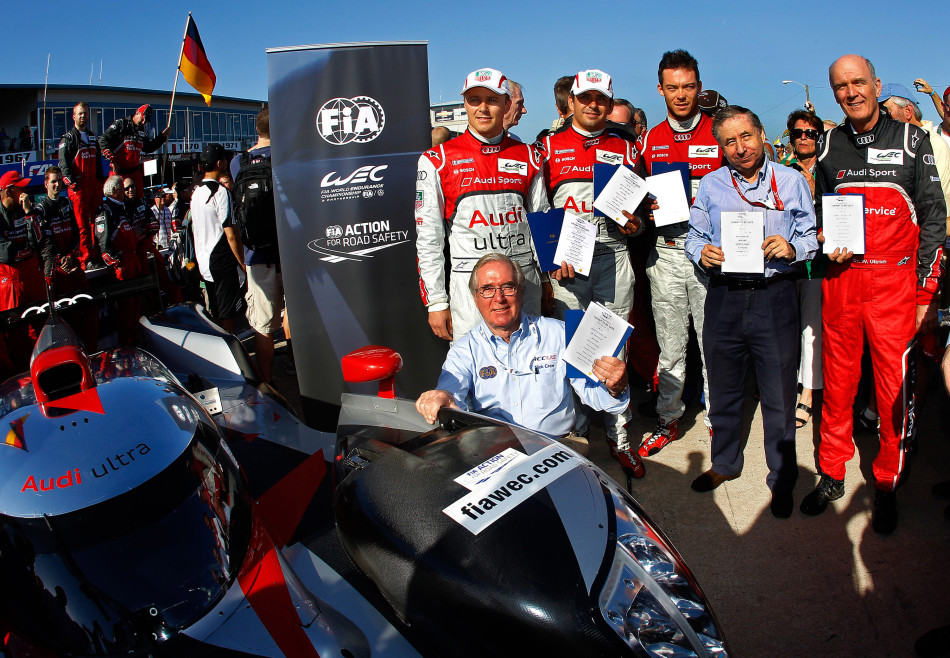 Since his election to the presidency of the Fédération Internationale de l'Automobile in 2009, Jean Todt has not only revived the World Endurance Championship, but has also launched an awareness campaign on road safety, called the "FIA Action For Road Safety". For this closing round of the FIA WEC 2012 season, he gave an update on this project which is close to his heart.
In four decades of participation at the highest level of motor sport (rally navigator, Director of Peugeot Sport and then Scuderia Ferrari and currently President of the FIA) Jean Todt has been privileged to witness the evolution of  road safety. And for the accomplishment of this campaign, nothing escapes his perfectionism: ten basic rules for drivers, consultations with governments, technological links between competition and road use ... A long-term task where every detail counts for the greatest purpose, that of saving lives.
The ten Golden Rules for road safety
#1 Belt up
#2 Respect the highway code
#3 Obey the speed limit
#4 Check my tyres
#5 Drive sober
#6 Protect my children
#7 Pay attention
#8 Stop when I'm tired
#9 Wear a helmet
#10 Be courteous and considerate
1. Mr President, what are the goals you defined for the launch of FIA Action for Road Safety?
The FIA's Action for Road Safety campaign has one very simple goal, to save lives. Each day around 3,500 people die on the world's roads and unfortunately the majority of them are very often young people. Road fatalities have now become the main cause of death among people aged between 15-29, with 90% of these victims living in developing countries. Our goal is to work with FIA members in over 132 countries around the globe to spread the fundamental message of the FIA Action for Road Safety campaign, safer driving, safer road and safer cars.
2. What were your perceptions and thoughts about road safety in the last four decades, during your career as a rallying teammate and team manager?
The last four decades have seen tremendous strides taken in road safety. When I began my career as a competitor the mandatory installation and use of seat belts in normal vehicles was just coming into practice. Now I am happy to say that the use of seat belts has become commonplace in the western world and many developing countries are now beginning to follow this example.
When reflecting on road safety over the last four years what strikes me most is the change in people's attitudes and opinions. Fifteen – twenty years ago it would not have been perceived as shocking to drive a car after drinking alcohol, likewise the idea of ensuring children were properly seated in a vehicle with appropriate seat belts and child seats was almost unheard of. I am happy to see that these are issues that people have become aware of and much has been done by organisations and governments around the world to educate drivers on these issues.
However much more has to be done to address the unnecessary numbers of accidents and deaths on the world's roads. The FIA Action for Road Safety campaign has created a set of Golden Rules for Safer Motoring in a bid to assist in spreading the safer motoring message. This set of ten tips provides drivers with simple pointers to follow to make enable them to become more motorists who are more responsible and aware of their responsibility to themselves and other road users.
3. Your dedication to road safety is very impressive. Was it one of your prime objectives during your campaign for the presidency of the FIA?
One of my prime objectives during the campaign for office was to utilise and build on the FIA's strengths, and to encourage our members and the greater motorsport community to use their positions for positive change. In 2011 the United Nations launched a Decade of Action for Road Safety, the FIA and many of its members have been concerned about road safety for over 100 years and launched the Action for Road Safety campaign to support this UN initiative. Our club network is very influential with governments and policy makers around the world and the strength of this global family is one of the main forces that can help to improve road safety in the world.
4.  Apart from the behaviour of road drivers, how do you think the technological developments from motor racing (and especially endurance racing) could help road safety in the near future?
Motor racing technology can have a very positive impact on road safety in the future given its constant evolution in order to provide cutting edge solutions for safety, fuel efficiency and vehicle construction.  High end, tried and tested motor sport technology can be applied to normal vehicles, thus providing the average motorist with more safety and efficiency options when purchasing a vehicle.
In the case of endurance racing there are many areas where its technology can overlap to assist road safety in the future. By definition, the technology used in endurance racing has been researched and developed to ensure that a competition vehicle can race for up to six hours straight.  Endurance vehicles have been tested to verify that their motors can be pushed to the limit and that the technical specifications and equipment used is hard wearing. These kinds of considerations and technological developments can be adapted to suit cars in the general market, providing the consumer with improved vehicle durability and safety offerings.
5. Can FIA Action for Road Safety also be helpful to motor racing, which has become quite controversial for ecologists over the past few years?
The Motor racing industry is well aware of the necessity to continuously improve and lower carbon emissions in order to become more energy efficient. The FIA is a staunch supporter greener motoring and encourages it in motorsport and amongst general drivers. In 2014 we will see the launch of a new type of FIA motorsport competition, the Formula E Championship. Formula E will be the first championship completely powered by electricity and represents a vision for the future of the motor industry over the coming decades. We very much look forward to this new championship, the challenges and rewards it will bring and of course analysing the ecological possibilities of electric racing.
Prior to the launch of the FIA Action for Road Safety campaign, the Federation led an initiative aimed at raising awareness of greener and cleaner motoring entitled Make Cars Green.  The campaign was very successful and saw tremendous co-operation from our member organisations around the world as well as the motorsport community.
We continue to work hand in hand with our key stakeholder groups to promote the safer motoring message of the FIA Action for Road Safety campaign. Our campaign is helpful to motorsport as it allows drivers to use their positions to send a positive message on road safety to a global audience and to draw on their own experiences on the circuit and on ordinary roads to make a real difference in changing the public's mind-set about road safety.
6. Does FIA Action for Road Safety consider appointing a racing driver as an ambassador for his country when possible?
Yes, the FIA Action for Road Safety campaign is working closely with drivers across a variety of motorsports competitions to spread the safer motoring message.  Recently several WEC drivers lent their support to the campaign and discussed the importance of the Golden Rules for Safer motoring in French, Spanish and Hindi. These kinds of endorsements for our initiative enable us to reach a broad audience and highlight our message in various languages. Michael Schumacher has been a global road safety ambassador for a number of years.
7. What overview of road safety can be made in the countries welcoming the WEC this year?
The countries welcoming the WEC span North America, South America, Europe, the Middle East and Asia. It is difficult to give a general overview of road safety in these regions but there certainly has been progress made in the education and training of drivers to make them more aware of the importance of their own safety and that of other road users. Our member organisations continuously lobby with governments in their respective countries to improve roads, driver training, highway codes and raise public awareness of the necessity for safer road use.
8. How do you think the emerging countries (which are opening to motor racing and whose number of cars is increasing) need specific attention regarding road safety?
I believe that it is essential that emerging countries provide people with access to safe and sustainable mobility opportunities.In emerging economies it is essential that we continue to lobby for improved legislation regarding the production of vehicles which should include European standard safety offerings, road construction, driver training and testing as well as nationwide public awareness campaigns on road safety.
9. Do you think a worldwide harmonization of road safety (for example based upon the FIA's ten Golden Rules) could be possible or not?
I believe that the FIA's 10 Golden Rules for Safer Motoring provide a good platform from which to discuss major global road safety issues such as the necessity to: wear a helmet, obey speed limits and pay attention. Road safety is a global problem but its symptoms can vary greatly from nation to nation. It is by working with government and interest groups at local and national levels that we can best address these problems.
10. On a worldwide scale, FIA Action for Road Safety is a mission that could take many years to complete. Do you consider undertaking it even after your term(s) as the President of the FIA?
The FIA Action for Road Safety campaign was created to support the United Nations' Decade of Action 2011- 2020.  Our campaign was launched in May 2011 and continues to go from strength to strength with many figures from the world of motorsport and government endorsing the safer motoring message. The FIA will work with its members around the globe over the coming years to spread the safer motoring message and to assist the United Nations in saving five million lives on roads around the world over the next decade. I am totally committed to this mission as a long term engagement