Porsche 911 50th Anniversary Carrera Cup Asia, Guia Circuit
Loeb looks forward to Macau debut with Porsche Carrera Cup Asia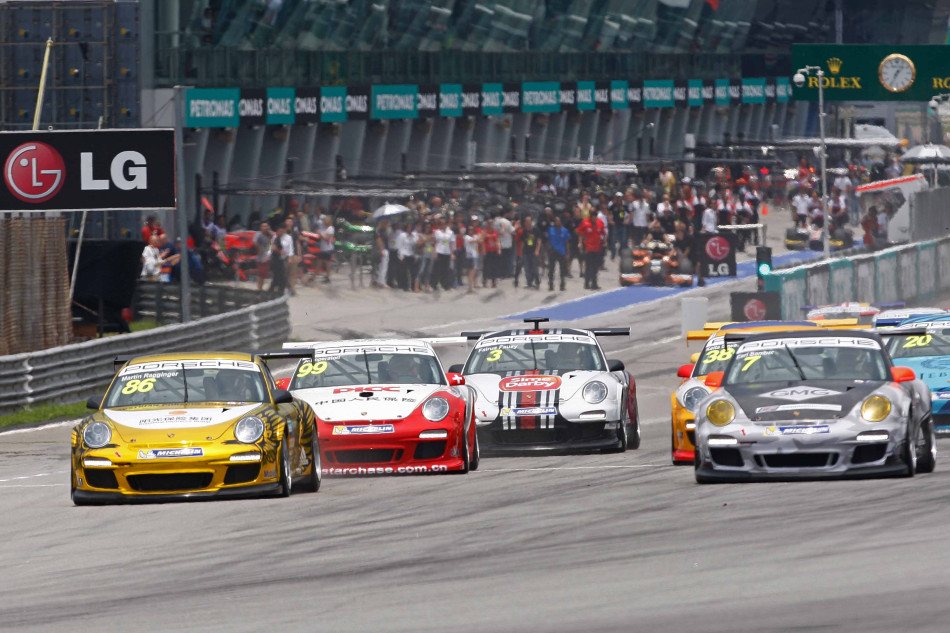 Nine-time World Rally Champion Sébastien Loeb will join newly-crowned 2013 Porsche Carrera Cup Asia champion Earl Bamber as the pair make their debuts on Macau's unforgiving Guia street circuit this weekend. 
As the Macau Grand Prix begins its Diamond Jubilee celebrations, the Porsche 911 50th Anniversary Carrera Cup Asia will see an impressive field of 23 Porsche 911 GT3 Cup racing cars line up on the grid of the 6.2km city track for a race which promises to be as spectacular as it is unique.
Loeb said ahead of his debut on the circuit often dubbed 'the Monaco of the Far East': "I only know that it's a hard track but that drivers appreciate it in general. Everybody tells me that it's unique and great to drive on." 
The most successful rally driver in history has some experience of street circuits, which he believes share some characteristics with the rally stages he has conquered: "Overall it's something that I enjoy. It reminds me of the rally, because there is no release and no room for error. In general these are intense races, which are played on the details, and maximum risk-taking in qualification. I love it!"
For the first time in the 11-year history of the Porsche Carrera Cup Asia, drivers from its sister championship in Japan will join the field. Ryo Ogawa of Bright Motorsport is the youngest of the four at just 22-years-of-age, and is joined by Tsubasa Kondo, 24, of Improve Racing, Hideto Yasuoka of Garmin Porsche, Class A runner-up in the 2010 Porsche Carrera Cup Japan, and Hiroaki Nagai of Ninne Racing, 2012 Gentleman Class Series Champion.
From amongst the regular series drivers who have previous Macau experience, LKM Racing's Keita Sawa, winner of the Macau GT Cup in 2009 and 2010 and runner-up in the Macau round of the Porsche Carrera Cup Asia in 2006 and 2007, is a stand-out success. New champion Bamber partners Sawa on the LKM Racing team for Macau.
Championship runner-up this year, Team Eagle driver Martin Ragginger of Austria will be making his Macau debut, while for Team Jebsen's Rodolfo Avila, third in the standings for the third successive year, the race will be a home event.
From Class B, runner-up this year Yuey Tan of Dorr McElrea Racing will be flying the flag for Singapore, joined by third place category finisher in 2013, Li Chao of Asia Racing Team. 
When the teams arrive in Macau the race will be on to master the unforgiving Guia Circuit, with just a 30 minute practice session before Saturday's qualifying. The race will be run over 10 laps on Sunday, November 10th.
As the Porsche Carrera Cup Asia once again readies to make motorsport history, the stage is set for a truly exhilarating celebration of the enduring appeal of both the Porsche 911 and the Macau Grand Prix.