Peterhansel battles car sickness to take first outright victory in an FIA World Cup for Cross Country event
Andrea Peterhansel was one of a handful of female navigators, drivers and riders on last week's Abu Dhabi Desert Challenge, but the former factory rider and driver is fighting to overcome car sickness to follow her dream of competing at the highest level as a navigator.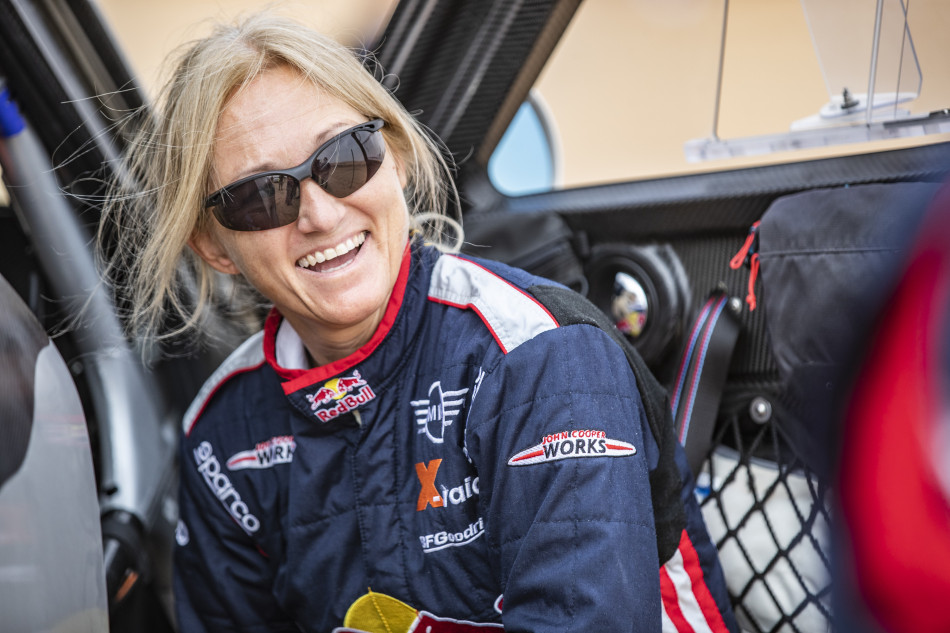 The name Peterhansel is synonymous with cross country rallying, 'Mr Dakar' claiming 13 victories on both bikes and in cars during an illustrious career that now sees the Frenchman looking for yet more challenges. And, for Stéphane Peterhansel, competing with his wife Andrea presented that fresh and exciting new encounter, the pair alongside one another in the MINI John Cooper Works Rally on the Abu Dhabi Desert Challenge, the second round of the FIA World Cup for Cross Country Rallies.
Mrs Peterhansel - Germany's Andrea Mayer - is herself a former factory cross country rider and driver whose success on bikes and in cars more than qualifies her to sit in the all-important navigator's seat in one of the most gruelling motor sport disciplines. But, up until the day before the start of the Abu Dhabi Desert Challenge, her participation wasn't even certain.
"We had to delay our first race together because I was too sick in the car," said Andrea of her car sickness as a navigator. "I am very sensitive and when I'm driving myself it's okay, but when I'm co-piloting and I look at the road book, I get sick. I have been having medical treatment for eight months to try and overcome this so it has been a lot of effort, but it's working.
"I cannot say it's gone because the first days I was feeling sick from time to time, but never as it was before so I was never unable to work in the car. I can feel the body is adapting to what I ask and the training of the inner ear is working. It's about training the brain to understand that reading and moving is nothing to worry about."
And how did she start off in cross country? "It was my love of the desert that saw me start competing in the early 90s, because before I was racing I was travelling and spent six months crossing the Sahara on a motorbike," she recalls. "I had a real passion for the desert, and then speed, so I brought both together, trained hard and did my first Dakar in 1996 as a privateer."
It was no easy ride however. As if competing on one of the world's toughest events wasn't challenging enough, Andrea decided to do it solo in the brutal Malle Moto class where it's the rider, the bike and absolutely no outside assistance. She was not only riding the bike and navigating herself, but her own mechanic, frequently losing precious hours of sleep as she worked through the nights to repair and prepare her machinery day after gruelling day.
"There is pride, but a big satisfaction from what I achieved in the early days as an amateur, but it was no different for a female or male," she adds. "It's difficult for everyone and you have to be determined. The only problem I had when I became a pro rider is that the bikes in those days were built for bigger riders, and they were a lot heavier then too, and as I am smaller I couldn't reach the ground with both feet. That was a disadvantage but otherwise we are all competitors and if you go for this type of challenge, you need to be prepared. It's nothing to do with being a man or a woman."
Two years later, Andrea's success in the sport was recognised and she landed a factory seat with BMW and then KTM. She then swapped to cars and drove for the official Mitsubishi Motors team where her efforts were rewarded with a top five finish on the 2004 Dakar. She has also competed in the truck category, did the Desert Challenge on a quad and competed in this year's Dakar in a T3 vehicle, her first event as a navigator and in an all-female crew with Annett Fischer, the duo finishing 14th in the category.
"It's a huge challenge as a navigator," she said, "and I haven't taken to it easily. On the bike you have the visual in your head and can act, but the difficulty now for me is to ensure I can translate my interpretation to the driver. I need to tell him what he has to do, with Stéphane I also need to do it in French, and at the same time he is going so fast. So you need to be quick, you cannot slow down a bit to see the surroundings because the driver is going 100%. This is the big challenge."
And what of the new challenge competing alongside her husband, and taking a historic win as the first husband and wife team to win an FIA World Cup rally? "It's the first FIA rally victory for me and to do it with Stéphane is really special. It's done, it will always be the first win and maybe it can be topped by another. It's different, you can't say it's like being with another pilot. The communication is the same, but it is the opposite to our normal life at home. Here I need Stéphane's help, he's so much more experienced and he needs the passion to teach me, which is also difficult for him as he's used to the top level of co-pilots and I'm not there yet."
And the ultimate dream Andrea…? "To compete together on the Dakar!"
Photos: RallyZone