Pech leads home ERC counter following day of high drama
2014 FIA European Rally Championship, round seven of 11 - Barum Czech Rally Zlín - Day Report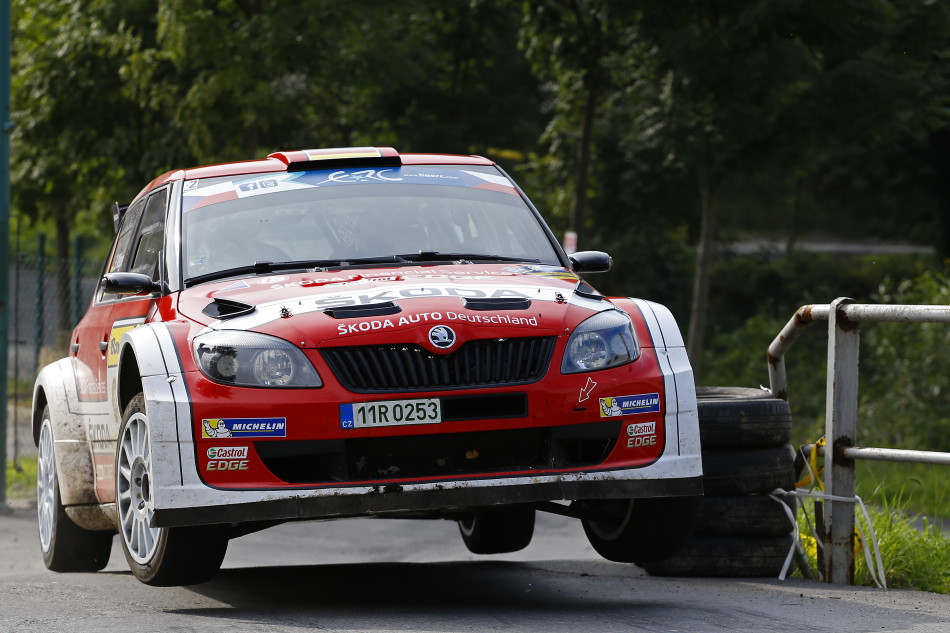 Václav Pech leads Barum Czech Rally Zlín following a day of high drama in the FIA European Rally Championship.
The Czech champion, who was second to Robert Kubica on the ERC season-opener in Austria, is 54.1s in front in his Michelin-shod MINI John Cooper Works S2000 with Sepp Wiegand second for ŠKODA AUTO Deutschland and ex-circuit racer Tomáš Kostka close behind in a Ford Fiesta R5.
But the real talking point of Saturday's opening leg occurred on the first run through the 22.82-kilometre Troják test when Kevin Abbring dropped out of the lead after his Peugeot 208T16 suffered a mechanical failure approximately eight kilometres from the start of the fourth stage. The Dutchman had set the pace on the first three stages of the all-asphalt event but lost a possible victory for the fourth time this season when he retired.
Esapekka Lappi also failed to make it through the stage after going off the road approximately five kilometres from the start and damaged his ŠKODA Fabia Super 2000 in the process. The European championship leader was in second overall at the time.
Craig Breen completed the stage albeit with significant damage to the right-hand side of his Peugeot after he skated off the road and hit a tree. The impact was too great to allow the Irishman to continue and an opportunity to close Lappi's title advantage was lost.
With Abbring, Lappi and Breen all out, Roman Kresta took over top spot but the Czech's bid for a fourth Zlín victory – on his return to competition 12 months after he announced his retirement – would be over after stage five when his ŠKODA suffered a cracked exhaust manifold, forcing the local hero to withdraw. Pech, who moved ahead of Kresta at the completion of the run, was now under threat from Jaromír Tarabus. He started stage seven, Maják, 11.8s behind Pech but an off-road moment after one kilometre cost him more than 1m40s and dropped him out of contention.
There was further drama on Saturday's final stage when Wiegand – who survived a broken wheel rim on stage four – picked up a front-left puncture four kilometres from the finish. However, the German held on to second spot after Kostka was delayed with a powersteering fault, which developed three kilometres from the stage start.
And in another dramatic twist, Stéphane Lefebvre, the ERC Junior leader ever since he won his class on Friday's street stage in Zlín, lost the category lead to Andrea Crugnola after a front-right puncture slowed his Peugeot 208 R2.
Elsewhere, Kajetan Kajetanowicz is a strong fourth on his Zlín debut after set-up issues in service improved the handling of his LOTOS Rally Team Fiesta. Roman Oložilík is fifth with Robert Consani battling myriad mechanical woes to hold sixth overnight. Jaroslav Orsák is seventh, Tarabus eighth with auto24 Rally Estonia winner Ott Tänak eighth after technical issues slowed his Fiesta. Martin Vlček completes the top 10. Bruno Magalhães dropped out of the top 10 when his Pirelli-equipped 208T16 jammed in fifth gear at the start of stage seven.
"All is good, everything is good but this is a difficult rally with a long way to go," said Pech, who won in Zlín in 2003. "The car is okay but maybe the set-up is too stiff because I am lacking the physical power. However, we are able to go fast although a safe fast."
Wiegand, who can move into the lead of the European championship if he reaches the finish in Zlín on Sunday afternoon, added: "I know from the year before this rally is really difficult. The most important thing for me today was to focus on myself and this is what I did rather than worrying about what the other drivers are doing."
Kostka, who is 18.6s behind Wiegand and on course for his second Zlín podium, said: "It's a shame some of the others are out because it makes it a little bit more easy to be on the front. The guys are pushing hard and for sure we are really satisfied to be in this position. Normally the Barum Rally is like this, full of drama, but this year it's more extreme."
Martin Březík leads the ERC Production Car Cup category with triple British champion Mark Higgins 27.5s behind on the debut of the JRM team's Subaru WRX STI. Rapid Hungarian András Hadik is third in class with title rivals Vitaliy Pushkar and Martin Hudec fifth and sixth respectively.
Czech Adam Kobliha leads the ERC 2WD category in his R3-specification Renault Clio, 43.8s ahead of top ERC Junior Andrea Crugnola in a Peugeot 208 R2. Stéphane Lefebvre is second in ERC Junior following his puncture but still in contention for a third win of the season after completing day one 22.8s behind Crugnola, who lost time with three spins. Despite his setback, Lefebvre is the new provisional ERC Junior Championship leader following his capture of six leg bonus points.
Marijan Griebel, meanwhile, is a fine third for the ADAC Opel Rallye Junior Team with Aleks Zawada fourth, Gino Bux fifth and Jan Černý sixth after the erstwhile title leader was struck by front-right punctures on successive stages. Fabio Andolfi is seventh having been saddled by a power issue for much of the day. Alex Parpottas is eighth after an off and a gearbox fault slowed his progress. Ninth-placed Tomáš Pospíšilík lost time with electrical and suspension problems, while clutch and steering issues hampered Chris Ingram on his first ERC Junior appearance in a Peugeot UK-backed 208 R2. Florin Tincescu is 11th following an off-road moment and a throttle problem but Petter Kristiansen retired when a driveshaft failed on his Fabia R2 on the second run through Slušovice.
Ekaterina Stratieva holds a clear lead in the ERC Ladies' Trophy after several of her rivals retired.
What's next?
Sunday's route consists of six all-asphalt stages over a competitive distance of 109.42 kilometres. The action begins at 08:08hrs local time with the 14.87 kilometres of Zádveřice. The finish is at 16:00hrs in Zlín.