PCCA 2013 - Ragginger Victorious in Season Finale
Porsche Carrera Cup Asia - Rounds 12, Shanghai International Circuit, October 27, 2013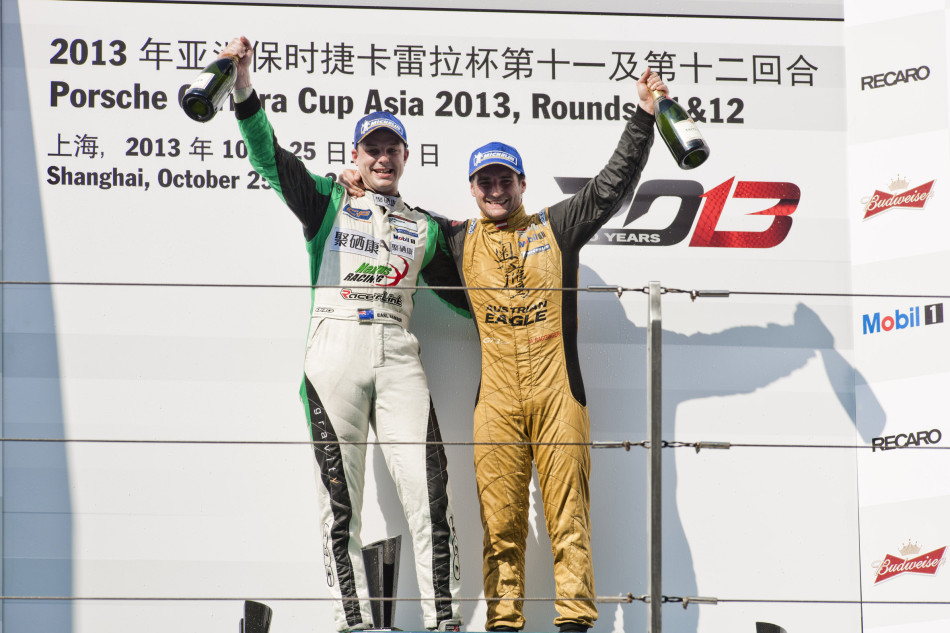 Shanghai, China. Team Eagle's Martin Ragginger dominated the final round of the 2013 Porsche Carrera Cup Asia at the Shanghai International Circuit, stamping his authority over the field with a lights-to-flag victory to end the season on a high. In a brilliant display of GT racing at its finest, with close battles throughout the field all the way to the chequered flag, the 12-lap Round 12 was a fitting end to what has been the most competitive in the championship's 11-year history.
Newly-crowned champion Earl Bamber of Nexus GSH Racing was second across the line, this time around unable to take the fight to his season-long title rival, while series newcomer and Porsche Mobil 1 Supercup regular Ben Barker took his maiden Porsche Carrera Cup Asia podium for Team Betterlife after just his second race.
Bamber's Nexus Racing team mate Alif Hamdan of Malaysia finished his debut season with his maiden Class B win, with Yuey Tan of Dorr McElrea Racing second and securing the runner-up position in the category championship. Third for the second time this weekend was OpenRoad Racing's Francis Tjia of Hong Kong.
After 12 races, Bamber finished the season 19 points ahead of Ragginger in the overall championship standings, with Team Jebsen's Rodolfo Avila in third, finishing in the top three for the third successive year. Fourth was 2011 champion, LKM Racing's Keita Sawa of Japan, followed by top Chinese finisher, Tung Ho-Pin of Budweiser Kamlung Racing just two points behind.
While Mentos Racing's Egidio Perfetti had wrapped up the Class B title in Singapore, this weekend Tan secured the runner-up spot beating Asia Racing Team's Li Chao by 11 points.
Said Ragginger, following his fifth win of the season: "It's been a great season.  We won the first and the last races, and in between Earl [Bamber] was strong. We had new tyres for the race so the first couple of laps I was pulling away, and then I saw them fighting behind me. That made it a little bit easier for me to pull away, but you're not allowed to make a mistake. Our strategy to start on new tyres was the right one today. It was a good race for us and a good way to end the season."
Bamber enjoyed the race, the pressure of the championship having been lifted once he clinched the title:  "It was a fantastic race!  We were on old tyres so knew we'd struggle the first couple of laps but would be OK later in the race when the tyres equalized again. Ben [Barker] made a good move on me into Turn 1 and got past. Then Ben and Alex came together down at the hairpin and I got past Ben, then back into Turn 1 I passed Alex. Then I was free but couldn't catch up to Martin as he did a really good job and made absolutely no mistakes. It was a really awesome race from where I was sitting."  
It was an equally eventful race for Barker: "I got past Earl into Turn 1, then went for a move on Alex at the hairpin and he ran a little bit wide and went into me. [The impact] bent my tracking. I'm happy with third place. I had hoped for a bit more but it was a good weekend. It's been great."
Hamdan was modest about his victory, despite it coming at the end of a season of hard work by the young Malaysian: "My race start was pretty good.  Egidio got past at Turn 2, and I was happy to settle for second place and continue the race. Then something happened to Egidio's car and I couldn't have asked for a better gift – an early Christmas present!"
For Tan, it was mission accomplished after he successfully kept his focus on points alone: "The team gave me a great car this weekend and all season. It didn't skip a beat. This weekend I was aiming for second in the championship, so it was just a matter of bringing the car home. Francis [Tjia] was kind enough to lock up a tyre and let me by. I guess I'll have to party tonight."
For Francis, it was a case of déjà vu: "It's been an OK weekend. Yesterday I had a fantastic start, the car felt really good, I passed a few people at the beginning but ended up making a mistake. Today felt like Groundhog Day! I didn't have a great start, but there was something with the set-up of my car. Half way through the race my front tyres were just gone. Not to take anything away, both Alif and Yuey drove very, very well. I'm just looking forward to next year now."
As the field thundered off the grid, Ragginger was away like a bullet from pole and never looked back. Behind him however, front row starter Alexandre Imperatori of PICC Team StarChase immediately came under attack from Bamber, the Shanghai-based Swiss driver holding firm initially. Behind Bamber, Barker was also on the attack, with Avila working hard to keep the race leaders within striking distance.
As Ragginger set about building a gap at the front, Imperatori, Bamber and Barker were locked in high-speed combat behind, none conceding an inch. Barker got by Bamber on Lap 3, the pair two abreast down the start/finish straight, and the Briton then took the fight to Imperatori ahead. As Imperatori and Barker made contact, Imperatori defended well and Bamber took his chance to dive past Barker and up to third. Next Earl closed in on Imperatori, getting by on Lap 5.
With clear track ahead, the 2013 Porsche Carrera Cup Asia champion set off in search of race leader Ragginger. Behind him, Imperatori was again under attack from a determined Barker and the pair had the crowds on their feet.  As Barker made his move on Imperatori, in a superb move the eagle-eyed Avila also saw his chance and nipped past and up to fourth.
Class B champion Perfetti meanwhile was mixing it with the professionals further down the order, triumphing in a battle with LKM Racing's Keita Sawa and taking the fight to Team C&D's Jason Zhang Zhiqiang. The Mentos Racing driver looked sure to collect another Class B victory in what has been a dominant season, until just two laps before the flag he was halted by mechanical problems.
As Imperatori tried to close the gap to Avila, Ragginger, Bamber and Barker were heading to the flag as the laps counted down. As the chequered flag neared, Bamber closed the gap slightly to Ragginger – a quick flash of the headlights to remind him of their rivalry - but was never in a position to challenge for the victory. The Austrian knew the win was his, and he crossed the line a worthy race winner.
While Round 12 marked a spectacular end to the 2013 Porsche Carrera Cup Asia season, Asia's finest GT drivers will be back in action next month at the 60th Macau Grand Prix. From November 9 to 10, the field will be joined by some of their counterparts on the Porsche Carrera Cup Asia Japan for an end-of-seasonal invitational on the legendary Guia Circuit, as well as a very special VIP driver: Nine-time FIA World Rally Champion Sébastien Loeb will join the Porsche Carrera Cup Asia for their triumphant return to Macau.