PCCA 2013 - Bamber Takes Pole for Penultimate Race
Porsche Carrera Cup Asia - Rounds 11, Shanghai International Circuit, October 26, 2013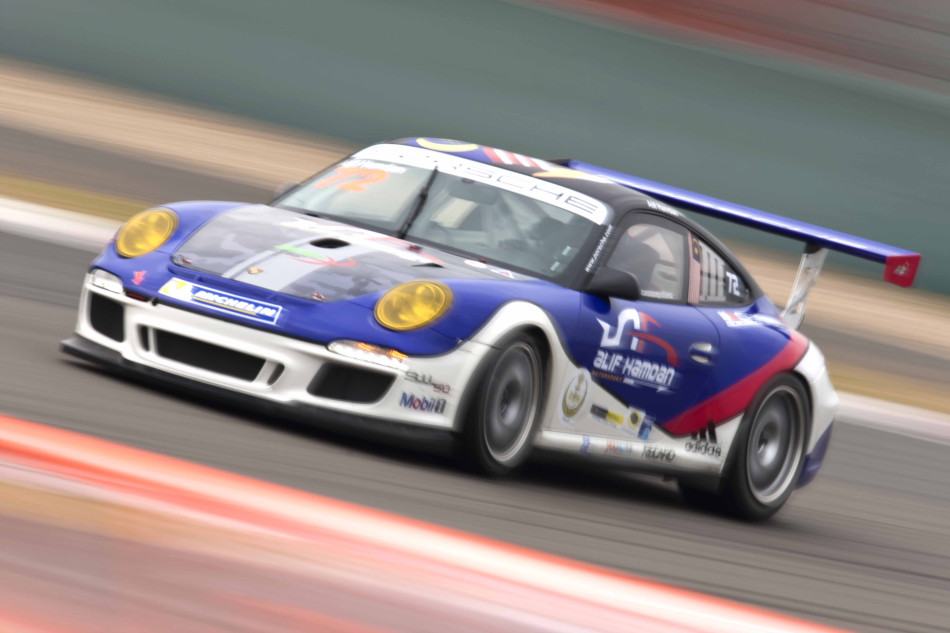 Shanghai, China.  With new sponsor GSH on board for the final two races of the 2013 Porsche Carrera Cup Asia season, championship leader Earl Bamber put his Nexus Racing Porsche 911 GT3 Cup on pole position for Round 11 at the Shanghai International Circuit.  In one of the closest qualifying sessions in the series' 11-year history, reigning champion Alexandre Imperatori of PICC Team StarChase put in a storming performance, ending the session just a hundredth of a second off pole.
Bamber's main championship rival, Team Eagle's Martin Ragginger, was third fastest overall and will start Round 12 from pole.  Ragginger trails Bamber by 17 points going in to the penultimate race of the season.
Lining up alongside Ragginger will be Porsche Carrera Cup Asia newcomer and Porsche Mobil 1 Supercup regular Ben Barker of Britain, racing for Team Betterlife this weekend.
In Class B, it was Bamber's Nexus Racing team mate, Alif Hamdan who took pole, the young Malaysian impressing during what was also a close-run session amongst the non-professional drivers.  Second fastest in Class was Dorr McElrea Racing's Yuey Tan of Singapore, who is battling for second in the category with Asia Racing Team's Li Chao of China.  Newly-crowned Class B champion Egidio Perfetti of Mentos Racing was third quickest in the session.
Although edging closer to his first-ever sportscar title, Bamber is showing no sign of nerves ahead of what could be the championship-clincher:  "That was an amazingly close session. We were a bit behind yesterday, but I found a bit more speed in myself and the car.  We're all pushing really hard, but the race is all about putting in 12 consistent laps.  We've already achieved more than we expected this year – our goal was top three, and we've proved Nexus Racing is a fast team.  It'll be eyes forward in the race, and we certainly won't change our plan [although racing for the championship]."
Imperatori was delighted to be on the pace at his home track:  "It was really close, which shows how great this championship is.  The top four are all within one tenth of a second or so.  There will be some really good fights on track which as a driver is what you want.  I'm on home turf so let's see if we can make the home advantage count!"
Ragginger, meanwhile, was already looking beyond the qualifying session:  "You needed the perfect lap and I didn't 100% get that today, but P3 and P1 is OK.  For Earl, it's not about P1, 2 or 3, it doesn't matter.  I didn't lose the championship in this session."
For Hamdan, the hard work he and the team have put in this weekend paid off in qualifying:  "We've worked hard all weekend to improve the line and such. It was pretty close to being the perfect lap, probably the closest to perfection I've got all year. I'm hoping for a great start and will battle from there, and do my best to hold on to first."
With Ragginger on pole for Sunday's Round 12 and Imperatori lining up alongside, Bamber and Barker will make up the second row of the grid with Team Yongda Dongfang's Benjamin Rouget and Team Jebsen's Rodolfo Avila behind.  In Class B, Hamdan is on pole for Round 12, with Tan alongside.
With the stage set for the penultimate race of 2013, Round 11 of the Porsche Carrera Cup Asia at the Sports Car Champions Festival is set to be nothing short of spectacular and could well decide the new overall champion.