PCCA 2013 - Bamber Seals Championship with Emphatic Victory
Porsche Carrera Cup Asia - Rounds 11, Shanghai International Circuit, October 26, 2013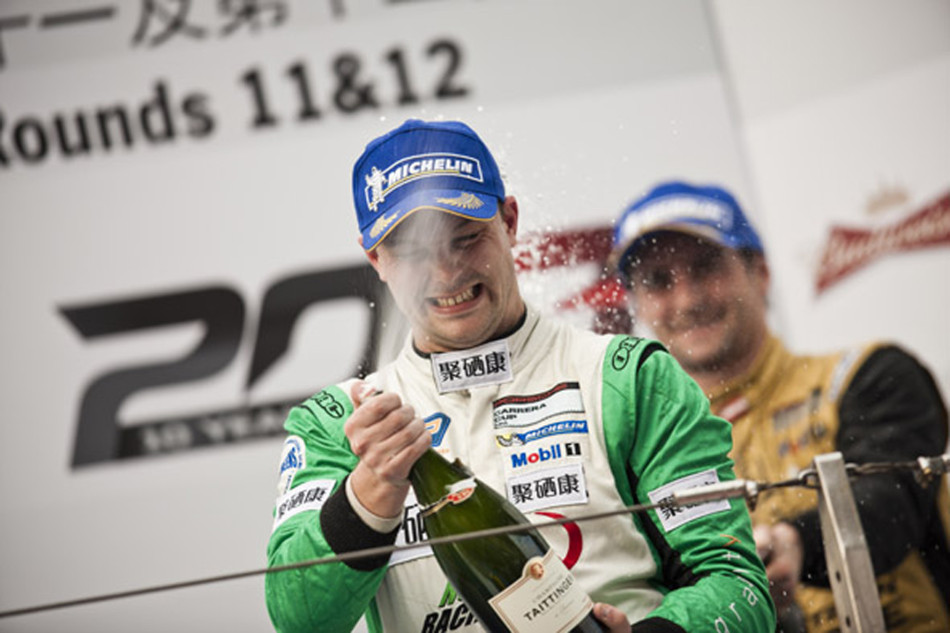 Shanghai, China. Earl Bamber sealed the 2013 Porsche Carrera Cup Asia championship with an emphatic victory in Round 11, thundering from pole to chequered flag to take the title with a race to spare. The 23-year-old Nexus GSH Racing driver didn't put a wheel wrong on the way to his sixth victory in his debut season, setting the fastest lap of the 12-lap race for good measure.
Second across the line at the Shanghai International Circuit was 2012 champion, PICC Team StarChase driver Alexandre Imperatori, who is having a strong weekend on home turf. Third in Round 11, and championship runner-up to Bamber, was Team Eagle's Martin Ragginger. Ragginger spent much of the race fighting to find a way past Porsche Mobil 1 Supercup driver Ben Barker of Britain, dramatically reclaiming the final podium spot on the final lap.
Newly-crowed Class B Champion Egidio Perfetti took Class B honours after a challenging qualifying, followed home by category pole-sitter, Nexus Racing's Alif Hamdan.  OpenRoad Racing's Francis Tjia got a brilliant start to lead the Class B field for much of the race, before first Perfetti then Hamdan got by him.
Bamber's victory in Round 11 gives him an unassailable lead of 21 points at the top of the championship standings from Ragginger. Team Jebsen's Rodolfo Avila sealed third in the championship, keeping his nose clean and crossing the line in sixth.  In Class B, while Perfetti sealed the title in Singapore, by playing the long game Dorr McElrea Racing's Yuey Tan secured the runner-up spot, resisting the temptation to risk it all for a Class B podium and crucially finishing the race ahead of rival Li Chao of Asia Racing Team.
For Bamber, it was a dream come true to take the championship in just his first season of Porsche competition:  "It's absolutely amazing. The start of the season was quite difficult, finding sponsorship and everything.  Our goal was to be in the top three and it has been a huge team effort. It's fantastic to bring the title home with one race to spare. I was looking in my mirror and waiting to see Alex [Imperatori] cross the line, hoping he would be second. Martin [Ragginger] has been pushing me all year, and it's been a great battle.  I'm over the moon to have won."
Imperatori knew the start would be crucial, given how closely matched the front runners are:  "The biggest chance to overtake was at the start. I got a good start but so did Earl. Into the first turn there was a bit of contact with Martin [Ragginger], and we were side-by-side for the first couple of turns.  After that I focused on consistent laps and putting some pressure on Earl, but he made no mistakes.  I'm happy with the result though, and my team did a great job."
Ragginger was gracious in defeat after a strong season and a dramatic title-deciding race:  "I've had a fair battle with Earl all season, and it's been nice to race with him. In the race, I touched Alex at the first corner, so I'm sorry for that but I had to defend my position!  I didn't expect Ben [Barker] to pass me where he did.  It was a tough battle after that, but I managed to pass him and got the spot back.  It was a nice race!"
As the lights went out for the penultimate time in the 2013 season, the Porsche Carrera Cup Asia roared off the grid with Bamber storming ahead from pole, but Ragginger mounted a spirited challenge on Imperatori. The Shanghai-based Swiss driver held firm though, with Barker getting by Ragginger to go third. 
LKM Racing driver Keita Sawa spun, coming together with Team C&D's Jason Zhang Zhiqiang, the pair retiring from the race as a result. Others who were unlucky in Round 11 were Bamber's team mate Adrian Henry D'Silva and Modena Motorsports' Wayne Shen of Hong Kong.
Meanwhile, back in the fray Ragginger was diving to the left and the right behind Barker, his frustration palpable as he tried to force the talented Briton into making a mistake. Barker held firm though until the final lap when the determined Ragginger charged past.
With both championship titles – Class B and overall – decided, the final race of the Porsche Carrera Cup will see every driver looking to finish the season on a high note. The season-closer to the 11th season of the region's premier sportscar championship will live up to its reputation as a showcase for GT racing at its absolute finest.