Mohammed Ben Sulayem: 'High Performance Programme integral to future-proofing FIA motor sport for all'
High-Performance Programme provides a pathway for trainee Race Directors and Stewards and underlines FIA's commitment to rigorous standards - Male and female candidates among 24 trainees, with 17 countries represented at Geneva event - FIA University-accredited initiative seeks to build a global talent pool to officiate across the entire motor sport portfolio - FIA has made an initial investment of Euros 1.6m solely on sporting governance in the area of officiating under the new Presidential team
The first major event of the FIA's expanded High Performance Programme (HPP) for officials was concluded in Geneva yesterday – a strategic initiative from FIA President Mohammed Ben Sulayem to create a talent pool to operate across all FIA championships.
The HPP is an FIA University-accredited initiative introduced by the FIA leadership team among a raft of measures which align with the not-for-profit organisation's manifesto pledges to improve the standard of sporting regulation while placing greater emphasis on Equality, Diversity and Inclusion (EDI).
The three-day gathering  brought together a diverse group of 24 trainees (eight Stewards and 16 Race Directors) along with FIA experts and mentors. Trainees comprised representatives from five continents with 17 FIA Member Clubs represented.
The candidates will benefit from training and guidance by FIA experts and mentors throughout 2023 as they take their first steps on the HPP development pathway.
A broad range of topics were covered during the event at the FIA Headquarters in Geneva. They included assessment of racing incidents informed by data and analysis from the FIA Remote Operations Centre (ROC). Workshops featured current FIA Race Directors and Stewards including the Formula 1 Race Director Niels Wittich. A presentation was given by Alejandra Salmeron Garcia from the FIA Legal Department while Tanya Kutsenko, the global motor sport body's first EDI Advisor, also addressed the group.
While the HPP is aimed at grass roots development, the Race Direction Development Programme (RDDP), instigated by the FIA President in 2022, is designed to streamline the existing Race Direction operation.
The objectives of the RDDP are to quantify the performance of Race Direction and Stewarding, and to create a culture of critical reflection and constant improvement and provide analysis and feedback to identify areas for support and development.
Central to both programmes is the data and analysis provided by the FIA Remote Operations Centre (ROC) in Geneva. The ROC was established at the end of the 2021 Formula 1 season.
FIA President Mohammed Ben Sulayem said: "My leadership team inherited a number of challenges when we took office at the end of 2021. It has been well documented that one of those was Race Control management. We have made changes to the Race Control operation and we have devised the High Performance Programme to ensure that we have a pathway of talent coming through for the years ahead. As a not for profit, we are taking funds received through our championships and  investing heavily in this area, engaging FIA Member Clubs from all regions to future-proof the next generation of officials and to benefit motor sport from grass roots to world championships.
"The High Performance Programme has been introduced to identify and nurture a pool of talent to create continuity and consistency,  ensuring that we bring rigour and best practice to the regulation of the sport.
"This initiative also aligns with our mission of creating equal opportunities across the entire geographic spread of our global membership. The men and women who participated in our kick-off event in Geneva and will be mentored throughout 2023 and beyond. They are the future of officiating for the FIA."
Tuta Mionki, Steward trainee from Kenya, said: "I have made the move from competition to officiating and I am seeking a career in Stewarding. To have the opportunity to be able to interact with the trainers and mentors on this initiative is invaluable. It was very special to be among such famous names. I am honoured to have been selected to become part of the High Performance Programme and I'm very excited by what lies ahead."
Mohammed Al Hashmi, Steward trainee from UAE, said: "In 2017, I was honoured to receive the FIA Best Marshal Award. I am really passionate about motor racing, and I also have a strong interest in road safety as the head of road safety in the Abu Dhabi government. Sitting beside these mentors during workshops and having them share their experience and their knowledge is an amazing experience. I consider this weekend as excellent training for the future."
Neus Santamaria, Race Director trainee from Spain, said: "To come here to the FIA and share the weekend with such an amazing and inspiring group of people is fantastic. We have seen some of them on TV or on webinars, Niels Wittich for instance the Formula 1 Race Director, but to come here and see them face to face and learn from them is a great experience. My big take out from the event is that communication is key and so is honesty. If we get something wrong we need to admit our mistakes and make sure we learn from it."
Ronan Morgan, FIA Advisor, said: "This is an initiative from the President through the FIA University which has been newly created for sport. We are on a new trajectory within the FIA as regards education and training. We have selected candidates from an initial group of 500 people and inducted them on this High Performance Programme. That includes 16 Race Director and 8 Steward trainees. We have to ensure that we have sufficient Race Directors and Stewards for the future. The sport is growing so quickly and becoming so popular and need to keep pace with that as the governing body. The wealth of experience we have among our mentor group is unparalleled. We are incredibly lucky that we can pass on this experience to the next generation."
The FIA President added that the HPP was just one area in which the FIA is making significant change. During a 12-month period of transformation, a number of other initiatives have been introduced. These align with the Presidential team's manifesto pledges of increased transparency, growing EDI and doubling motor sport participation globally.They include:
Restructuring of the FIA, including the appointment of our first CEO to oversee a significant reduce the organisation's operating deficit 

The FIA Immersion Programme which aims at equipping young members from Sporting Clubs across the world with the skills and mindset to become future leaders of motor sport

The creation of the FIA Motor Sport Engineering Scholarship – a unique global talent search initiative which provides a pathway for a talented young engineers from one of the FIA regions to obtain a Master's in Advanced Motorsport Engineering

A simplified FIA Sport Grant Programme application process which allocates technical and financial support to Member Clubs to develop motor sport throughout the world and to promote safe, sustainable and accessible mobility for all

Investment of 600,000 Euros in the launch of the Affordable Cross Car initiative from 2023 featuring local production to create a cost-effective entry point to the sport, particularly in developing regions

Successful 2026 FIA Formula 1 Power Unit Regulations with 100% sustainable fuels has attracted new OEMs to the sport
Watch a video on the HPP event: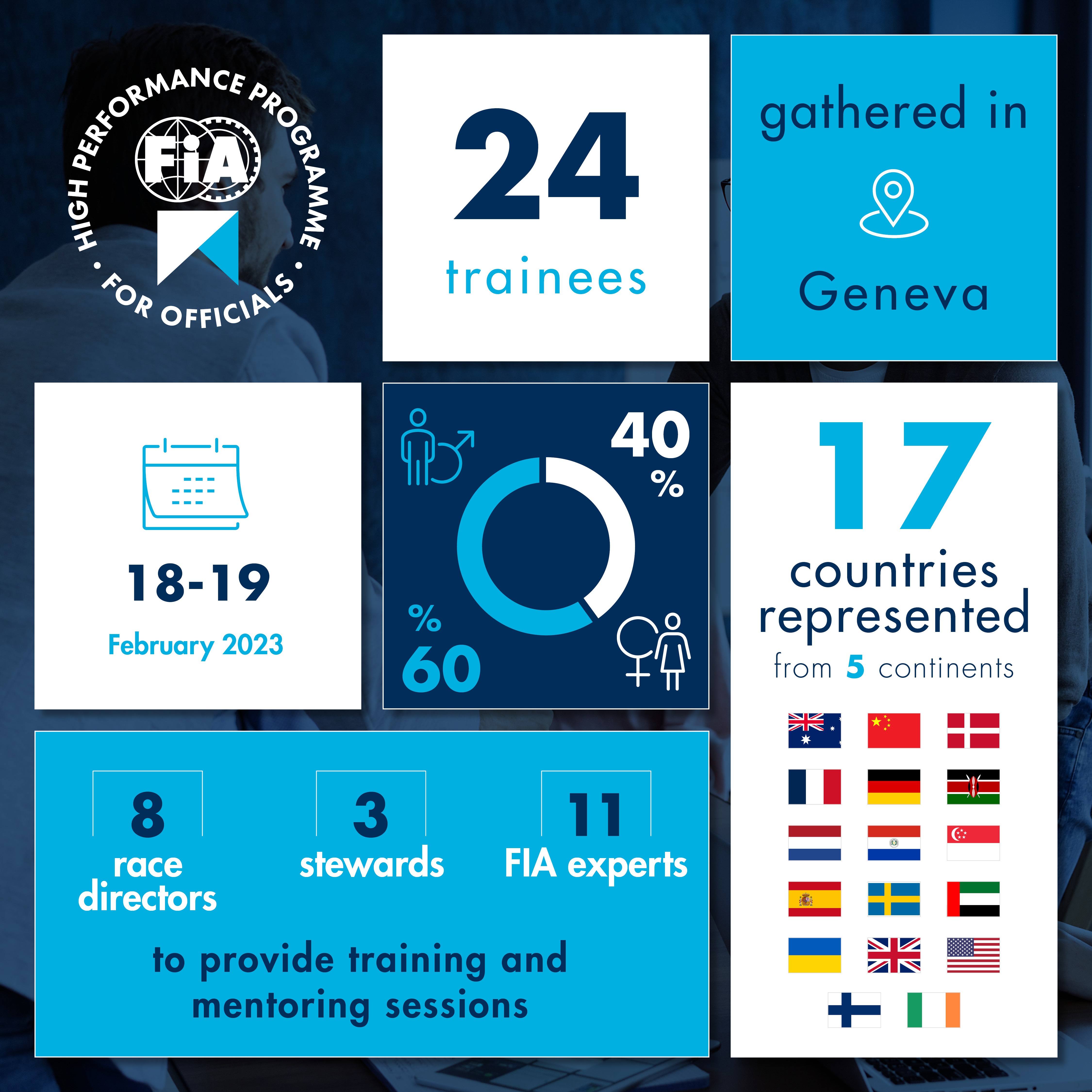 Please click here to view more photos.