Mercedes fire up 2013 Silver Arrow
New F1 W04 a 'clear step forward' says Ross Brawn as Hamilton insists team is 'playing a long game'
Mercedes used the eve of Formula One season's first pre-season test to launch their new car in Jerez, Spain today, with team principal Ross Brawn saying that the new F1 W04 is 'a clear step forward in design'.
"The restructuring we undertook at the team over the past 18 months is now growing in maturity and this is reflected in the F1 W04, which is a clear step forward in design and detail sophistication over its predecessor," said Brawn. "Many thousands of hours of work have been invested by our technical teams to ensure that the new car delivers a step change in performance compared to last season.
"We are playing a long game here but I know we will have success together and I'm excited to be a big part of making it happen."
Lewis Hamilton
"We are also hugely proud to welcome Lewis to the team," he said. "With Lewis and Nico, we have what I believe to be the strongest driver line-up in Formula One and I know that a healthy level of competition between them both will help drive the team forward."
While Brawn was hailing the new car as major progression, Hamilton was keen to point out that there is unlikely to be overnight success.
"We are playing a long game here but I know we will have success together and I'm excited to be a big part of making it happen," he said. "I've been at the factory for a few days now, getting to know the guys, meeting my mechanics and engineers, learning myself into the team and I have never seen a group of people that is hungrier for success than this one."
As part of the launch the car was given a 100km shakedown by Nico Rosberg and after his run the German told Sky Sports News: "There were no issues and I could attack straightaway flat-out - it was very nice.
"There are a lot of differences [to last year's car] - aerodynamically, obviously, around the back it is quite different and the nose section aerodynamically and visually is much better. Those are really the main things, but this car is a big, big step forward for us."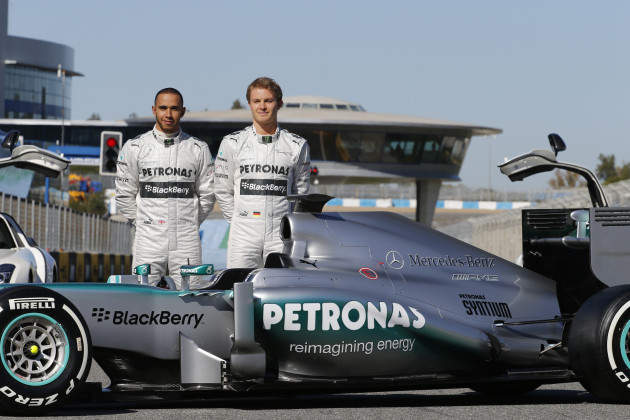 Toto Wolff, the team's new executive director commented: "In the fortnight since I joined the team, I have been impressed by what I have found. The people are highly motivated, open-minded and determined to succeed. Our drivers are hungry for success, too, and it will certainly be fascinating this season to see how Nico and Lewis perform together. Ultimately, though, Formula One is very straightforward and the only thing that counts is lap time."
 According to the team the design philosophy has been centred around a new five-element front wing design and a second-generation Coanda exhaust at the rear. The car retains pushrod front suspension and a pullrod rear suspension, aimed at prolonging tyre life and performance.
The F1 W04 also does away with the stepped nose design of its predecessor thanks to a small 'vanity panel', which the team says offers a small aerodynamic gain.