McLaren wins as BMW lets title rivals off the hook
Stef Dusseldorp (NLD) and Fred Makowiecki (FRA) secured victory for McLaren on home soil in the Qualifying Race at the final round of the FIA GT1 World Championship at Donington Park.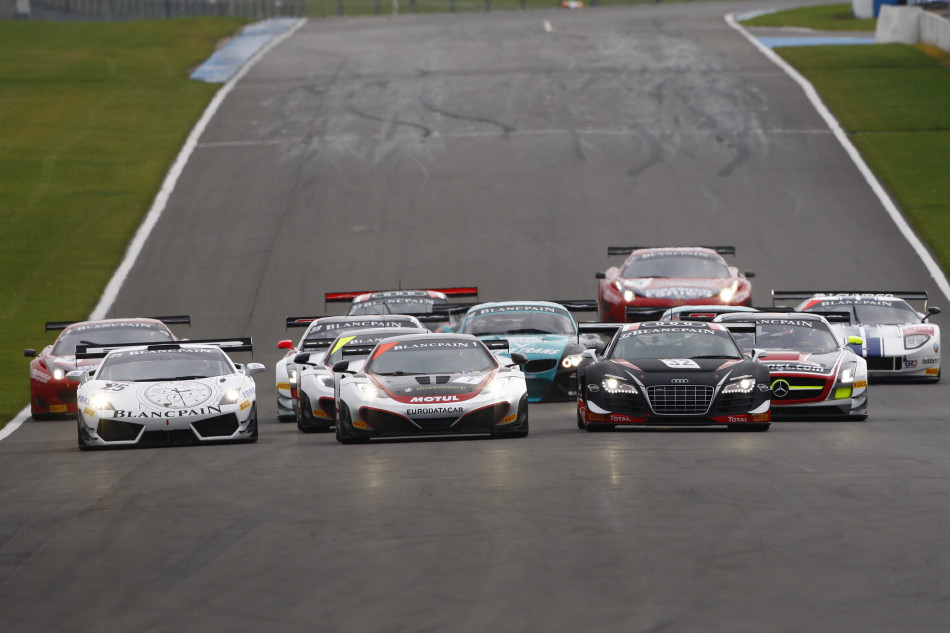 The Hexis Racing duo benefited from the French squad's renowned pit stop expertise to win ahead of the No.32 Belgian Audi Club team WRT Audi R8 of Adam Carroll (GBR) and Laurens Vanthoor (BEL).
The second Hexis McLaren of Gregoire Demoustier (FRA) and Alvaro Parente (PRT) grabbed third from the back row of the grid after a barnstorming second stint from Parente.
Despite a brief Safety Car period wiping out his lead, Makowiecki kept his advantage over Vanthoor at the flag.
"We wanted to have a good result, especially in the home country of McLaren," Makowiecki said.
"Stef did a great job at the start and our pit stop was excellent again to allow us to go from third to the lead.
"This track is really hard on brakes and we had to manage them well because after about 10 laps the pedal starts to become a bit soft and it's difficult to push. In general the car was consistent throughout the race and we are really happy with the result."
It was a bitter-sweet success for Dusseldorp and Makowiecki, who, despite scoring eight points for the win, dropped out of drivers' title contention. They are 26 points off top spot with only 25 on offer for victory in tomorrow's Championship Race.
"Maybe we can't win the drivers' the championship and the teams' championship but we should all be proud of what we have achieved during the whole season," Makowiecki added.
"Now our aim is to win the race tomorrow to finish on a high."
The Reiter Lamborghini No.25 of Stefan Rosina (SVK) and Peter Kox (NDL), who led at the start, finished fourth.
In the drivers' championship battle, Marc Basseng and Markus Winkelhock in the All-Inkl.com Münnich Motorsport SLS AMG No.38 extended their lead by two points with a hard-fought fifth place.
They now stand on 145 points with their only rivals for the title, Michael Bartels (DEU) and Yelmer Buurman (NLD) in the Vita4One BMW No.18, failing to add to their tally of 142.
It was an eventful outing for the BMW pair which included a coming-together with the sister No.37 Mercedes of Nicky Pastorelli (NDL) and Thomas Jager (DEU) which finished sixth.
"I'm happy we could finish on P5 it was a tough race certainly," All-Inkl.com Münnich Motorsport team boss Basseng said.
"Like everyone, I think we had a braking issue, there are three hard braking spots in a row and it takes a long time to recover from those.
"With the contact with our No.37 car and the BMW, I didn't see what happened and I immediately asked the guys and they explained that maybe Michael (Bartels) was a bit close on the inside of Nicky (Pastorelli) and he hit his rim.
"We want fair racing all the time so I hope it stays safe and clean this weekend.
"For tomorrow I'm really hoping for rain because it will make it a little easier for us."
Bartels had been running in seventh place behind Pastorelli when they clashed at Melbourne Hairpin with just two minutes of the race remaining.
The BMW sustained a front left puncture forcing Bartels to pit.
Bartels eventually inherited ninth after the Sunred Ford GT No.10 of Laurent Groppi (FRA) ground to a halt before the chequered flag.
It means the No.18 BMW starts from ninth in tomorrow's main event – four places behind the leading Mercedes.
Sebastian Eiselt, Vita4one Racing's general manager, said: "The race was pretty tough for us, we had the problem that our car is really fast but we don't have enough power from the engine to overtake, so we were behind the No.37 and No.38 for quite a long time."
"For sure the Mercedes are playing a little game to advantage their team and this is a disadvantage to us. For tomorrow we have nearly the same problem, we have to overtake them otherwise we lose the championship.
"Tomorrow we have our No.17 car in front of the No.18 but we also have the No.4 Ferrari before we can get to the Mercedes but even then we have the problem of the No.37 car before the No.38 and for sure they'll take care of themselves, like today.
"We have some opportunity to gain some time in the pits like today, I think we were the fastest pit stop, so we'll see.
"It's nearly impossible to overtake because the Mercedes has a lot of power, however we do not suffer so much from brake wear. It'll be tough tomorrow but we'll do our best."
The Championship Race, where both titles will be settled, starts at 12:45.