This page contains archived information and may not display perfectly
Maluszyński and Kurzeja seal victory in Spain's Baja TT Dehesa Extramadura
The Polish crew of Michal Maluszyński and co-driver Lukasz Kurzeja claimed victory in Spain's Baja TT Dehesa Extramadura and moved into an early lead in the 2022 FIA European Cup for Cross-Country Bajas.
Driving an X-raid-built Mini John Cooper Works Rally, Maluszyński teamed up with Kurzeja - the winning co-driver in the 2021 FIA European Cup for Cross-Country Bajas - for the first time and topped the times through the second selective section on his way to a winning margin of 11min 38.09sec over the top seeded Spanish Toyota Hilux Overdrive crew of Felix Dieguez and José Luis Lamela. His closest rivals incurred 3min 30sec of time penalties for a speeding violation after initially finishing the event 8min 08.9sec adrift.
Maluszyński said: "The first stage on Friday was not so good for us. I don't like such short stages.  But the two stages on Saturday were much better, very fast. We managed to take the lead and today's stage was very good for us. We were fourth fastest and did enough to take the overall win."
Edgar Lima Condenso/Carlos Manuel Silva set the fastest time through the 5.87km Qualifying Stage and edged into a 2.8-second lead over Pedro da Silva/Victor Manuel Jesus, but the Portuguese crew missed out on a potential second place after failing to finish the final stage. Da Silva/Jesus, on the other hand, were third quickest through the 130.10km timed section and sealed the final podium place in a PKR Sport Rally Team Volkswagen Amarok.
FIA T3 category winner Santiago Navarro teamed up with Marc Sola to finish fourth overall in his FN Speed Team Can-Am Maverick X3. The experienced veteran of numerous FIA cross-country rallies had been running as high as third place.
Poland's Tomasz Bialkowski led the FIA T4 section and was classified in fourth overall through stages two and three. He and navigator Darius Baskiewicz dropped vital minutes in the fourth stage and slipped to fifth in the general classification but did enough to secure maximum points in the T4 category in a Polaris RZR Pro XP.
The Pole said: "We lost some time behind another competitor who would not let us go through in SS2. We were chasing them for 16km in the dust on a narrow track. It was not very good. On the second part we overtook two cars and, 10km from the finish, we got a puncture and had to change the wheel. Then, we caught the crew in front of us on the third stage and we went 60km behind them. A lot of dust and we didn't see anything. The last stage was better for T1 cars because there were many straights, But I am happy with this result."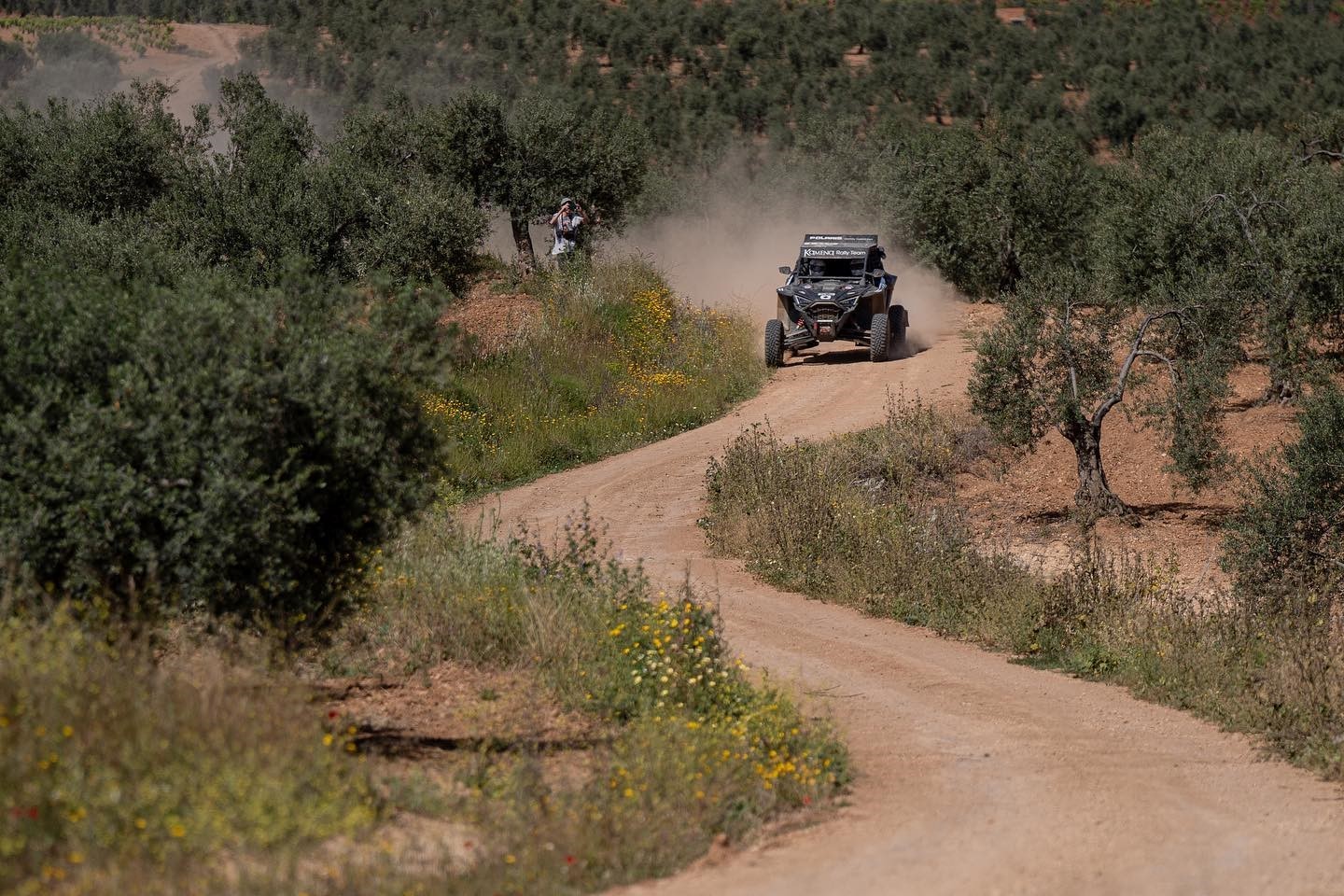 Portugal's João Ferreira and David Monteiro won the third and fourth stages in their Mini John Cooper Works Rally, but a minor navigational error and a gentle roll 15km from the end of stage two cost them any chance of victory. Ferreira recovered strongly to reach the finish in Badajoz in sixth overall and fourth in T1.
Daniel Villaron and Adrian Perez came home in seventh place in their PKR Sport Rally Team Ford Ranger after setting the third quickest time through the Qualifying Stage and finishing second in the final selective section.
Santiago Carnicer Colomer and Miguel Lazaro Pedrero slipped from fourth to eighth after the last stage as a result of incurring eight minutes of time penalties for a speeding violation in their Ford Ranger.
The Italian duo of Amerigo Ventura and Mirko Brun finished ninth and second in T4 in a Quaddy Racing Yamaha YXZ 1000 R, while Bernd Hoffmann and Antonio Moya rounded off the top 10 and secured the runner-up spot in the tussle for T3 honours. Eleventh-placed Jordi Vidiella and Sergi Careras finished third in T3 in an FN Speed Team Can-Am.
Jesus Fuster and Pedro Lopez steered the sole surviving Herrator Inzane X3 to the finish in 15th overall. The Spaniard had been classified as high as sixth in the general classification after stage two.
Fernando Barreiros and Sergio Cerveira were the sole T2 entrants and finishers in the FIA T2 section for series production cross-country machines. The Spaniard guided his Isuzu D-Max back to Badajoz in 22nd overall.
GPR Sport's Luis Recuenco (Mini) and NAC Rally Team's Pawel Molgo (Ford) joined Lima Condenso on the list of T1 retirements. Victor Royo, Filipe Carvalho, Oscar Lopez and Roberto Gamboa withdrew from the T3 competition and mechanical issues sidelined Poland's Piotr Otko from the FIA T4 section.
The opening round of the FIA European series was organised by the Motor Club Villafranca and ran through the province of Badajoz in south-western Spain.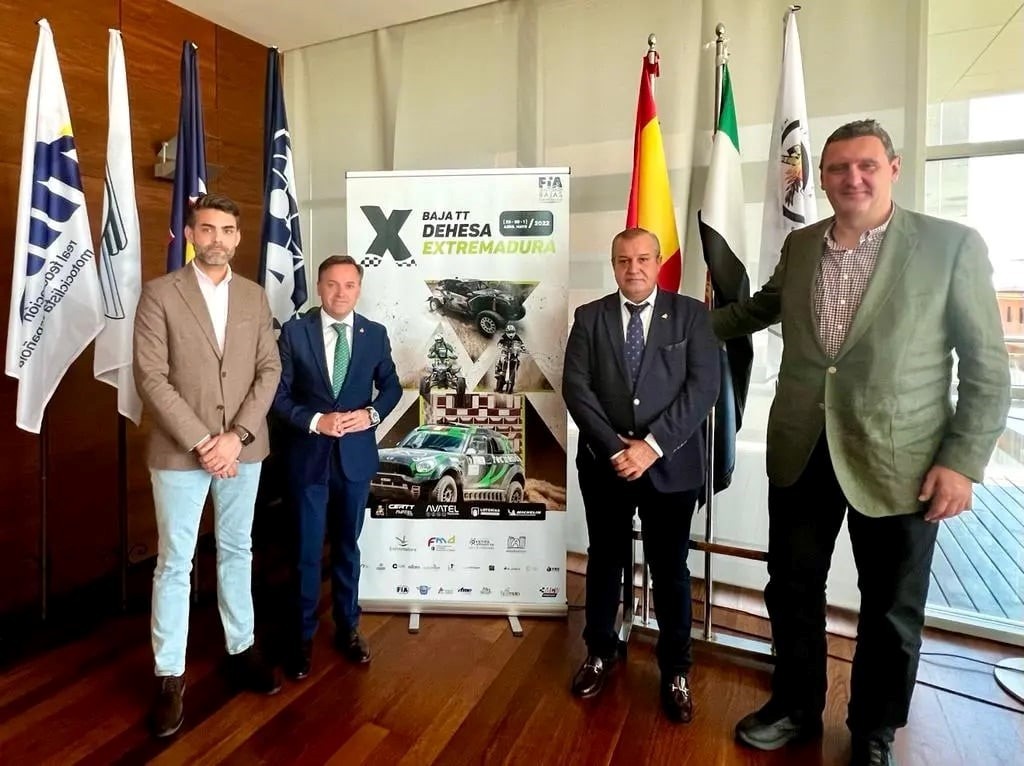 Action resumes in the FIA European Cup for Cross-Country Bajas in Greece at the end of May.
| | |
| --- | --- |
| 2022 Baja TT Dehesa Extramadura  – final results: |   |
| 1. Michal Maluszyński (POL)/Lukasz Kurzeja (POL) Mini JCW Rally | 5hr 50min 08.8sec |
| 2. Felix Dieguez (ESP)/José Luis Lamela (ESP) Toyota Hilux Overdrive | 6hr 01min 47.7sec |
| 3. Pedro da Silva (POR)/Viktor Jesus (POR) Volkswagen Amarok | 6hr 02min 04.3sec |
| 4. Santiago Navarro (ESP)/Marc Sola (ESP) Can-Am Maverick (T3) | 6hr 03min 21.8sec |
| 5. Tomasz Bialkowski (POL)/Darius Baskiewicz (POL) Polaris RZR Pro XP (T4) | 6hr 05min 02.6sec |
| 6. João Ferreira (POR)/David Monteiro (POR) Mini JCW Rally | 6hr 06min 59.3sec |
| 7. Daniel Villaron (ESP)/Adrian Perez (ESP) Ford Ranger | 6hr 08min 01.0sec |
| 8. Santiago Carnicer Colomer (ESP)/Miguel Lazaro Pedrero (ESP) Ford Ranger | 6hr 11min 03.8sec |
| 9. Amerigo Ventura (ITA)/Mirko Brun (ITA) Yamaha YXZ 1000 R (T4) | 6hr 11min 44.8sec |
| 10. Bernd Hoffmann (ESP)/Antonio Moya (ESP) Can-Am Maverick X3 (T3) | 6hr 30min 37.8sec |
| (T1 unless stated) |   |
|   |   |
| 2022 FIA European Cup for Cross-Country Bajas – positions after round 1: |   |
| Drivers |   |
| 1. Michal Maluszyński (POL) | 37pts |
| 2. Felix Dieguez (ESP) | 27pts |
| 3. Pedro da Silva (POR) | 23pts |
| 4. Santiago Navarro (ESP) | 20pts |
| 5. Tomasz Bialkowski (POL) | 17pts |
|   |   |
| T3 |   |
| 1. Santiago Navarro (ESP) | 40pts |
| 2. Bernd Hoffmann (ESP) | 28pts |
| 3. Jordi Vidiella (ESP) | 24pts |
|   |   |
| T4 |   |
| 1. Tomasz Bialkowski (POL) | 39pts |
| 2. Amerigo Ventura (ITA) | 31pts |
| 3. Miguel Martinez (ESP) | 27pts |
Photo caption: Joao Ferreira/David Monteiro (POR), Mini JCW Rally (#203), photo 2022 Baja TT Dehesa Extramadura Facebook
Photo caption: Tomasz Bialkowski/Darius Baskiewicz (POL), Polaris RZR Pro XP (#401), photo 2022 Baja TT Dehesa Extramadura Facebook