Loeb and Al-Attiyah head to Northern México to resume duel for W2RC supremacy at the Sonora Rally
Sébastien Loeb and Nasser Saleh Al-Attiyah resume their fascinating duel for supremacy in the FIA World Rally-Raid Championship (W2RC) at this weekend's Sonora Rally, a new event in the FIA cross-country calendar that runs over varied terrain through northern México from April 22-28.
Loeb and his Belgian co-driver Fabian Lurquin currently lead the Drivers' and Co-drivers' Championships by 16 points from the Qatari and his Andorra-based team-mate Mathieu Baumel, although both crews encountered problems at the recent Abu Dhabi Desert Challenge. That enabled Czech rival Martin Prokop and round two winner Yazeed Al-Rajhi to close the gap at the top of the points' standings.
Al-Rajhi's maiden win in Abu Dhabi means that Toyota Gazoo Racing holds a 41-point cushion over Bahrain Raid Xtreme in the Manufacturers' standings, with the Baic ORV operation in third and the X-raid Mini JCW Rally Team two points further adrift in fourth.
Organised by Aventura Events with the support of Mexican ASN OMDAI and series-promoting A.S.O., the Sonora Rally has attracted 27 FIA entries, including 12 in the FIA T1+ category. Italy's Eugenio Amos and Argentina's Juan Cruz Yacopini join Al-Rajhi at the wheel of Overdrive Racing Toyotas, while Loeb's Prodrive Hunter BRX is joined by Guerlain Chicherit at the wheel of a GCK Motorsport Hunter and a pair of X Rally Motorsport Hunters for the Brazilian duo of Cristian and Marcos Baumgart.
China's Guoyu Zhang and Yunliang Zi represent the BAIC ORV team in a pair of BJ40s. Sebastien Halpern currently holds seventh in the Drivers' Championship in his Mini John Cooper Works Plus and the Argentine is joined by Denis Krotov in a two-car X-raid Mini JCW Team that rounds off the T1+ entries.
American trio top T3 field in México
Eleven crews will line up in the FIA T3 series-production cross-country vehicles in a competitive section that is being dominated by three American drivers after two rounds. Third overall and maximum T3 points in Abu Dhabi have given Seth Quintero a five-point category lead over his Red Bull Off-Road Junior Team USA team-mate Austin Jones, both at the wheel of South-Racing-built Can-Ams. Quintero's co-driver Dennis Zenz leads Jones's navigator Gustavo Gugelmin by five points in the T3 Co-drivers' Championship.
Mitch Guthrie and Kellon Walch have persevered with the prototype MCE-5 T3M this season and are a distant third in the points' standings.
Red Bull Can-Am Factory Racing's Francisco Lopez and Cristina Gutierrez hold fourth and fifth in the rankings and are entered in their Maverick X3s.
Competition comes from four South Racing Can-Am Team Mavericks in the hands of Sweden's Mattias Ekström, Chilean driver Hernan Garces and the Argentine duo of David Zille and Diego Martinez.
The X-raid Team has entered a prototype Yamaha YXZ 1000 R for the Portuguese duo of João Ferreira and Filipe Palmeiro and French veteran Claude Fournier drives a BRR-run Can-Am to round off the FIA entries
Rokas Baciuška heads FIA T4 category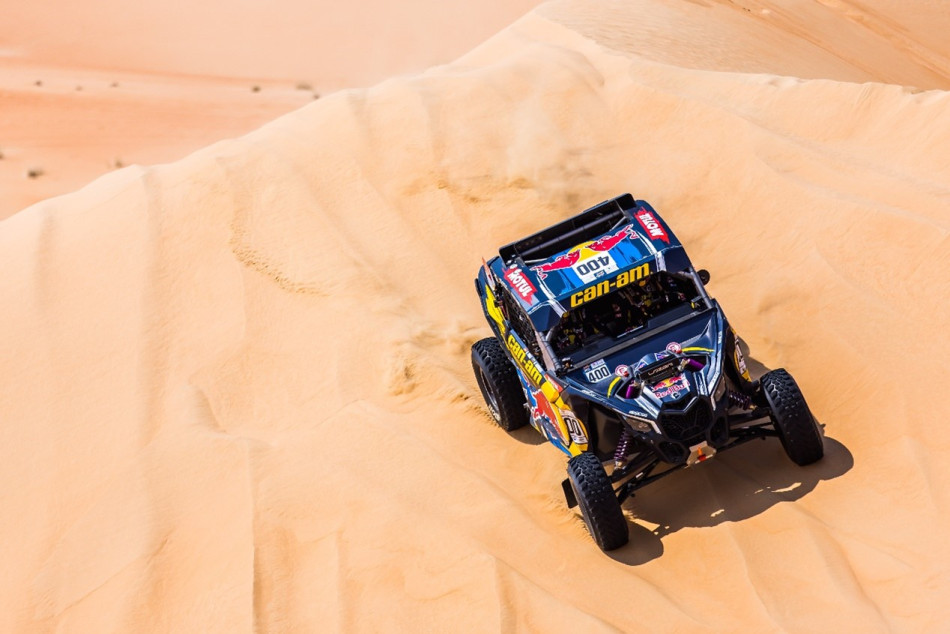 Only four FIA T4 crews have made the trip to the Sonora Rally. Red Bull Can-Am Factory Racing's Rokas Baciuška won the category in Abu Dhabi and finished second at the Dakar Rally and leads the series by 48 points after two rounds.
The Lithuanian again teams up with Spaniard Oriol Vidal and faces competition from an Xtreme Plus Polaris in the hands of Japan's Shinsuke Umeda, Spaniard Eduardo Pons in a South Racing Can-Am and Italy's Rebecca Busi, who teams up with Frenchman Sébastien Delaunay to drive an FN Speed Team Can-Am.
The new addition to the FIA cross-country calendar is also the first event of its kind to be staged in México that is sanctioned by the sport's governing body. Formerly a round of just the FIM series, the event has been revised to adhere to FIA regulations and is the brand child of American racer Darren Skilton and his team.
Action will be fought out over five legs and a provisional 1,249 competitive kilometres in a route of 2,091km between the bustling city of Hermasillo, the fishing and resort city of Puerto Peñasco (Rocky Point) on the Gulf of California and the Arizona-México border town of San Luis Rio Colorado in northern México.
The demanding off-road event will pass through the state of Sonora en route towards the Sea of Cortez and across the cactus deserts of historical Caborca before reaching the famous dunes of the Altar Desert and on to the ceremonial finish in San Luis Rio Colorado's El Bosque park
Timetable of events
Saturday, April 22
Administration checks                                        Parque La Ruine, Hermansillo (08.00-17.00hrs)
Scrutineering                                                        Parque La Ruine, Hermansillo (09.00-17.30hrs)
Sunday, April 23
Ceremonial start                                                  Parque La Ruine, Hermansillo (13.00hrs)
Prologue                                                                Autodromo Cerro Colorado, Hermansillo (13.45hrs)                                                  
Monday, April 24
Stage 1 (210km including Prologue)                Hermosillo to Hermosillo  
Tuesday, April 25
Stage 2 (287km)                                                   Hermosillo to Puerto Peñasco
Wednesday, April 26
Stage 3 (347km)                                                   Puerto Peñasco to Puerto Peñasco
Thursday, April 27
Stage 4 (252km)                                                   Puerto Peñasco to Puerto Peñasco
Friday, April 28
Stage 5 (153m)                                                     Puerto Peñasco to San Luis Rio Colorado
Prizegiving ceremony and dinner                     Rancho Tabachines, San Luis Rio Colorado