Karting - Highly Important Event in Wackersdorf
The first of two FIA Karting European Championship events - KZ & KZ2, as well as the first of three FIA Karting Academy Trophy events will take place from 17th-20th June 2021 in Germany at the ProKart Raceland circuit in Wackersdorf.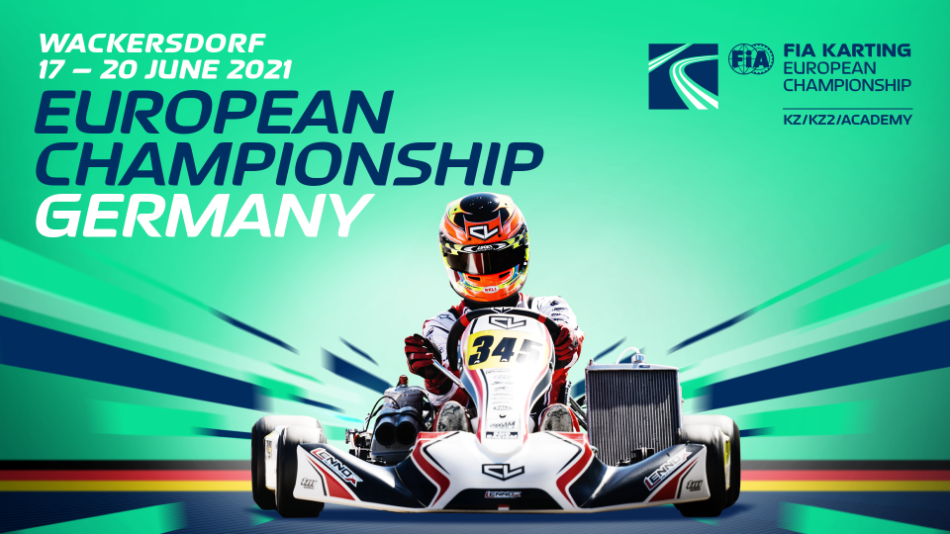 Germany is a prime destination for this third FIA Karting event of the year. The 1222m track, demanding for both karts and drivers, is renowned for both its selectivity and the spectacle it generates. The rigorous organisation of the Wackersdorf team is particularly appreciated in these times of health crisis complementing the FIA control protocol. The live internet broadcast on Saturday and Sunday allows a large global audience to follow the exciting competition ahead. 
The total attendance of the event is at an excellent level with over 175 entries from 53 countries from all five continents, which is close to a record. While the big names in KZ will be there, the KZ2 category has a remarkable field of over 100 drivers, including some significant transfers from the direct-drive categories. The maximum number of 51 drivers was quickly reached in the FIA Karting Academy Trophy. The three categories racing in Wackersdorf will all be equipped with MG Tires.
KZ - THE DOMAIN OF THE PROFESSIONALS
The FIA Karting European Championship - KZ brings together 26 participants, three quarters of whom raced in 2020. There is no shortage of drivers with previous titles, with five former World Champions and five European Champions competing for the 2021 title, as well as two winners of the FIA Karting International Super Cup - KZ2.
Crowned last year, Frenchman Jérémy Iglesias and Dutchman Marijn Kremers, could well continue to compete with Alessandro Irlando (ITA), Simo Puhakka (FIN), Stan Pex (NLD) and Riccardo Longhi (ITA), who were all in the European top five in 2020. A dozen other well-known drivers will join the battle, in addition to two young rising stars from KZ2, Émilien Denner (FRA) and Viktor Gustafsson (SWE). Former Spanish Formula 1 driver Jaime Alguersuari will make his return to competition. He finished 9th in the CIK-FIA KZ World Championship in 2013.
KZ2 - OVER 100 DRIVERS FOR THE OPENING ROUND
The FIA Karting European Championship - KZ2 is full to the brim in Wackersdorf with 102 entries including 14 wild cards. The race for the title is likely to involve around twenty experienced drivers, but it would not be surprising if some new names appeared at the top of the ranking.
Dutchman Senna Van Walstijn is one of the favourites in Wackersdorf, together with Germans David Trefilov, Valentino Fritsch and Alexander Schmitz. The Italians are also present in force: Giuseppe Palomba, Danilo Albanese, Alessio Piccini and Giacomo Pollini undoubtedly have their chances, as well as Matteo Zanchi. Other experienced drivers like Jorge Pescador (ESP), Paavo Tonteri (FIN), Kristijan Habulin (HRV) and Andrea Dale (ITA) should be able to obtain good results.
In a new development, several drivers have made the step up from OK or even OK-Junior to KZ2 this year. Lorenzo Travisanutto (ITA), the double OK World Champion in 2018 and 2019, Kajus Siksnelis (LTU), winner of the 2019 FIA Karting Academy Trophy, Jamie Day (ARE), Laurens Van Hoepen (NLD), Markus Kajak (EST), Luca Leistra (BEL), Hugo Sasse (DEU) are all in this category. Some of them even have a double OK/KZ2 programme this season, like Juho Valtanen (FIN) or James Wharton (AUS).
12TH SEASON OF THE ACADEMY
The FIA Karting Academy Trophy is successfully continuing its mission to detect young talent from around the world for the twelfth consecutive year. The Exprit/Vortex one-design karts with MG Tires will allow the 51 participants from 50 nations from all five continents to compete on equal terms from the first event in Wackersdorf.
Four drivers will be competing in their second season in the Academy, including Belgian Tom Braeken and Oscar Wurz from Monaco, who are determined to achieve good results this year. Augustin Bernier (FRA), Dion Gowda (SGP), Maciej Gladysz (POL), Lucas Fluxa Cross (ESP), Mark Kastelic (SVN), Oleksandr Bondarev (UKR), Salim Hanna (COL) and Leo Robinson (DZA) are all coming in with a wealth of international experience that should allow them to aim for the top spots. As always in this competition, we can also expect to see the revelation of little known talents. South African driver Tyler Jean Robinson, previously selected by the FIA Girls on Track - Rising Stars programme, will be the only female driver on the grid under the banner of the FIA Women in Motorsport Commission.
Provisional programme for the Wackersdorf event
Thursday 17th June
14:15 - 17:20: Academy test sessions (3x20')
Friday 18th June
09:00 - 16:20: KZ/KZ2 Free Practice (3x15') Academy (3x20')
16:35 - 18:00: Qualifying Practice (8')
Saturday 19th June
09:00 - 10:25: Warm-up (10')
10:30 - 17:20: Qualifying Heats
Sunday 20th June
08:00 - 09:25: Warm-up (10')
09:30 - 11:25: Qualifying Heats
13:15 - 15:55: Finals
The Wackersdorf event can be followed on the official FIA Karting Championship app for mobile devices and on the website www.fiakarting.com.