JÜRGENSON'S OVERALL PODIUM PROVES FIA RALLY STAR DRIVER PROGRESS AND PACE
Romet Jürgenson underlined the increasing pace and progress being made by the FIA Rally Star drivers during the current Training Season by finishing Rally Nova Gorica (September 21-24) on the overall podium in a Rally3 car.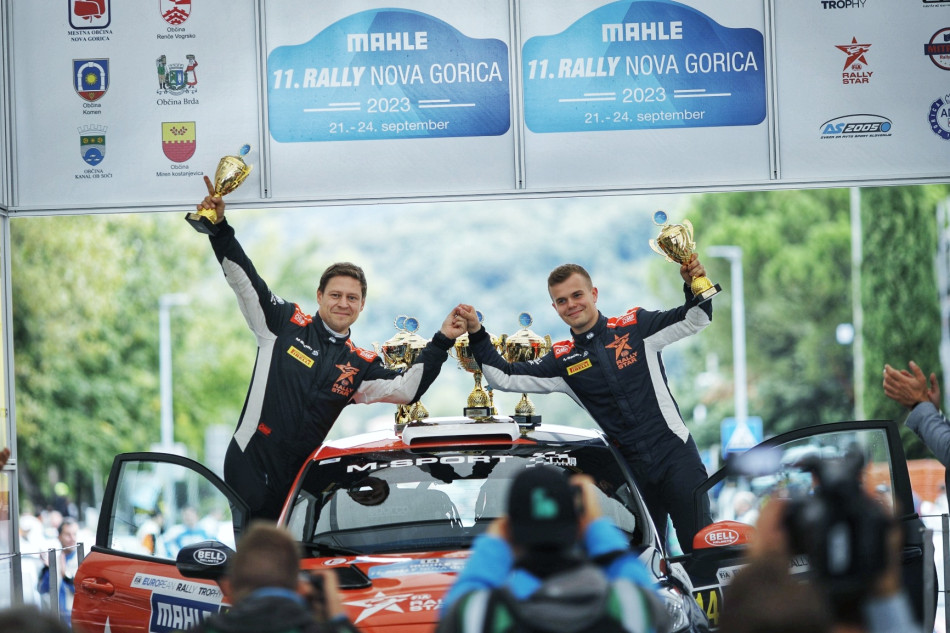 Beating a host of competitors in faster and more technically advanced Rally2 machinery, Jürgenson finished the Tarmac event in Slovenia in third position alongside co-driver and fellow Estonian Siim Oja.
Jürgenson's outstanding podium finish, at the wheel of a Pirelli-equipped Ford Fiesta Rally3 run by M-Sport Poland, came on the third of six FIA Rally Star Training Season events and the last on Tarmac.
It required Jürgenson and his team-mates to demonstrate their learning and progression in changeable weather conditions, which made the challenging mixed-surface stages even more demanding.
Jürgenson, 23, took the lead of the RC3 division when he set the fastest time in the category on Saturday's first stage and never looked back. He clocked a further six quickest stage times to claim the class victory by 1m13.6s ahead of second-placed Peruvian Jose 'Abito' Caparo with Australia's Taylor Gill finishing fourth, Oman's Abdullah Al Tawqi fifth and Annia Cilloniz, from Peru, in eighth.
Max Smart, who is also part of the FIA Rally Star Training Season, did not contest Rally Nova Gorica in order to be fully prepared for the remaining three gravel events. He will tackle these with new co-driver Cameron Fair, the FIA ERC3 champion for 2023.
Rally Nova Gorica, a round of the FIA European Rally Trophy, coincided with the FIA Volunteers Weekend, an annual event that celebrates the work of all those who give up their time without financial reward to make motor sport happen.
Meanwhile, FIA Deputy President for Sport Robert Reid, a former FIA World Rally Championship-winning co-driver, was an interested observer on Rally Nova Gorica. He had previously attended the FIA Rally Star Training Camp and selected FIA Rally Star Continental Finals, including the European Final where Jürgenson was chosen as the winner.
Organised by Avto Moto Društvo Gorica with the support of the Slovenian ASN, AŠ2005, the 11th running of Rally Nova Gorica began with a superspecial stage in the event's host town, Nova Gorica, on Friday evening.
That was followed by two loops of two repeated stages in the surrounding hills and mountains of western Slovenia on Saturday, before the event concluded on Sunday with two loops of three stages for a total of 15 stages over a competitive distance of 150.05 kilometres.
Once again, the FIA Rally Star drivers were tasked with increasing their competitive experience by finishing the event without damage to their cars, but also displaying a growing level of pace and performance.
All FIA Rally Star Drivers were limited to 12 tyres for the entire event as part of their learning for the future.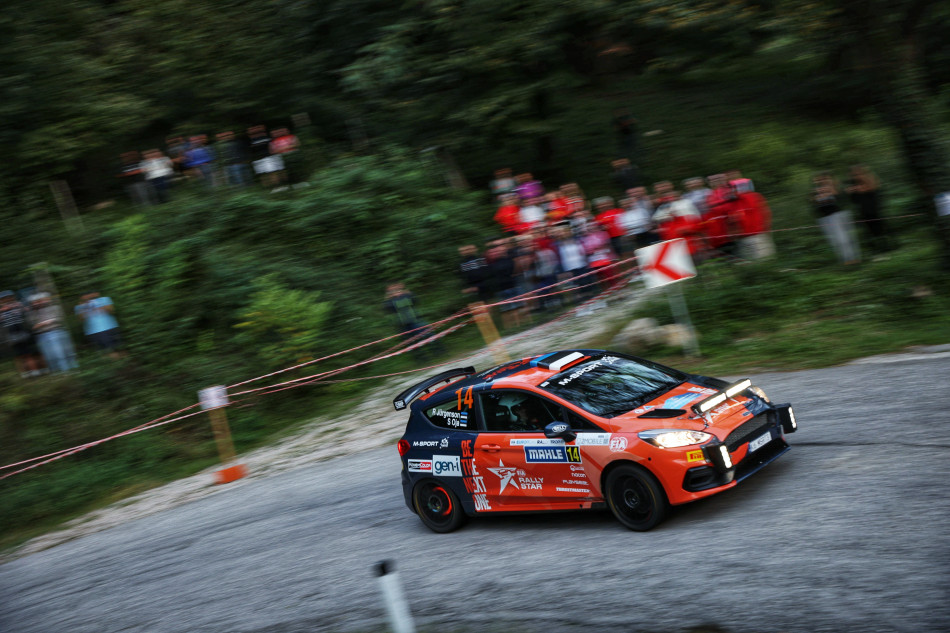 FIA Rally Star Project Leader Jérôme Roussel said: "I am very, very happy because we are always looking to get all cars to the finish without damage. That is what we asked from the drivers and that is what they achieved. The FIA Rally Star Training Season is all about learning the situations you need to include in your rally driver library. On Rally Nova Gorica they had everything, like a street stage, which they had to recce by foot, then the street stage was at night in the rain with the slippery painted parts making it difficult. The tyre choice for the first morning was questionable, then the drivers had to deal with drying roads. The second day was a mix between the two compounds of slick tyre and we were very restrictive on the number of tyres our drivers could use as this will prepare them well for the future. The drivers were able to learn, show performance and gain confidence and I am really happy with the way things unfolded this weekend. Big thanks to the organisers, it was a fantastic rally with lots of internationalities taking part and lots of spectators. Thank you also to the ASN for their warm welcome and to all the volunteers – during FIA Volunteers Weekend – who continue to make motor sport possible."
FIA Rally Star Rally Nova Gorica driver-by-driver round-up (listed in seeded order)
#12 Taylor Gill (19, Australia) Co-driver: Daniel Brkic (AUS)
On only his second Tarmac rally, Gill showed clear progression by setting the fastest RC3 time on the opening superspecial before going on to register a number of strong stage times during leg one. A powersteering issue delayed his departure from service on Sunday and the resulting time penalties dropped him out of contention.
Taylor Gill: "Unfortunately we ran into some powersteering dramas late on Saturday that reared its head leaving service on Sunday morning and we copped quite a big time penalty. But the mechanics managed to get it fixed, which was the main thing although the issue kept coming back so it felt like we didn't get a clean stage, which was a bit frustrating after a relatively strong start. It wasn't the result we wanted but there were still a lot of positives, including learning to drive on wet Tarmac."
#14 Romet Jürgenson (23, Estonia) Co-driver: Siim Oja (EST)
Building on his superb class-winning run on Rallye Weiz in July, Jürgenson capitalised on his previous Rally Nova Gorica experience to claim the RC3 category triumph in an outstanding third overall, 0.4s ahead of fourth place and 0.6s ahead of fifth, such was the intensity of the competition.
Romet Jürgenson: "Finishing third overall is something you dream of and I really have to think through what just happened. When I said in Weiz that I was going to take it more easy there and then try to push on this event, I was a little bit afraid if I say that and I don't deliver then it's a bit embarrassing, but now I can be really happy. For sure there are improvements that can be made but the development that Siim and I have done during the year is really amazing. The M-Sport Poland team is also truly amazing. You go into service and you see all the mechanics really determined to do all they can to make you feel comfortable and prepare the car so it's always strong. And everybody from the FIA Rally Star team are so supportive, it's incredible."
#15 Jose 'Abito' Caparo (26, Peru) Co-driver: 'Willy' Guillermo Sierra Ovalle (PER)
With Tarmac his preferred surface, Caparo was always expected to make an impact. However, his decision to opt for slick tyres when his rivals all chose wet covers for the rain-hit Saturday morning loop would delay his progress – along with two damaged tyres on Saturday afternoon – although he was rapid when tyre choice and conditions matched.
Jose 'Abito' Caparo: "There is a lot to learn and a lot to improve but this rally was amazing. I came here to push and to see what we can do. For the first day we did not make the best tyre selection, but we take care of the car and we finish the leg. On the second day we drive safe and fast and we keep learning. M-Sport Poland and all the FIA Rally Star team are always supporting us and I am very grateful. The pacenotes were perfect but I still need to learn to trust them more. We go back to gravel for the next rally when we have to think patient and be smart."
#16 Abdullah Al-Tawqi (24, Oman) Co-driver: Ronan Comerford (IRL)
From being four seconds per kilometre slower than the pacesetting RC3 category drivers to being just two seconds per kilometre off the pace represented an excellent transformation and another example of how hard Al-Tawqi is working and how committed he is to improving.
Abdullah Al-Tawqi: "It was a good rally for me. We were starting from zero, but we got a lot of experience and we improved. We did well and I am happy because on all the stages we were improving from the beginning and building confidence in the car. My pacenotes were very nice and I am happy what I did this weekend. I did better than Rallye Weiz and the car was working good for me. We finished, it was my second finish and all was good."
#17 Annia Cilloniz (24, Peru) Co-driver: Esther Gutierrez (ESP)
Cilloniz hit back from earlier disappointments to complete her first FIA Rally Star Training season event after she refused to let a spin on SS1 knock her off her stride.
Annia Cilloniz: "The goal for this rally was to finish no matter how but trying to get the confidence and push a little more. We reached our goal and I am so happy for that. I tried to push because I know what I am capable of behind the wheel, but this is rally and in rally first you have to do a lot of things like being sure with the pacenotes. I am trying to learn and improve and I am happy we have gravel next because I love gravel."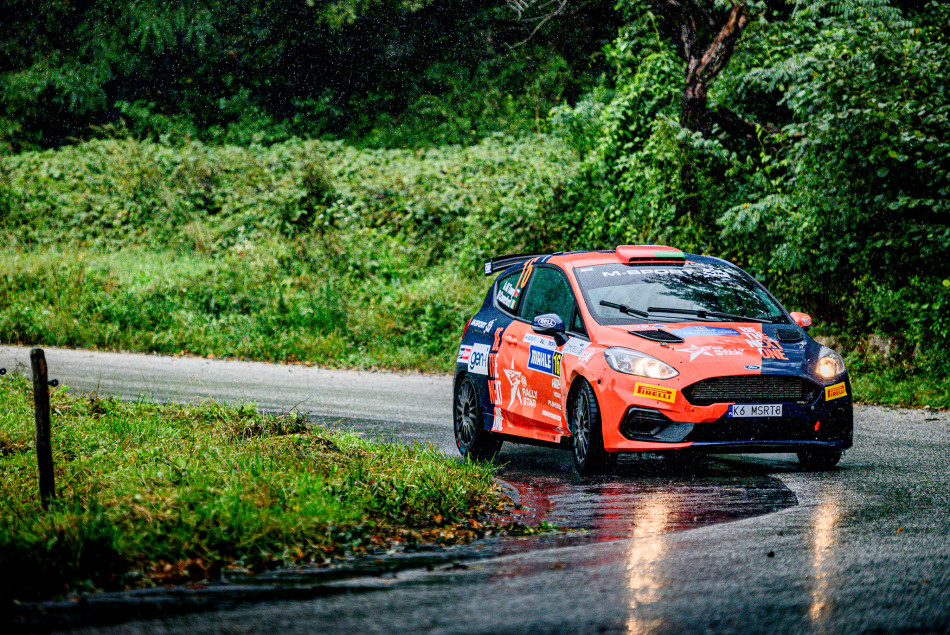 FIA Rally Star Training Season event schedule refresher
The FIA Rally Star Training Season consists of six events, four on gravel and two on Tarmac:
San Marino Rally (Gravel), June 16-17
Rallye Weiz, Austria (Tarmac), July 13-15
Rally Nova Gorica, Slovenia (Tarmac), September 22-24
Rally Saaremaa, Estonia (Gravel), October 6-7
RallyRACC, Spain (Gravel), October 20-21
Lausitz Rallye, Germany (Gravel), November 9-11
A test will take place ahead of each event along with an extensive post-rally debrief. The FIA Rally Star Training Season events have been specifically chosen to equip the drivers with experience of a wide variety of conditions and circumstances.
The six FIA Rally Star Training Season participants will compete in identical Pirelli-equipped Ford Fiesta Rally3s run by M-Sport Poland.
All costs are covered by the FIA with the best four drivers at the completion of the FIA Rally Star Training Season securing a fully-funded season in the FIA Junior WRC Championship in 2024.