Jean TODT signed today in Brussels with the European Commission a pledge on Good Governance in sport
Jean TODT, president of the FIA, signed today in Brussels with the European Commission, represented by Commissioner Tibor NAVRACSICS, a pledge to implement Good Governance in sport.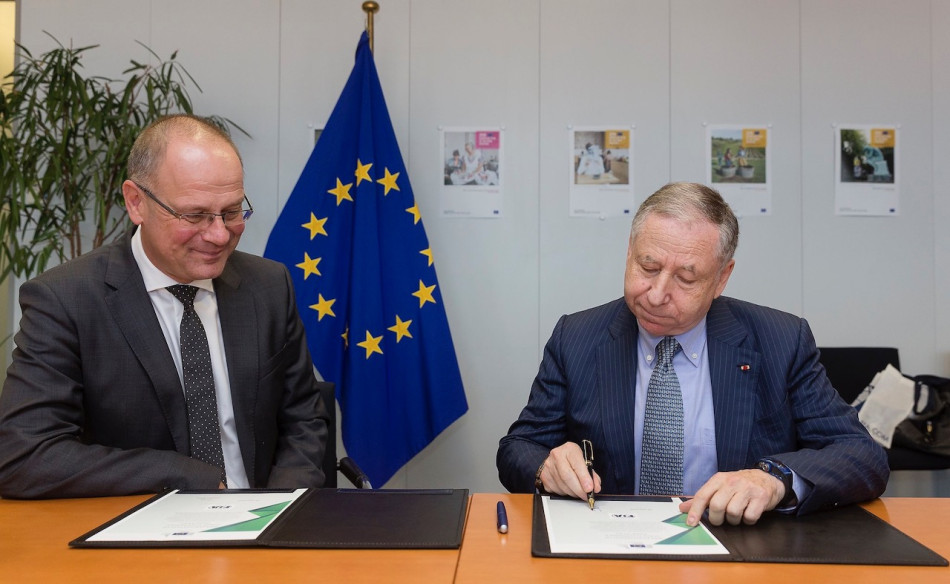 The pledge underlines the FIA commitment to implement the basic principles of Good Governance in Sport - Integrity, Accountability, Transparency, Democracy, Participation and Inclusivity - into our sport organisation and to promote those principles within the world of motorsport.
Jean TODT declared: "Sport has dramatically changed the past years. Sport organisations have to face new challenges and therefore have to adapt to this changing environment. The pledge signed today with the European Commission is an important commitment from the world of motorsport. The principles of good governance are not only words. They are fundamental requirements of the XXIst century to run and govern our sport.  "
Commissioner NAVRACSICS added: "A number of incidents of bad governance have severely damaged people's trust in sport. Sport organisations have to face this challenge, rebuild trust and reinforce the integrity of sport. The European Commission continues to support all federations who are serious about clean sport. I am pleased that FIA has today joined 46 other organisations in taking an important step towards this goal by committing to implement good governance standards. "
The signature of the pledge was followed by a discussion.
In addition to good governance, one of the topic was the global #3500LIVES campaign, launched by the FIA in March 2017 in partnership with outdoor advertising giant JCDecaux. Displayed in more than 900 cities in over 75 countries, the campaign encourages safer behaviour of all road users by raising awareness of the FIA's Golden Rules for safer motoring. Strongly linked to education and youth, policy areas driven by Commissioner NAVRACSICS, Jean TODT highlighted that those rules are an essential element for tackling the number of deaths on the road.
The meeting was also the opportunity for the Commissioner NAVRACSICS to share his proposal concerning the place devoted to sport in the future EU multi-annual financial framework for 2020-2027.
The delegations finally exchanged on other on-going EU files, including the recent European Commission's proposal to reform the Motor Insurance Directive, which will have a considerable impact on motorsport.