JEAN TODT PROMOTES ROAD SAFETY AT INTERNATIONAL AUTOMOBILE FESTIVAL
On 29 January, FIA President Jean Todt, who also serves as United Nations Secretary-General's Special Envoy for Road Safety, took part in the 34th edition of the Festival Automobile International's Grand Prizes, held in Hôtel National des Invalides, Paris.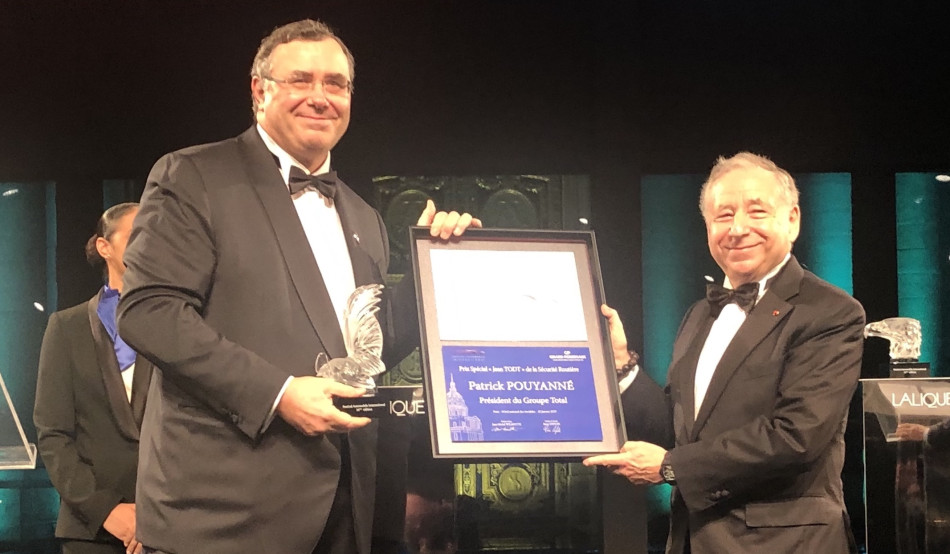 Awarded by an expert and passionate jury from automotive sports, architecture, fashion, design, culture and media, the Festival Automobile International's Grand Prizes rewards the year's most beautiful automotive and artistic projects.
This year, the ceremony opened with a specific and newly created prize: the 'Jean Todt Road Safety Award', which was given in person by the FIA President to Patrick Pouyanné, Chairman of the Board and CEO of TOTAL.
"First I would like to thank my friend Rémi Depoix, Founder and President of the Festival Automobile International for creating a road safety award. Road traffic fatalities remain one of the most pressing challenges of our time, with 1.35 million people killed every year and we all have a responsibility to stop that.", stated Jean Todt. "In April 2018, we managed to create the first United Nations Road Safety Trust Fund, which has now gathered 20 million euros, thanks to contributions from both the public and private sectors. It is important to keep in mind the decisive part that private companies can play in tackling the road safety challenge. TOTAL is among the first responders, contributing, through their Foundation, 1 million euros to the UN Road Safety Trust Fund."
As a key member of the FIA High Level Panel for Road Safety, TOTAL supported the HLP in-country mission in Myanmar, launched in September 2016. The mission assessed the road safety situation and proposed to the authorities a set of measures to improve road safety in the country.
Outside of its involvement with the FIA, the Prize was also awarded to TOTAL for their other actions in the field of road safety. This includes: the commitment of its employees and stakeholders to comply with the 12 Golden Rules for Road Safety, the renewal of its vehicle fleet in Africa to meet minimum vehicle safety standards and the development of a global road safety education programme targeting 10-18 year-olds, in partnership with Michelin. Thanks to these actions, serious road crashes within TOTAL's vehicle fleet have halved over the past five years.
TOTAL is also a member of the Global Road Safety Partnership (GRSP) and International Road Federation (IRF).