Jean Todt opens the FIA Conference 2019 in Sun City, South Africa
FIA President welcomed over 470 delegates from 117 different countries to the FIA Conference 2019, a three-day programme of keynote speeches, panel discussions and workshops on the theme "STRONGER TOGETHER". 
Read his full speech below.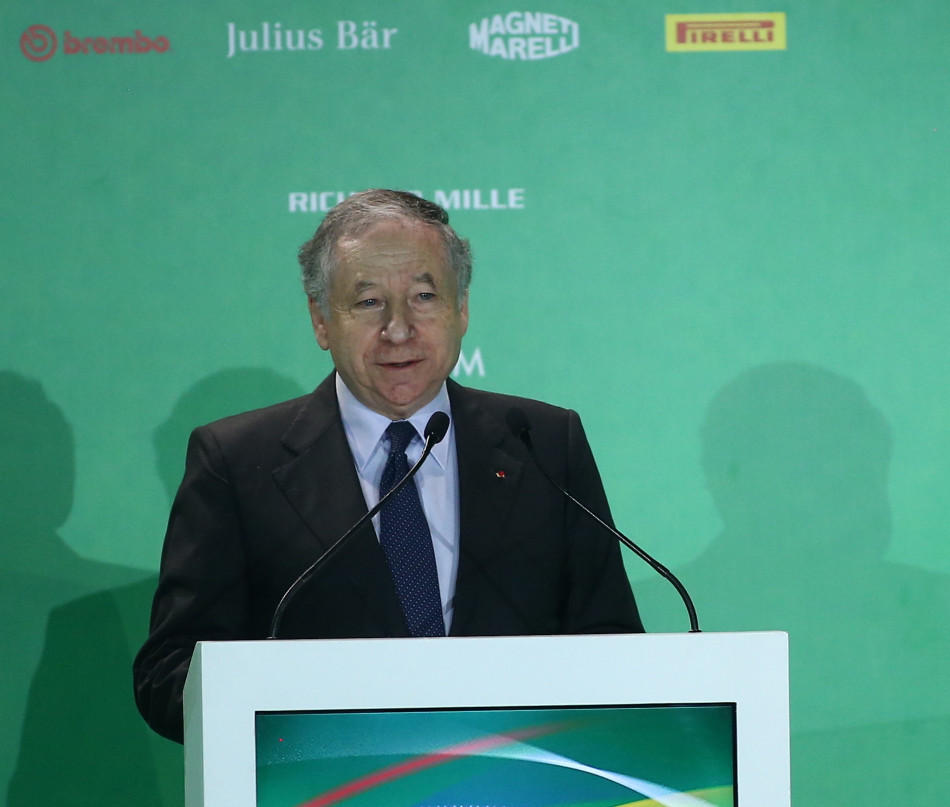 Dear Minister of Transport,
Dear delegates from all over the world,
My dear Friends,
Let me express my deepest happiness for the privilege of addressing this Conference today in such incredible surroundings.
For the first time in 115 years, Mobility and Sport are here together in South Africa, a country of breathtaking scenery, great natural beauty, cultural diversity (and that gave us such a wonderful human being like Nelson Mandela.)
I would like to thank the Automobile Association of South Africa (AASA) and its Executive Chairman Sikkie Kajee for hosting us, and Motorsport South Africa (MSA) and its President Anton Roux for its support.
This important event is taking place in conjunction with the FIA Region I Spring Meeting and the FIA Sport Regional Congress Africa.
Thank you also to Brembo, Julius Bär, Magneti Marelli, Pirelli, Richard Mille for their valuable support. 
First, let me pay a tribute to figures of our community that have recently passed: Mirko Butulija, President of our Serbian club AMSS, Charlie Whiting, FIA Formula One Race Director and Sebastià Salvadó, Honorary Chairman of the RACC. They were part of the FIA family and we will not forget them. Gone, but never forgotten.
More than 650 of you have travelled from all over the world to be with us today.
We are welcoming internationally renowned experts and stakeholders as well as club speakers representing all the FIA sport and mobility regions. Thank you for your time, as well as for your commitment.
On this special occasion, we should make the most of this unique opportunity to build synergies between our two pillars, as well as between FIA clubs.
I have always been convinced that working hand in hand is the most fruitful strategy. In my mind, "Stronger Together" is not empty rhetoric, but very much a reality.
For example, amazing drivers such as Felipe Massa, Nico Rosberg and Fernando Alonso are Ambassadors of the #3500LIVES campaign.
The synergies are indeed multiple.
First, let me mention Track to Road dynamics. In addition to being a show, racing is a laboratory for the car of the future, above all in terms of safety improvement.
The FIA has placed enormous resources to prevent fatalities or serious injuries in motorsport.
We have always been convinced that we have a duty to transfer all the research and innovations developed in motorsports to a much bigger audience, and there is great potential for application in road cars.
Many of the advances in passive safety standards were first exploited in motorsport.
Some major car manufacturers move bright young engineers from their factory to a race team, where they must quickly develop competences before moving them back to the factory. I could mention the research being conducted by the FIA on race helmets that could lead to the general public.
Motorsport is seeking to improve efficiency and advance future powertrains, like the Formula E Championship: this has created an ideal platform for mobility to design the FIA Smart Cities initiative, which promotes the agenda for sustainable urban mobility.
We can raise the FIA's ongoing cooperation with the International Olympic Committee. In Argentina last October, the Federation launched a successful interactive road safety exhibition and an electric karting experience at the Youth Olympic Games held in Buenos Aires. In 2022, this positive joint experience will be replicated in Senegal.
The list is long, which is something I can only welcome. It shows that, with time, we continue to strengthen the synergies between Sport and Mobility.
As I mentioned in my December speech in St Petersburg, we are launching a member consultation on the missions and values of the FIA. Do not hesitate to share your thoughts and inputs during this week. I am looking forward to hearing them, as well as your ideas for how we could further improve collaboration.
As we are gathered here today in South Africa, I also find myself reflecting on the overall situation of motorsport and mobility in this beautiful Continent.    
There was a time when South Africa hosted many incredible  races. For 26 years now, we have been missing the South African Grand Prix…
Fortunately, the sport is enjoying a renaissance in the Continent.  For example, the Safari Rally in Kenya should soon be back on the FIA agenda. I could also talk about the Formula E race in Morocco that took place in January with a new generation of cars. Thanks to their long lasting batteries, they can do a full race without stopping.
And also the World Rallycross Championship event that will happen in this country next November.
Sport is such a valuable endeavor for fostering team spirit, effort, achievement, and peace. Everywhere on our planet, it is a force for the good. We need to inspire younger generations and new audiences to be more involved at all levels of motor sport.
We also hope to see more women join the motorsport champion's community here in Africa, as well as throughout the world.
Sport should always rhyme with pleasure, but it can sometimes take a tragic turn: lately in Uganda, three spectators have died while attending national sports events within five months. It is thus essential to reinforce safety around the races to protect the public and the competitors.
Moreover, we should get illegal racing off the streets and onto properly organized circuits.
The FIA has recently published new Rally Safety Guidelines, taking the best practice from our World Rally Championship and making it applicable for National rallying.
Besides, the FIA has experts who can support national rally organizers with the challenge of planning and running a safe event. FIA Rally Safety Task Force is available to support you with direct advice, guidance and training.
Let me present some meaningful figures regarding road safety: the road mortality rate across this continent is almost 50% higher than the world average.
Indeed, road traffic crashes are now the primary cause of death for 15-29 year olds in Africa, surpassing even malaria & Aids.
What's more, there is a direct link to worsening poverty in Africa: 73% of road deaths are of males, which often leaves families without a breadwinner.
It is therefore crucial that we find ways to evolve driver behavior, whether that be through education or regulation.
So how can the FIA help Africa to get back on track, in terms of mobility in general, and safety in particular?
The High Level Panel for road safety has promoted a joint initiative of the FIA, ITF and World Bank, to establish the first African Road Safety Observatory; a forum for better decision making, better data collection, and analysis practices.  I am proud to see that this initiative has received full endorsement of the African Union.
Another challenging project concerns the specific situation of the African fleet. Currently more than 85% of the 45 million vehicles in Africa are second hand, many of which being imported from other regions of the world. We need to ensure that used vehicles contribute to better road safety and reduced emissions.
The High Level Panel is working with UNEP, the headquarters of which is in Nairobi, to address the illegal practices in the exportation of such vehicles, to raise awareness, to show policy options, and to encourage harmonized interventions.
Finally, there is a clear role for the Clubs to promote road safety demonstration programs in Africa. The FIA is encouraging this effort with the Road Safety Grant Programme, which has supported some 40 interventions in Africa over the last 7 years. For example, campaigns and educational initiatives; projects in support of vulnerable road users; and training for professional drivers.
It is my hope that, in the future, FIA Clubs strengthen partnerships with capable NGOs and other international organizations to ensure a better impact.
The FIA's network is extensive, and we should all be benefitting from it.
The #3500LIVES campaign is also a tangible example of the support the FIA provides to its members.  I believe it is a good way to spread the word throughout Africa.  We are privileged to have the support of two exceptional and widely respected African athletes, sprinter Wayde Van Niekerk and long-distance runner Haile Gebreselassie; that help us in our mission to improve road safety.
And we are deeply honored to welcome Her Serene Highness Princess Charlene de Monaco as a new Ambassador.
As a native of South Africa, her commitment is of the highest symbolism.
Dear Friends,
Let us celebrate the achievements of all our members around the world.
Since last year, you have done a great job! Thank you all for your work and commitment. 
As for the future, I urge you to attend and participate as actively as possible.
The Conference agenda includes a wide range of plenary sessions, panel discussions and workshops that have been tailored to match your interests.
Be curious. Join in the proposed events: whether it be those already mentioned or traditional ones such as the FIA MotorEx.
They offer you the chance to discover the services and innovations of the selected exhibitors from both the Mobility and Motor Sport industries.
Also, make sure you do not miss the 'autonomous driving demonstration' and all the sport activities proposed.
Sharing is key to success. Get to know your colleagues, seek to emulate their good initiatives, and suggest them to others. All FIA members will grow and develop through collaboration.
Our joint achievements rely on you, on your energy, your goodwill, your experience, as well as your knowledge.
As an American writer once said: 'Coming together is a beginning; keeping together is progress; working together is success.'
I could not agree more. Let us make his words our reality.
Long Live the FIA. Long Live Sport and Mobility, here in Africa, and throughout the world.
I now declare this annual Conference open.
Jean Todt, FIA President