Japanese GP: Red Bull rampant
Sebastian Vettel took a dominant pole position at Suzuka and Mark Webber was second as Red Bull recorded their first front-row lockout since last year's Brazilian Grand Prix.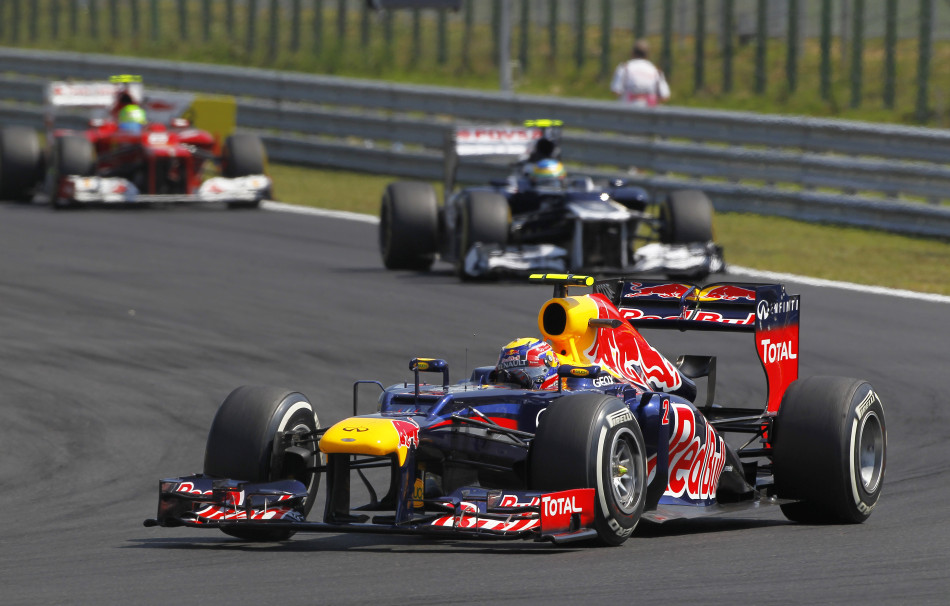 After topping the timesheet in the final free practice session on Saturday morning, Vettel set about confirming his dominance in qualifying. He was content with a single run in Q1, and another in Q2. His first effort in Q3 set the benchmark of 1:30.839. It was not bettered and he duly collected his fourth consecutive pole at Suzuka. 
"I think we had a very, very smooth qualifying session, nearly perfect, we couldn't really ask for more," said the World Champion. "The car feels fantastic around here… and it came together nicely and now obviously we hope for a very good race tomorrow."
  
Alongside Vettel on the front row will be team-mate Mark Webber, the first time the two Red Bulls have locked out the positions this year. Jenson Button qualified third but will drop to eighth after taking a grid penalty for a gearbox change in his McLaren. Kamui Kobayashi qualified fourth for a resurgent Sauber, Romain Grosjean was fifth in his Lotus, the second Sauber of Sergio Pérez was sixth, Fernando Alonso a disappointed seventh for Ferarri, Kimi Räikkönen eighth in the second Lotus, Lewis Hamilton a surprising ninth for McLaren, later admitting he made the wrong choice on setup. Nico Hülkenberg qualified tenth, not setting a Q3 time. He also will receive a demotion after a gearbox change.
 
Q1 saw many of the front runners stick with the slower, hard tyre but both Lotus and Sauber decided on safety first and did a run on the soft compound. It left Romain Grosjean in P1 at the end of the session. Of those eliminated, Bruno Senna was the midfielder in the unwelcome 18th position.  The Williams driver was heard to complain over the radio that he'd been blocked on a flying lap by Toro Rosso's Jean-Eric Vergne. The stewards concurred and penalized Vergne three places. 
 
"It was a frustrating qualifying session as I was held up on my final timed lap at the end of Q1 and couldn't post the time that I wanted," said Senna. "However, it's a long race tomorrow and although this track is difficult to overtake at, we've been in this position before and so we'll give it our best shot to score some points in the race."
  
Behind Senna, Heikki Kovalainen was 19th for Caterham, followed by Timo Glock's Marussia, Pedro de la Rosa was 21st for HRT, followed by Pic in the second Marussia, Petrov's Caterham and Narain Karthikeyan for HRT.
 
Session two saw the soft tyre come out in earnest as the battle for the top-10 shoot-out intensified. Vettel quickly laid a marker of 1:31.501 with his first run and as those around him failed to make a significant impact on that time, the champion decided to stay in the garage. It was a similar story for Webber and Button, neither of whom took a second run in Q2.
 
The big casualty of Q2 was Ferrari's Felipe Massa, who had been third quickest in FP3. The Brazilian missed out on Q3 by just two-hundredths of a second. Behind him was Paul di Resta for Force India twelfth and Michael Schumacher 13th. Schumacher will drop down the order, having a ten-place grid penalty from Singapore. Pastor Maldonado was 14th, Nico Rosberg 15th and the Toro Rossos of Daniel Ricciardo and Vergne 16th and 17th respectively. 
 
Q3 looked like being a straight fight between the Red Bulls. Vettel's lap gave him the early advantage but Webber was denied a chance to respond when Kimi Räikkönen spun at Spoon in the dying seconds of the session. Obeying the yellow flags, Webber lifted, and Vettel was able to abandon his own lap. 
 
"I had to back-off for the lights and the flags," said the Australian. "There was no car when I got there, so it was very, very close. Obviously [Button] was behind me and I saw he was still committed to his lap with the DRS etc., so obviously the lights were just cleared for him."