This page contains archived information and may not display perfectly
Ice-cool Ragginger takes stunning victory in Malaysia
Porsche Carrera Cup Asia – Round 9
Malaysia. Team Porsche Holding's Martin Ragginger put in an astonishing display of perfection on the limit today to take a pole to flag victory in Round 9 of the Porsche Carrera Cup Asia at Malaysia's Sepang International Circuit. The Austrian withstood everything Earl Bamber of LKM Racing had to throw at him, keeping the reigning champion at bay for seven of the 10-lap race to take his second win of the season.  Taking his second podium of the weekend and his third in succession was Team Jebsen's Rodolfo Avila.
Ragginger's victory keeps him very much in the title fight, despite his setback in Round 8 where he scored just eight points, and puts him 18 points behind Bamber. Budweiser Team Absolute Racing's Tung Ho-Pin of China, third on the leaderboard, and PICC Team StarChase driver Alexandre Imperatori and Avila, tied in fourth, all also remain in overall championship contention with three races remaining.
Malaysia's Alif Hamdan secured his sixth Class B victory, strengthening his position at the top of the category leaderboard, his second impressive fourth overall finish of the weekend once again demonstrating the young Nexus Racing driver's massive potential. Hamdan has a ten point lead over nearest Class B title challenger Francis Tjia of OpenRoad Racing, with Dorr Havelock Racing's Yuey Tan of Singapore in third.
Second in Round 9 was Clearwater Racing's Max Twigg of Australia, the Australian continuing his convincing series debut, with Tan taking third, consolation of sorts for his bad luck in Round 8 after a brilliant performance in Qualifying.
Luck was not on the side of PICC Team StarChase driver Alexandre Imperatori who had secured third on the grid alongside Bamber. A mechanical issue saw the Shanghai-based Swiss driver start from pit lane.
As the lights went out, Ragginger got away well, followed by Bamber and Budweiser Team Absolute Racing's Tung Ho-Pin of China, with Avila getting by Zhang Tong Auto's Zhang Da Sheng at the start and up to fourth. Hamdan, who started from the fifth row, was quickly on the tail of Mentos Racing's Egidio Perfetti, reigning Class B champion.
Up at the front, Bamber was pushing to get by Tung with Avila tucked in behind as the trio stormed into the second lap. Bamber made his move on Tung stick, moving up to third and setting off on the hunt for rival Ragginger. As Avila passed Tung, the pair made contact and the Chinese driver spun, rejoining and fighting back to eventually cross the line in fifth ahead of Imperatori, who also made stunning headway from the back of the pack. The impact damaged Avila's steering angle, making the remainder of the race even more of a challenge.
Behind Avila in third, Hamdan withstood an attack from Team Yongda Dongfang's Ro.C. Skyangel who spun out of the race. While Zhang Da Sheng was looking to make his move on Perfetti for eighth, suddenly Imperatori loomed large in their mirrors, diving past the Mentos Racing driver with Zhang following him through.
As the 28-strong diced for position behind them, Ragginger desperately tried to pull a gap from the unrelenting Bamber at the front but the pair were too evenly matched. The New Zealand driver doggedly trailed Ragginger, pilling on the pressure but never once over stepping the mark. Lap after lap, Bamber made his move, but so wheel-perfect was ice-cool Ragginger that he could not be forced into an error. Ironically, the will to win eventually took its toll on Bamber, with an eddor going in to the final lap seeing him run wide and give Ragginger a little breathing space on the run to the flag.
With just a lap to make up for their earlier setbacks, both Imperatori and Tung were on maximum attack on the final lap, but Malaysian Hamdan was giving no quarter at his home race, holding both drivers off until the flag. Imperatori, unsurprisingly given his gargantuan effort to grab some crucial championship points, set the fastest lap of the race.
Ragginger thanked Team Porsche Holding after the race, adding: "The start was good. I saw Earl coming and knew we had to think about the championship because of what happened in the last few races. Of course his speed is amazing, but our speed was good as well. It was possible to keep him behind me, but Earl made it very dangerous for me in Turn 1 and at the last turn. It was a good battle between us."
For Hamdan, it was an intense and eventful race: "I had a much better start than yesterday, but we'd underestimated just how hot it would be and the tyre pressures went half way through the race so we struggled for rear grip. I had to work really, really hard to keep Ho-Pin behind me at the end, but no one was going to keep me back at my home race!"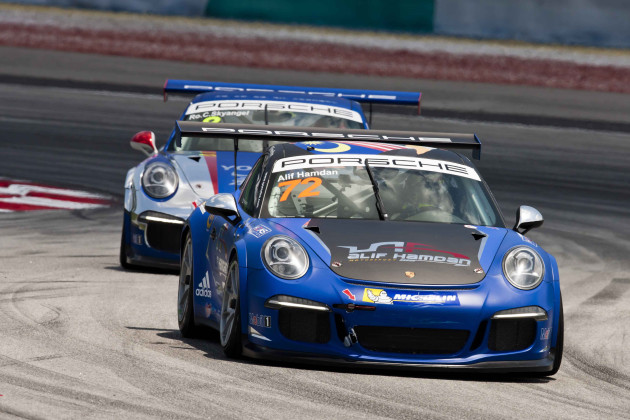 The Porsche Carrera Cup Asia now looks ahead to a highlight of its calendar at the Singapore F1 Grand Prix next month. The Marina Bay street circuit, with its unforgiving barriers and walls, beckons for the talented field, where they will do battle in the very heart of the glitz and glamour of the Lion City from September 19-21.
Porsche Carrera Cup Asia – Provisional Round 9 Results
Pos     No    Driver/Nationality                 Class                        Entrant/Nationality                        Time
1         86  Martin RAGGINGER (AUT)                          Team Porsche Holding(CHN)           22:02.731
2         1      Earl BAMBER (NZL)                                                 LKM Racing (MAS)                     +1.668
3         20    Rodolfo AVILA (MAC)                                            Team Jebsen (HKG)                    +8.487
4         72    Alif HAMDAN (MAS)                 B                          Nexus Racing (MAS)                     +19.045
5         58   TUNG Ho-Pin (CHN)                        Budweiser Team Absolute Racing (HKG)   +19.511
6         99 Alexandre IMPERATORI (HKG)                     PICC Team StarChase (CHN)            +19.626
7         55   ZHANG Da Sheng (CHN)                                  Zheng Tong Auto (CHN)                  +22.513
8         12     *Max TWIGG (AUS)                 B                     Clearwater Racing (SIN)                    +24.781
9         88 Egidio PERFETTI (SIN)                                         Mentos Racing (SIN)                      +26.100
10       5         Yuey TAN (SIN)                      B                   Dorr Havelock Racing (SIN)                +32.942
11       11    Ringo CHONG (SIN)                                      Team Kangshun (CHN)                      +36.732
12       98  Henri RICHARD (USA)            B               Silicon Tech Racing LLP (USA)              +38.995
13       7     BAO Jin Long (CHN)                                        Team Synsanly (CHN)                      +39.815
14       66 Jason ZHANG Zhi Qiang (CHN)                          Team C&D (CHN)                          +40.988
15       21  Francis TJIA (HKG)                   B                  OpenRoad Racing (HKG)                   +41.080
16       9       LI Chao (CHN)                                                Team Betterlife (CHN)                      +47.911
17       18  ZHANG Zhen Dong (CHN)                               Team Basetex (CHN)                      +49.866
18       28    John SHEN (HKG)                  B                Modena Motorsports (HKG)                 +55.799
19       16  Wayne SHEN (HKG)                 B                Modena Motorsports (HKG)                 +1:02.004
20       3   Michael S. (INA)                           B                 OpenRoad Racing (HKG)                  +1:02.743
21       2  Kenneth LAU (HKG)                    B                      Prince Racing (HKG)                     +1:09.559
22       22 SIU Yuk Lung (HKG)                  B                       LKM Racing (MAS)                        +1:10.744
23       68 MAK Hing Tak (HKG)                 B                   Kamlung Racing (HKG)                    +1:13.236
24       78 Bentley YEUNG (HKG)              B                Tiger Racing Team (HKG)                  +1:54.847
DNF    8 Ro.C. Skyangel (SIN)                                  Team Yongda Dongfang (CHN)                     -
DNF    6 *Evan CHEN (TPE)                     B                         Evan Chen (TPE)                                   -
DNF    51 Johnson HUANG (TPE)           B                   Team BC Racing (TPE)                              -
DNF    33 Samson CHAN (HKG)             B                    Samson CHAN (HKG)                                -
*Non series registered
Fastest Lap: Alexandre Imperatori/PICC Team StarChase/2:10.372/150.861kph
Overall Provisional Points after Round 9 (top 5)
Pos

Comp No

Driver

Entrant

Points

1

1

Earl Bamber

LKM Racing

137

2

86

Martin Ragginger

Team Porsche Holding

119

3

58

Tung Ho-Pin

Budweiser Team Absolute Racing

104

4

99

Alexandre Imperatori

PICC Team StarChase

102

20

Rodolfo Avila

Team Jebsen

102

5

72

Alif Hamdan

Nexus Racing

74
Class B
| | | | | |
| --- | --- | --- | --- | --- |
| Pos | Comp No | Driver | Entrant | Points |
| 1 | 72 | Alif Hamdan | Nexus Racing | 140 |
| 2 | 21 | Francis Tjia | OpenRoad Racing | 130 |
| 3 | 5 | Yuey Tan | Dorr Havelock Racing | 126 |
| 4 | 16 | Wayne Shen | Modena Motorsport | 82 |
| 5 | 98 | Henri Richard | Silicon Tech Racing LLP | 77 |