This page contains archived information and may not display perfectly
GT Nations Cup - Triumph for Team Turkey
Team UK and Team Denmark complete podium at Bahrain International Circuit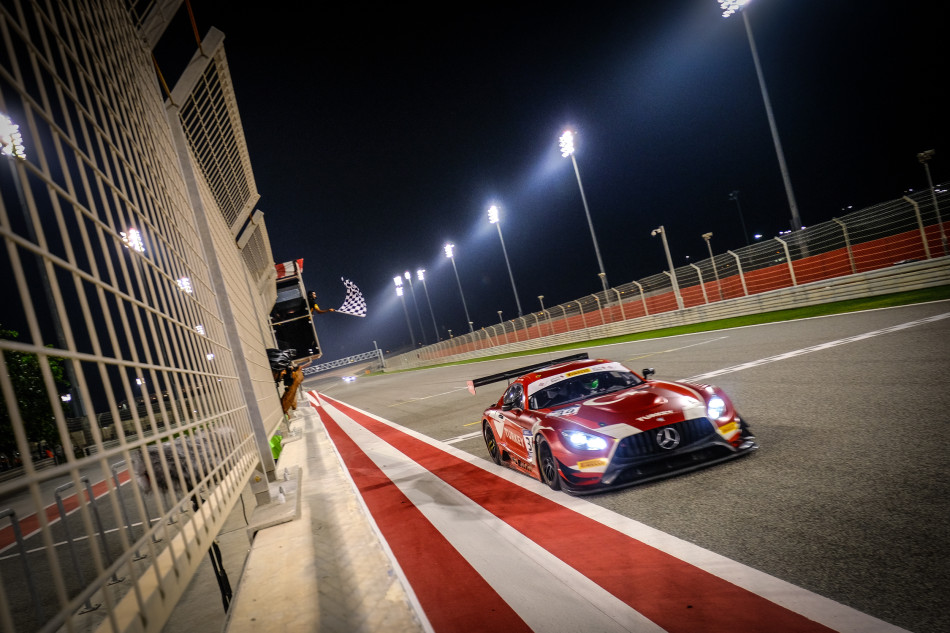 Team Turkey has won the inaugural FIA GT Nations Cup after a hugely exciting and successful event at Bahrain International Circuit.
The 18 entered nations lined-up for the Main Race under the floodlights on Saturday evening, and the contest proved dramatic from the outset.
Team Belgium – one of the overall favourites and winners of Friday's opening Qualifying Race – were immediately forced out of contention after being squeezed on the run down to turn one for the first time.
The striking yellow Audi R8 LMS slid across the grass before coming to rest in the gravel, which inadvertently caused further incident behind. Contact between Team Australia and Team Belarus ended in instant retirement for both of those nations and the safety car was deployed before the field had completed the first lap.
Further incidents involving Team France, Team Argentina and Team Germany on that first tour also forced the latter out of the race – another of the fancied contenders – and a multi-car clean up operation ensued.
When the dust settled it was Salih Yoluc leading the way in the Team Turkey Mercedes-AMG GT3, but he was soon under attack from Team UK's Christopher Froggatt at the restart.
The pair banged wheels during an eye-catching battle, with Team UK eventually getting the move completed, whilst Team Russia also slipped by Team Turkey to grab second.
That's how the lead positions stayed until the mid-race driver changes, although Team UK had pulled away into a seemingly commanding lead.
Ayhancan Guven had other ideas, however, as he disposed of the Team Russia Ferrari shortly after taking over driving duties for Team Turkey. He then set about hunting down Christopher Buncombe in the Team UK Ferrari, which Guven achieved in some style during the early part of his stint.
The moment of truth came with just over ten minutes of the one-hour contest remaining, as Guven scythed his Mercedes by Buncombe's Ferrari. From there Guven never looked back, and secured a hugely impressive win for Team Turkey.
The final place on the podium provided stellar entertainment as Team Denmark surged from 15th on the grid to eventually reach the rostrum.
Johnny Laursen avoided the aforementioned lap one incidents and made further progress before handing over to team-mate Niklas Nielsen. There was still a lot to do for the young Dane but when a courageous manoeuvre past Team Hong Kong placed his Ferrari in fourth, the chance of a podium was there for the taking.
Denmark's gain was Russia's pain as Nielsen made a move stick by Denis Bulatov in the latter stages.
Team PR China claimed a fantastic fifth in its Porsche 911 GT3 R, ahead of Team Italy's Ferrari and the Nissan of Team Hong Kong.
Team Malaysia, Team Argentina and Team Thailand completed the top ten positions.
Salih Yoluc, Team Turkey, said: "It is a great feeling to win the FIA GT Nations Cup for Team Turkey. It was pure racing in the fight with Team UK after the restart but then we managed to settle into a better pace after that. We had some moments and some doubts during the weekend, but we believed we had the speed and we did it! Ayhancan drove so well and it is down to him for passing the two cars towards the end that we won the race."
Ayhancan Guven, Team Turkey, said: "It was really tough in the beginning. The GT3 car is quite new to me so I didn't want to push too hard, as that is when I have made mistakes. I knew I had to get past the Team Russia car quite quickly, but even then I think we were around eight seconds behind the Team UK car. As I got closer I could see he was struggling and we managed to make the move. I have really enjoyed the weekend and we're delighted to have won the FIA GT Nations Cup."
Christopher Buncombe, Team UK, said: "Mixed emotions I guess but I've really enjoyed the racing across the weekend. I've not had much wheel-to-wheel racing this year so to do that in the FIA GT Nations Cup has been a fun experience."
Christopher Froggatt, Team UK, said: "It was a really tough battle with Salih, he wasn't giving an inch, but overall I am really happy with the performance. I've enjoyed the event very much – racing in GT3 for the first time and driving with Chris has been great."
Johnny Laursen, Team Denmark, said: "It was one of the most crazy races I've ever been involved in. I managed to stay out of trouble on the first lap and from there we went forward. We have improved throughout the weekend and in the end it really worked out for us."
Nicklas Nielsen, Team Denmark, said: "I was a bit on the limit when I passed the Team Hong Kong Nissan into turn one, but then I saw the podium opportunity. We had a tough start to the weekend but thanks to the team and the improvements with the car, we were able to fight back."