Goodwood Festival of Speed – Tom Kristensen celebrates his 20 years of Le Mans history
FIA Drivers' Commission President and legend of the 24 Hours of Le Mans, Tom Kristensen, visited the FIA stand and spoke about how much endurance racing has evolved during his illustrious career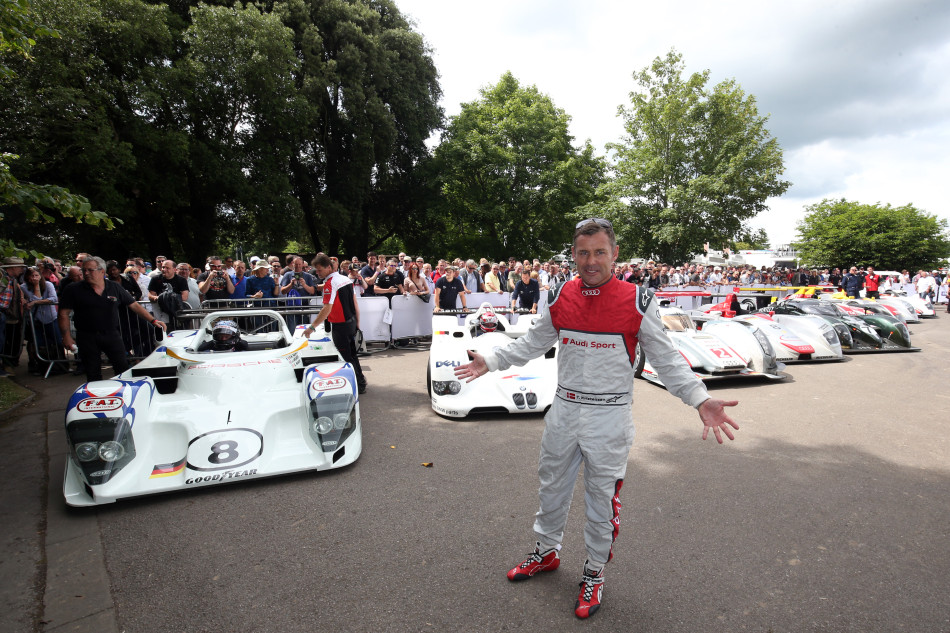 Find here all the pictures from Goodwood Festival of Speed
2017 marks the 20-year anniversary of Tom Kristensen's first victory at the 24 Hours of Le Mans, and this weekend at the Goodwood Festival of Speed, the Danish driver's incredible career is being celebrated.
The nine-time winner of the world's premier endurance race enjoyed runs up the hill in his 2000 Audi R8 LMP, and there was an impressive selection of his former cars on show and in action.
Kristensen visited the FIA stand during a Saturday afternoon cocktail party which saw the FIA President Jean Todt welcome key figures from across the spectrum of motor sport disciplines. "The FIA is the umbrella of our fantastic sport," said Kristensen, "and it's great when you see the key people of the motor sport world are united and to come together at places like this.
"This weekend we have a celebration of 20 years since my first Le Mans victory, and it's great to come and see Jean Todt and everyone here – the key people from so many different disciplines are all here and working in a positive direction."
Having seen the 'From Track to Road' messages alongside the 2017 Porsche 919 Hybrid LMP1 car on the FIA stand, the FIA Drivers' Commission President was keen to talk about the incredible technological advances he's seen, both during his 20 years at the top and in endurance racing throughout history.
He said, "It's a constant evolution – every year it changes, you can't keep the greatest minds in engineering and design down and you shouldn't keep them down. What we need to keep doing is regulate in the direction of what is sustainable and also relevant to road going traffic, because that's what the car manufacturers want to showcase.
"At Le Mans alone the technology has evolved so much – I could give you so many examples, from direct fuel injection to rear view cameras and even disk brakes and windscreen wipers! The technology and evolution going into the hybrid cars and this year there was a bit of a moment where we realised we might be pushing over the line in terms of complexity. It's something that is a very difficult thing to balance at this level and is one of the big discussion points at the moment. We need to be sure that we have enough reliability in the world's hardest race whilst still pushing the boundaries."
With the LMP1 car on the stand lining up alongside Jaguar's Formula E car, Kristensen also commented on the rapidly growing presence of the all-electric series, adding, "Now as well as endurance racing of course you have the extra branch of world motor sport that is rapidly growing with Formula E and electric vehicles, and it's been very interesting to speak with [Formula E CEO] Alejandro Agag about the future of this series."
As with most elements of the Festival of Speed, the celebrations of Kristensen's unrivalled Le Mans career was a cause to look both backward and forward, and he concluded, "It has been an amazing and interesting journey over the past 20 years driving all these cars and having to adjust the driving styles through all the advances that have been made, and it will be exciting to watch what comes next."