Formula Junior relives the Golden Years
It's now over 50 years since Count Johnny Lurani's imaginative notion of a starter Formula to encourage Italian drivers back into Grand Prix cars saw the light of day at Monza in 1958.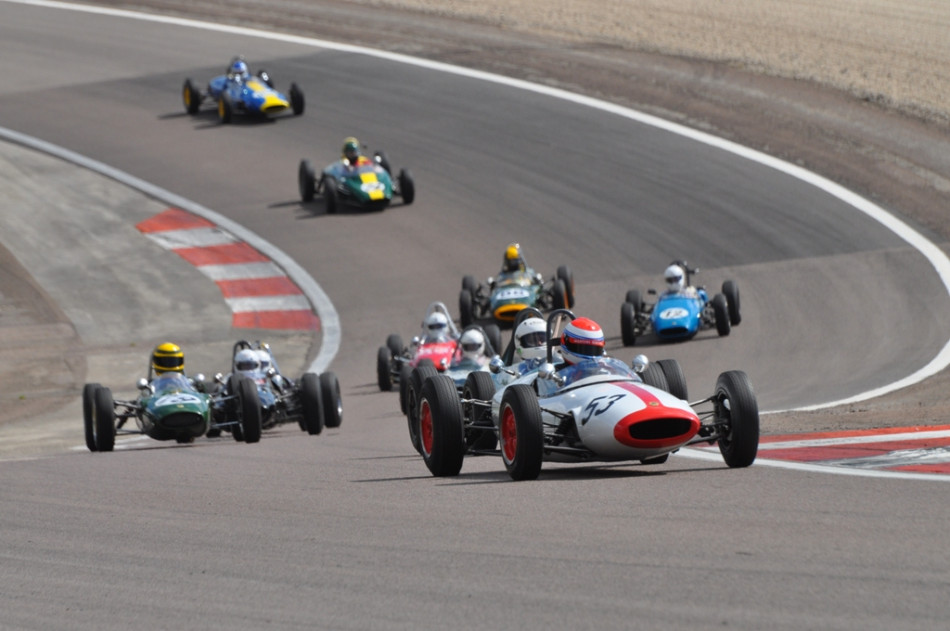 In Germany, there were great names involved, Graf Wolfgang von Trips (Stanguellini and TCA), Gerhard Mitter (Mitter and Lotus 18), and Kurt Ahrens (Cooper and Stanguellini) as well as a vast technical variety of cars, configurations and engines; names like Hartmann, Bode, Melkus, and the amazing FM Tigerjet, sadly now  long forgotten, 
Formula Junior was the first Historic Formula to be revived, in 1975, and the FIA Lurani Trophy was the first FIA Championship to be permitted to be run by its own group, in 1995.The Golden Jubilee celebrations followed in 2008 with races in Europe, New Zealand, Australia, East and West Coast USA, and South Africa, with 270 drivers taking part in the 8 races, and provided a standard of large grids with the closest and most exciting but safe racing, unlike any other Historic Formula.
Now, in Year 2013, we have another eagerly anticipated FIA Lurani Trophy schedule with races here in Germany (Hockenheim and OldTimer GP, Nurburgring) England (Brands Hatch), France ( Pau and Dijon – Prenois) , Spain (a first visit to the Jerez GP circuit) and Portugal (the recently built Algarve circuit near Portimao), while during the year, there will be non-championship races at the Donington Historic Festival, Silverstone Classic, the Goodwood Circuit Revival [this year for early rear engined Juniors], on the Dutch sand dunes of Zandvoort, at the new street circuit in Copenhagen , and around the Remparts of Angouleme.
Out at the front, watch for veteran Urs Eberhardt in his Lotus 27 – thirty  years in FJ racing, Conti Manfredo Rossi di Montelera in his Lotus 22, and Swiss businessman Philipp Buhofer in his late Mk 5A Lola, and the much improved Richard Smeeton in his shark-nosed Italian Wainer, with newcomers John Lord (Lotus 20/22) and Joao Paulo Campos Costa (Lola Mk 5) all the way from Portugal likely to spring a few surprises, and Germany's own Jens Rauschen (Lotus 22) also in the chase. Another man to watch is Urs Muller, returning to Hockenheim, in his Lotus 20/22, fully recovered, after the dramas of 2012 . But an upset could come from Scotsman, John Fyda, ( Lotus 22 ) the Swedish, Jorgen Brynne in his rare Merlyn Mk 3 and from retired London accountant John Dowson in his exceptionally well prepared Brabham BT2 in startling blue, recently back from Formula Junior victory in Australia; and from leading Class D contenders, Hans Jørgen Krag in his platypus nosed Mk 3 Lola, the ex Silvio Moser Lotus 20 of Chris Chilcott, Ivo Göckmann, in his Australian built Jolus, and Belgian, Luc Deneve, in his Lotus 18.
The early drum braked cars may no longer be the sole preserve of 2011 FIA Lurani Trophy Champion John Delane from the USA in his earlier Lotus 18, as the Class C will once again be a battleground of Charles Cook in his Envoy Mk 1, but the ex-Mike Spence Emeryson, of 1961, driven by Peter Knoefel from Frankfurt, will also be a strong contender along with James Owen's Elva 200.
 In Class B, the familiar orange Alexis of Duncan Rabagliati will be chasing the Lola Mk2s of Col. Bob Birrell and Dietrich Merkel from Braunschweig and the amazing Heinz Stege from the Black Forest, in his Elva 100, which he has raced continuously for over 35 years – and it goes faster than ever! But the star front engine car could well be the U2 Mk 2 , designed by Major Arthur Mallock, of Danish lawyer, Erik Justesen
Last but not least are the Italian powered front engined cars, led by the Stanguellini of Guidio di Egidio, and with Daniele Salodini's Taraschi in pursuit.
The Formula Junior Class structure is as follows…
| | | |
| --- | --- | --- |
| A | 1958-1960 | Front Engined with FIAT or Lancia engine |
| B1 | 1958-1960 | Front Engined with 1000cc BMC Ford  Panhard or DKW engine |
| B2 | 1958-1960 | Front Engined with 1100cc BMC Ford  Panhard or DKW engine |
| C1 | 1958-1960 | Rear Engined with 1000cc engine and Drum Brakes |
| C2 | 1958-1960 | Rear Engined with 1100cc engine and  Drum Brakes |
| D1 | 1961-1963 | Rear Engined with 1000cc engine and  Drum Brakes |
| D2 | 1961-1963 | Rear Engined with 1100cc engine and Drum Brakes |
| E1 | 1961-1963 | Rear Engined with Ford engine with Disc Brakes |
| E2  | 1961-1963 | Rear Engined with BMC, DKW or FIAT engine with Disc Brakes |
There are Formula Junior races across the UK, Europe, Australasia and USA almost every weekend.  
For more information about the races or the cars, or about Formula Junior History, contact the Chairman of Formula Junior, Duncan Rabagliati;
[email protected]
/
www.formulajunior.com
or write to; FJHRA, 4 Wool Road, Wimbledon, London, SW20 0HW, UK