Formula E - 2015 Beijing ePrix Preview
FIA Formula E Championship is back for season two with new drivers, updated technology and a revised, more interactive version of its unique FanBoost concept.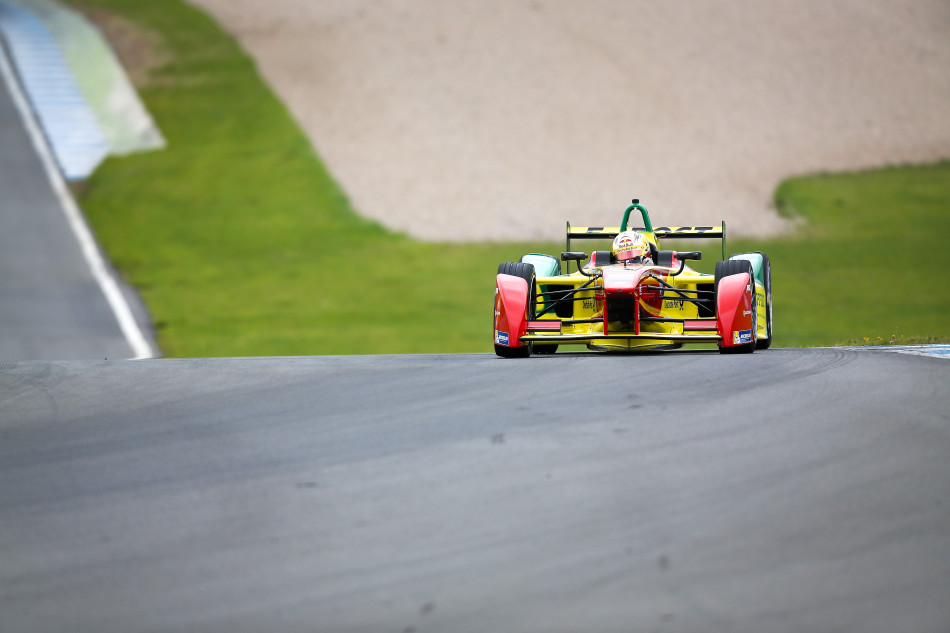 After a busy-closed season, during which the seven new powertrain manufacturers put their technology to the test, it's time for the racing to start. As was the case in season one, Beijing's Olympic Park plays host to the first round of the all-electric single-seater championship.
Reigning champion Nelson Piquet Jr stays on at NEXTEV TCR to defending his crown, while Brit Oliver Turvey, who was his team-mate for the London finale, has been called up for the whole season. Teams' champions Renault-e.dams keep the same line-up of Nicolas Prost and Sebastien Buemi, who won four of last season's 11 races between them.
There are a host of new drivers on the grid, not least 1997 Formula 1 World Champion Jacques Villeneuve. The French-Canadian joins Stephane Sarrazin at Venturi. Ex-Formula Renault 3.5 champion Robin Frijns teams up with Simona de Silvestro at Andretti, while GP2 race winner Nathanael Berthon partners Buenos Aires ePrix winner Antonio Felix da Costa at Team Aguri. Salvador Duran has moved from Aguri to join Vitantonio Liuzzi at Trulli.
Some drivers are the same but have switched teams, with Jean-Eric Vergne moving from Andretti to DS Virgin alongside Sam Bird and Nick Heidfeld pairing with Bruno Senna at Mahindra. Both Abt (Lucas di Grassi and Daniel Abt) and Dragon (Jerome D'Ambrosio and Loic Duval) have stuck with the drivers they ended season one with.
Season 1 standings
Drivers                                                                       Teams
| | | | |
| --- | --- | --- | --- |
| 1. Nelson Piquet Jr | 144 pts | e.dams Renault | 232 pts |
| 2. Sebastien Buemi | 143 pts | Dragon racing | 171 pts |
| 3. Lucas di Grassi | 133 pts | Audi Sport ABT | 165 pts |
| 4. Jerome D'Ambrosio |  113 pts | NEXTEV TCR | 152 pts |
| 5. Sam Bird | 103 pts | Virgin Racing | 133 pts |
| 6. Nicolas Prost | 88 pts | Andretti | 119 pts |
| 7. Jean-Eric Vergne | 70 pts | Amlin Aguri | 66 pts |
| 8. Antonio Felix da Costa | 51 pts | Mahindra Racing | 58 pts |
| 9. Loic Duval | 42 pts | Venturi | 53 pts |
| 10. Bruno Senna | 40 pts | Trulli | 17 pts |
Track layout 

Timetable
08:15 – 09:00   Non qualifying 1
10:30 – 11:00   Non qualifying 2
12:00 – 12:06  Qualifying group 1
12:10 – 12:16   Qualifying group 2
12:20 – 12:26   Qualifying group 3
12:30 – 12:36   Qualifying group 4
12:45 – 13:00  Super Pole
16:04              Race (26 laps)
Entry list
| | |
| --- | --- |
| Team Aguri:  | Antonio Felix da Costa & Nathanael Berthon |
| Andretti:  | Simona de Silvestro & Robin Frijns |
| Abt Schaeffler Audi Sport: | Lucas di Grassi & Daniel Abt |
| Dragon Racing:  | Loic Duval & Jerome d'Ambrosio |
| Renault e-dams: | Nicolas Prost & Sebastien Buemi  |
| Mahindra Racing:  | Nick Heidfeld & Bruno Senna |
| NEXTEV TCR: | Nelson Piquet Jr & Oliver Turvey  |
| Trulli: |  Vitantonio Liuzzi & Salvador Duran |
| Venturi: | Jacques Villeneuve & Stephane Sarrazin |
| DS Virgin Racing: | Jean-Eric Vergne & Sam Bird |
Overview:
Formula E is the FIA's new single-seater championship and the world's first fully-electric racing series. The inaugural season began on September 2014 and ran until June 2015, competing in 10 of the world's leading cities (11 races) including Berlin, Moscow and London. For the second season, 10  teams, each with two drivers, go head-to-head creating a unique and exciting racing series designed to appeal to a new generation of motorsport fans, whilst also helping to promote sustainability.
Car – Spark-Renault SRT_01E
For season two, all drivers use  an identical fully-electric single-seater designed and built by Spark Racing technology, however the rules have been opened up to new powertrain manufacturers. These can build their own motors, invertors and gearboxes, while the teams can now build their own rear suspension too.
Practice
Drivers have two non-qualifying practice sessions. They will have up to two cars available to them giving them the option to change cars should they wish. Full power (200kw / 270bhp) is only available for a single lap in each session.
Qualifying
The drivers are divided into four groups of five by means of a lottery. Each driver is able to do one siting lap, one lap at race mode (170kw) and then one flying lap at 200kw. The five fastest drivers go into a Super Pole shoot-out. The slowest of the five drivers goes first for a one-lap attempt at pole. As soon as he crosses the line, the fourth fastest driver is sent out. Super Pole decides the top five positions, with the results from the qualifying groups deciding spots 6-20.
ePrix
Races will begin by standing start (no formation lap) and last for approximately 45 minutes with drivers making one mandatory pit stop in order to change cars. Power will be restricted to 'race mode' (170kw) apart from those drivers with FanBoost.
FanBoost
Fans can give their favourite driver an extra speed boost by voting for them prior to the race. The three drivers with the most votes (received online and through social media) will each receive an additional 100kj of energy in their second car, this can increase their car's power from between 180kw and 200kw.
Points
Drives will score points using the standard FIA system of: 1st = 25pts, 2nd = 18pts, 3 = 15pts, 4th = 12pts, 5th= 10pts, 6th = 8pts, 7th = 6pts, 8th = 4pts, 9th = 2pts and 10th = 1pt.
Three points will be awarded to the driver securing pole position, whilst the driver setting the fastest lap (without using the FanBoost) receives two points. A driver's total score is made up of all their results collected in the season
Further information:
Main: www.fiaformulae.com
Media (high-re images & press pack): http://media.fiaformulae.com (log-in required)
Results & live timing: http://fiaformulae.alkamelsystems.com/