Formula 4 aces to return for 2022 FIA Motorsport Games
Formula 4 - the first step into single seater racing - will return for the 2022 FIA Motorsport Games in France, 26-30 October, where entrants from around the world will compete in identical KCMG Formula 4 machinery in their bid to win gold for their nation.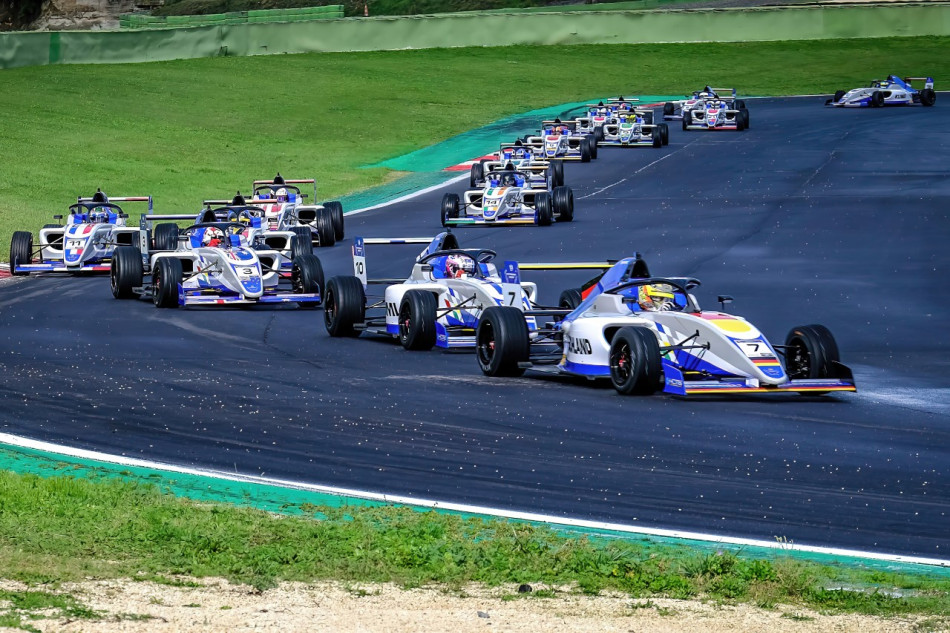 Launched in June 2019, the KCMG Formula 4 chassis (KC MG01) was raced for the first time at the 2019 FIA Motorsport Games at Vallelunga in Italy. 
Team Italy scored the gold medal at the debut event, with Andrea Rosso winning the main race after finishing second in the qualifying race, and recording the third-fastest time in qualifying.
The 2019 competition featured entries from Italy, Germany, Finland, Australia, France, Spain, Hungary, Ireland, Brazil, Kuwait, Czech Republic, Portugal, Israel, Russia, New Zealand, Japan, Denmark, Malaysia and Belgium.
Recommended as the first step from karting into the FIA single-seater pyramid, Formula 4 is one of six founding disciplines from the 2019 FIA Motorsport Games that return for a massively expanded 2022 event, taking place in Marseille, France.
Each FIA (Fédération Internationale de l'Automobile) National Sporting Authority (ASN) will have the opportunity to enter one driver to compete in the Formula 4 events which will be run at Circuit Paul Ricard.
The carbon fibre composite monocoque and structural parts are manufactured by KCMG Composites in Taiwan. The KC-MG01 is powered by a 176bhp 1.4 litre turbo-charged engine with a 12kW battery.
A fleet of Formula 4 cars will be run on behalf of the FIA for the 2022 Motorsport Games. Once their entry is confirmed, drivers representing nations need only to arrive with their race suit, helmet and licence – their car and crew will be waiting for them on arrival.
For the FIA Motorsport Games, the Formula 4 focus is well and truly on the driver. All cars competing at Circuit Paul Ricard will have both identical specifications and set-ups and all drivers and engineers will have access to data from every competitor.
"This programme is a really special one to me," said Paul Ip, KCMG Founder.
"I first discussed the possibility of KCMG manufacturing the F4 car for the FIA Motorsport Games with Charlie Whiting in Macau back in 2018. It was an honour to see the cars race at Vallelunga in 2019, and we've been waiting a long time for another edition! 
"I'm delighted the FIA has chosen to use the KC MG-01 once again and I'm really excited for the event in Marseille and Paul Ricard later this year."
The FIA Motorsport Games Formula 4 competition begins on Friday, October 28, with a pair of 45-minute practice sessions. A 25-minute Qualifying session and a 20-minute qualifying race will be staged on Saturday, October 29 with the 30 minute main race for the gold, silver and bronze medals scheduled for Sunday.
Entries for the 2022 FIA Motorsport Games opened on June 15 via the dedicated FIA registration platform. Competitors wishing to represent their country are encouraged to contact their respective National Sporting Authorities, a full list of which can be found here: fia.com/members/member_club/sport-mobility-3/member_club/sport-1
Car specifications:
Engine: 1.4 litre turbo charged Abarth internal combustion hybrid engine with Magneti Marelli ERS system which can store 53W
Power: 176bhp, 12kW from the ERS
Suspension: Front and rear double wishbones with pushrods, adjustable anti-roll bars and twin non-adjustable Sachs dampers
Monocoque and bodywork: Carbon fibre
Aerodynamics: Front wing with non-adjustable mainplane, rear wing with two aero profiles and adjustable mainplane
Brakes: AP Racing two-piston radial mount callipers, Brembo iron cast ventilated discs and AP Racing calliper and brake pads
Transmission: Sequential Sadev six-speed gearbox with Magneti Marelli EGA and paddle shift
Fuel system: Premier FIA FT3, 41-litre volume tank
Wheels: OZ Racing alloy, front 8×13", rear 10×13"
Dimensions: Length 4,510mm. Height 980mm. Wheelbase 2,753mm
Weight: 635kg
Safety features: FIA F4 homologated carbon fibre composite front and rear crashboxes, anti-intrusion front and side panels, FIA homologated rear central and rear wing endplate lights, OMP six-point safety harness, electrically-activated OMP ultralight extinguishing system with control box, FIA homologated ADR system, FIA F4 homologated steering column, FIA F3 homologated roll hoop, FIA homologated Cortex wheel tethers, removable head protection, removable seat according to FIA standards.