This page contains archived information and may not display perfectly
Formula 3 - Doohan puts debutants Van Amersfoort first on Day 1 in Valencia
Formula 3 testing in Valencia - Day 1 
Van Amersfoort Racing finished first on their Formula 3 testing debut as 2021 vice-champion Jack Doohan took them to the top of timesheets in Valencia with a lap of 1:22.402, beating ART Grand Prix duo Victor Martins and Grégoire Saucy.
Brought in to help the Dutch team get up to speed in F3, Doohan showed his qualities to finish fastest in both sessions, beating Martins in both the morning and the afternoon.
MORNING
Action on Day 1 began in wet conditions with the field forced to head out on wet tyres, but the downpour was only brief, and the skies swiftly switched to blue, as rookie Franco Colapinto set the early pace with MP Motorsport, lapping at 1:35.044, ahead of teammate Caio Collet.
Rookie duo Zane Maloney and Grégoire Saucy switched P1 between them before Jonny Edgar took the time below 1m 31s for the lead at the halfway point, followed by Johnathan Hoggard and Roman Stanek.
A switch to slicks with an hour to go produced some more representative laptimes, with rookies Josep Maria Marti, Nazim Azman and David Vidales all enjoying stints in first, the time creeping below 1m 26s.
Caio Collet broke the 1m 24s barrier with 15 minutes on the clock, before Doohan put Van Amersfoort Racing in first place, leading ART Grand Prix's Martins with a tour of 1:23.349.
Kaylen Frederick climbed to third with Hitech Grand Prix at the chequered flag, just under two tenths off the pace. He finished ahead of Trident's Stanek and PREMA Racing's Jak Crawford in an experienced top five. Oliver Rasmussen, Arthur Leclerc and Collet continued the trend in sixth, seventh and eighth.
With 47 laps, Colapinto completed the most running and also finished as the highest placed rookie, sitting ninth ahead of Maloney.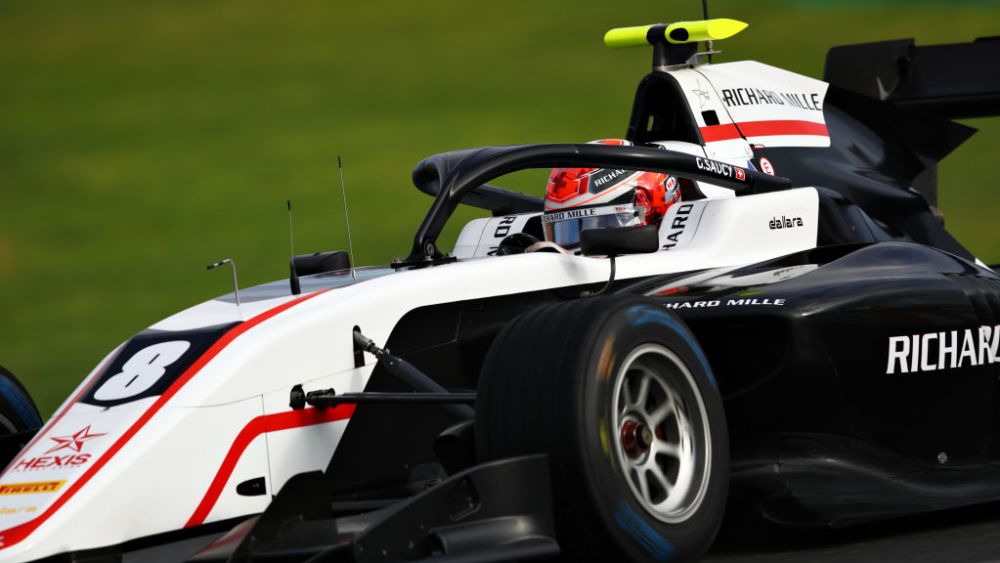 Formula Regional European champion Saucy finished as the highest placed rookie, in P3
AFTERNOON
Action resumed in much warmer conditions in the afternoon as MP Motorsport once again set the pace in Valencia, with Collet leading Colapinto thanks to a laptime of 1:23.125.
Kaylen Frederick briefly replaced Colapinto in P2 before Collet's 2021 MP teammate Martins dove into first, becoming the first driver to break the 1m 23s barrier.
With less than an hour to go, Doohan broke into the top two but remained a hundredth off Martin's best time. The 2021 vice-champion was able to better the Alpine junior's time in the final stages of the session, leapfrogging him with a tour of 1:22.402.
Saucy and Maloney led the rookies in the afternoon stint, climbing up to third and fourth in the final minutes, ahead of Roman Stanek, the duo just 0.282s and 0.306s off Doohan's quickest time.
Lorenzo Colombo put himself and Charouz in sixth, followed by Leclerc and Crawford. Rasmussen finished ninth, while also punching in the most laps of the afternoon stint, completing 60 tours. Despite spending large parts of the session in second, Colapinto had been knocked down to 10th by the chequered flag.
Day 2 of post-season testing will begin at 9am on Tuesday.
2021 FIA FORMULA 3 CHAMPIONSHIP – VALENCIA POST-SEASON TESTS, DAY 1, MORNING SESSION
|   | DRIVER | TEAM | LAPTIME | LAPS |
| --- | --- | --- | --- | --- |
| 1 | Jack Doohan | Van Amersfoort Racing | 01:23.349 | 29 |
| 2 | Victor Martins | ART Grand Prix | 01:23.541 | 38 |
| 3 | Kaylen Frederick | Hitech Grand Prix | 01:23.546 | 30 |
| 4 | Roman Stanek | Trident | 01:23.580 | 31 |
| 5 | Jak Crawford | PREMA Racing | 01:23.668 | 38 |
| 6 | Oliver Rasmussen | Charouz Racing System | 01:23.747 | 19 |
| 7 | Arthur Leclerc | PREMA Racing | 01:23.765 | 38 |
| 8 | Caio Collet | MP Motorsport | 01:23.838 | 42 |
| 9 | Franco Colapinto | MP Motorsport | 01:23.847 | 47 |
| 10 | Zane Maloney | Trident | 01:23.863 | 33 |
| 11 | Grégoire Saucy | ART Grand Prix | 01:23.883 | 38 |
| 12 | Filip Ugran | Jenzer Motorsport | 01:23.886 | 31 |
| 13 | Lorenzo Colombo | Charouz Racing System | 01:23.961 | 21 |
| 14 | Jonny Edgar | Trident | 01:23.964 | 30 |
| 15 | David Vidales | Campos Racing | 01:24.088 | 32 |
| 16 | Juan Manuel Correa | ART Grand Prix | 01:24.124 | 37 |
| 17 | Oliver Bearman | PREMA Racing | 01:24.205 | 37 |
| 18 | Josep Maria Marti | Campos Racing | 01:24.461 | 44 |
| 19 | Rafael Villagomez | Van Amersfoort Racing | 01:24.481 | 32 |
| 20 | Johnathan Hoggard | Hitech Grand Prix | 01:24.483 | 37 |
| 21 | Tijmen van der Helm | MP Motorsport | 01:24.504 | 39 |
| 22 | Roberto Faria | Jenzer Motorsport | 01:24.606 | 42 |
| 23 | Brad Benavides | Carlin Buzz Racing | 01:24.876 | 34 |
| 24 | Ido Cohen | Carlin Buzz Racing | 01:24.892 | 42 |
| 25 | Zak O'Sullivan | Carlin Buzz Racing | 01:24.998 | 34 |
| 26 | Hunter Yeany | Campos Racing | 01:25.091 | 40 |
| 27 | Reece Ushijima | Van Amersfoort Racing | 01:25.114 | 28 |
| 28 | László Tóth | Charouz Racing System | 01:25.805 | 20 |
| 29 | Nazim Azman | Jenzer Motorsport | 01:26.077 | 42 |
2021 FIA FORMULA 3 CHAMPIONSHIP – VALENCIA POST-SEASON TESTS, DAY 1, AFTERNOON SESSION
|   | DRIVER | TEAM | LAPTIME | LAPS |
| --- | --- | --- | --- | --- |
| 1 | Jack Doohan | Van Amersfoort Racing | 01:22.402 | 44 |
| 2 | Victor Martins | ART Grand Prix | 01:22.533 | 53 |
| 3 | Grégoire Saucy | ART Grand Prix | 01:22.684 | 56 |
| 4 | Zane Maloney | Trident | 01:22.708 | 42 |
| 5 | Roman Stanek | Trident | 01:22.739 | 47 |
| 6 | Lorenzo Colombo | Charouz Racing System | 01:22.846 | 51 |
| 7 | Arthur Leclerc | PREMA Racing | 01:22.893 | 51 |
| 8 | Jak Crawford | PREMA Racing | 01:22.967 | 49 |
| 9 | Oliver Rasmussen | Charouz Racing System | 01:23.071 | 60 |
| 10 | Franco Colapinto | MP Motorsport | 01:23.072 | 41 |
| 11 | Kaylen Frederick | Hitech Grand Prix | 01:23.081 | 26 |
| 12 | Caio Collet | MP Motorsport | 01:23.125 | 48 |
| 13 | Oliver Bearman | PREMA Racing | 01:23.199 | 48 |
| 14 | Jonny Edgar | Trident | 01:23.228 | 29 |
| 15 | Isack Hadjar | Hitech Grand Prix | 01:23.296 | 33 |
| 16 | Johnathan Hoggard | Hitech Grand Prix | 01:23.348 | 35 |
| 17 | Filip Ugran | Jenzer Motorsport | 01:23.371 | 52 |
| 18 | Roberto Faria | Jenzer Motorsport | 01:23.395 | 50 |
| 19 | Juan Manuel Correa | ART Grand Prix | 01:23.449 | 54 |
| 20 | David Vidales | Campos Racing | 01:23.485 | 43 |
| 21 | Tijmen van der Helm | MP Motorsport | 01:23.540 | 43 |
| 22 | Zak O'Sullivan | Carlin Buzz Racing | 01:23.566 | 32 |
| 23 | Josep Maria Marti | Campos Racing | 01:23.652 | 40 |
| 24 | Nazim Azman | Jenzer Motorsport | 01:23.720 | 49 |
| 25 | Reece Ushijima | Van Amersfoort Racing | 01:23.786 | 43 |
| 26 | Rafael Villagomez | Van Amersfoort Racing | 01:23.951 | 45 |
| 27 | Hunter Yeany | Campos Racing | 01:24.025 | 42 |
| 28 | Ido Cohen | Carlin Buzz Racing | 01:24.093 | 44 |
| 29 | Brad Benavides | Carlin Buzz Racing | 01:24.678 | 45 |
| 30 | László Tóth | Charouz Racing System | 01:25.009 | 52 |